Updated:Dec 2009-They have moved to their original location @Albert Food centre…
I had not been here eversince they move to this temporary market.And from far, I noticed a queue early Saturday morning.I wonder what are they queing up for? I watched the chinese hawker whipped up so many food in a flash for people to takeaways and for eating in.It looked some sort of noodles and side soup.Hmm..

Then I glanced at the HALAL stalls here….
I saw Sabeena's Indian Rojak and I remembered somewhere that someone commented that their Rojak, Mee Goreng and Briyani is good…But Im here for my favourite Tahu Goreng (fresh beancurd deeply fried and then poured in dollops of crunchy peanut sauce on top of it),how? Nevermind, I got tummy space for their mee siam.
And so as I looked at the "smiling" mee siam stood before me, I try it and it surpass my expectations.Perhaps, I had it lowered…But still, its one of the best indian mee siam I ever tasted!Normally the gravy is nice but the noodles are not blanched properly, but this is GOOD!.The noodles and gravy harmonise together create a loving bond together as it swirl and twirl into ur intestines.Hmm…
The tahu goreng is still as yummy.So Im happy for the crunchiness bite that it offers me.Its not as spicy as my number one tahu goreng at rumah makan minang @arab street, but its one of the freshest with authentic malay taste.Dont forget to try their bubur soto (porridge in soto broth goodness) and juicy bbq satay from lunch time onwards.
Both scores a hefty 4.5 out of hi-fives!
Indonesia Satay Stall and Sabeena Indian Rojak
Albert Centre Temporary Food Centre
opposite Rochor Centre
Will move back to its original location in the future…
Block 270, Queen's Street, Albert Centre
After the breakfast, my curiousityness roams in and out of the market. What did I see…?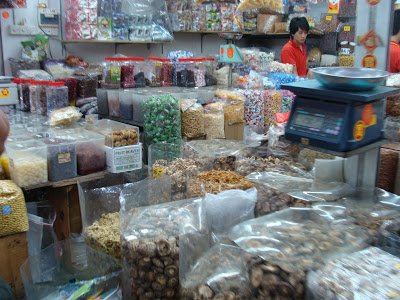 Many fish and seafood stalls,dried stuff,tailor shop but I did not see any HALAL meat corner…but I found these.. *camera zoom in from far

(Visited 11 times, 1 visits today)