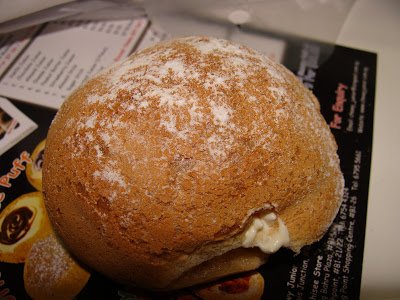 I have some friends who are crazy about these chewies.Especially those chocolate toppings and fillings.For me, after tasting it,its not bad.It's kinda chewy outer layer and oozing creamy fillings will attract kids like bees to lavender flowers!
Some flavours are too sweet for me.The fillings are not that sweet but the outer coatings are.The fresh creams, hmm…if I had not tasted beard papa in KL, Malaysia,perhaps, I might say its good.But cos I did,sorry…the beard papa has better,fresher cream cold fillings and its puffy, is really puffy .Chewies is more in between ,not crispy, nor puffy…(like lemau) .Erm,next door beard papa is not HALAL or else, I might be attracted like an immediate fridge magnet.But anyway,its a great product,we need more variations in halal food.I welcome it with open heart and tummy!My favourite doughnut with fillings are in DUNKINS -Johor, Larkin (too far) so for now, this will suffice.Alhamdulillah.
We ordered the special set of 9+2 =$10.We choose 9 flavours amongst the many colourful chewies.Mostly are chocolate flavoured.The 2 free ones that we got was the original chewy with fresh vanilla and chocolate cream fillings.
The lady at the counter is very friendly to us.Its 10mins before 10am and they are open.She advised us that the chewies are able to withstand for 3-4hours without refrigeration and can last 3-4 days in the refrigerator with the caution that-we should not warm/baked it again, best eaten cold.
Chewy Junior
230 Victoria Street, Bugis Junction
#B1-12 Singapore 188024
Tel: 63335002
http://www.chewyjunior.com.sg/
(Visited 30 times, 1 visits today)