The crowd that turn out this time is different from the first meet,eat and burp session.
It was a delight getting to know new faces and their personalities.Lots of chirpy comments and shout-outs on the local current halal food scenes.
Simpang Bedok has long been a vibrant nite life.This is where most love to hang out after a long week of work.There are various type of restaurants located here from the chinese cuisines at Tang Tea house, to Italian @Badoque ,Chicken rice @new Hawa,Western Food @Spize and Roti John @89.7 and loads more.
If its ur first time in Singapore, to play safe…come here for a jolly good tummy time.Insya-Allah u wont go wrong.This is where the locals come to have lunch,dinner or supper…
So upon reaching there, I was all dressed up in my PT attire,black jeans,track shoes, sporty long sleeves and if not for my bright blue scarf, I must have looked all black camouflage by the dark night.(I wanted to wear red (fav) but I will look FIERY..ermm so I changed my mind hehe!)
As agreed @ the designated time, we met and head to the vibrant orangey name that flashes across the busstop. The restaurant seems quiet for a weekend.anyhow I have heard about its raving spaghetti ayam merah (red chicken is a malay delicious recipe which are normally found in festivities or major events such as Hari Raya and weddings.Its main ingredients are normally whole chicken with loads of tomatoes and tomato purees.It can be mild spicy but mainly its savoury sweet with some doses of coconut milk/non fat milk (healthier version) and spices.
To have an idea,click here: http://tinyurl.com/putriayammerah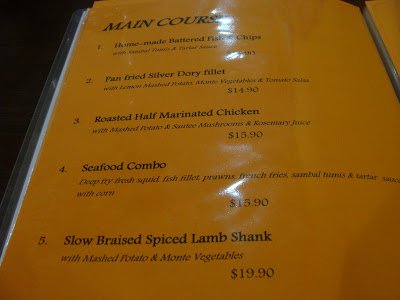 We were given a warm welcome.We were the second group of people there.The staff (mixed races) are quite friendly.They gave us recommendations and told us that dessert is given free for some sets.(YIPEE!)ALthough the desserts are limited choices, we also welcome DESSERTS irregardless..
The restaurant is simply decorated.It looked like a normal coffeehouse kind of ambience.Perhaps, that needs to be improved on whispered by some of our newly founded makan kakis.Some felt that the ambience is not there to depict the italian asian fusion menu that they serve.It is more cosy restaurant feel with a classy touch, perhaps many would want to enter cos of curiousity and wanting to know more about its food.
As promised,some comments are not gonna be publicised individually but anonymously as a group cos most are shy cos they felt scared that their humble comments are tiny or perhaps will be laughed at or be "threathened" that me and some regular makan kakis are there.(hey,its ok, we are humans too…and we won't bite..Im no celebrity,there isnt any celebrity..either all of us are or none of us are..hehe!)We are here to learn and share experiences from each other.
Most of us dressed casually.Jeans,pants,skirts…t-shirts….casual wear like meeting our friends.U need to feel comfy cos its an impromptu makan session.We can end up at a hawker centre or a restaurant,anything can happen.
Ok, while we ordered our beverages while waiting for some people to come.(its ok, if u are late too,understandable that some need to work late and the location might be too far east…)
After all are there, we asked the waitress recommendations and ordered in sets of 4.Wanted to order all and share but I guess we need to have some sort of random unity.These are what we ordered.