This is my favourite place for delicious asam pedas ikan (asam fish) and malay kueh lopez(savoury glutinuous rice steamed and eaten with palm sugar) in the East.If in the central/south, u know my favourite asam pedas is at Nasi Bawean@62 Desker Road(near Mustafa Centre)or Rumah Makan Minang @Arab Street.
In order to eat my asam pedas, I have to know its right timing.It will only be out around 9.30am and will finish about 2 hours later.It closes early, perhaps 1-2pm?Cos I was there at 3pm, and its already closed.
And so since Im an early bird,often I came too early…this is what I get.
Anyway,while waiting for the asam pedas, u can always order the indian food@Mohd Muslim food (next door) -Roti prata and dosai (tosei).I like the soft delicate skin of the dosai.The prata is ok.
And if Im on the dot,just right when the asam pedas fish came out, the seats will be occupied and packed with customers eating breakfast…thus no space *sigh

Dont forget to try their black squid (sotong masak hitam,I read somewhere that it was said that the black ink in squid can slim down the body and prevents cancer.But Im not sure how true it is…)…
Anyhow, I love coming here in the early morning.It was always bustling with activities.There are many supermarkets nearby that sell cheap and good groceries.And not forgetting the wet markets that sell HALAL poultry asides from the abundant seafood and vegetables.Sometimes, if u are lucky, there are occasional bazaar tents set up that sell many items too.Its a busy ,busy morning….
Ok after I had my fill of breakfast,its time I continue my work as beansprouts tail plucker with these ladies…

Zurah & Sofian
Ang Keong Coffeeshop
Blk 826 Tampines St 81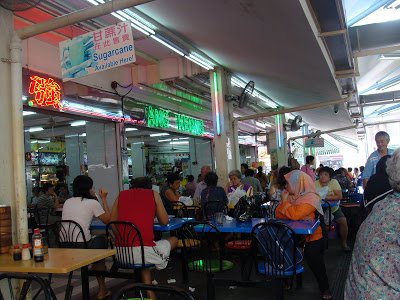 (Visited 37 times, 1 visits today)