Im heading to the Muslim restaurant voted as one of the top ten best beef noodles in Taiwan.
It was 5pm,its getting dark and I took a cab.We reached about 15mins later.Caught in the short traffic jam.Not that expensive.I think it cost about few Singapore dollars.
Along the way, I saw the shopping streets…
Address: No 41, Lane 223, Sec. 4, Zhongxiao E. Rd.
Telephone:886-2-2331-8203
http://taipeitravel.net/user/article.aspx?Lang=2&SNo=05000234

Other Halal food eateries in Taiwan: http://www.taipeimosque.org.tw/mosque/pages/halalfood.html
I was greeted warmly by this grandpa.Although we are like chicken and ducks in communication.Somehow, the daughter can understand my meagre Mandarin and explain to him.She recognise my voice and indeed, I was the one who called with the cabbie previously.
They asked where Im from and again I said that Im a malay from Singapore.I told them that I heard raving reviews about this place.And that I come all the way especially to taste their food.I can feel that they are so touched especially grandpa.I dont have a grandpa anymore and so I sense a certain closeness to him.
When I reached there, immediately, I was superchatty.I hand out my card and explain that Im putting them in my blog.And there were other customers too.I saw an italian caucasian speaking fluent Mandarin.Wow!
Then as I sat, they asked whether I wanted Oolong tea. I said ok. I guess that is the only tea they serve or is it the only drink. Is it free-flow? Im not sure..but I saw this Italian student get up and help himself.


Then she asked me whether I want normal or spicy beef noodles.Do note that all conversations are in chinese.I chose spicy cos I thought perhaps its not that spicy.Ermm..yeah I think too little of it.But I was….wrong.It was indeed SPICY almost like korean spicy.It nearly choked my voice box.Add tears to my eyes.
I cannot really taste the wholesomeness of the beef broth but cos I wasnt expecting the spicyness (haha!) and was taken a back at its fiery kick! But it was DELICIOUS as I slurp more and more of it as my tastebuds get used to the fiery taste..
The food served wasnt immediate.I was there for about 15minutes and grandpa was slowly cooking the noodles.Everyone had to wait for their turn.It was cooked with TLC.Cos I sat right in front of grandpa,watching his every move.. thinking perhaps I can detect his signature moves/secret ingredients.hehe!


The funny thing is that, whenever I snap some pics secretly,as if there is an invisible communication between us, he immediately pose for me.It was quite fun to work with him.He knows how to pose and angled himself well. Perhaps, he was used to the customers coming in and took pictures of him.
He laughed as I was taking pictures of the appetizers…upclose and personal.
The whole bowl of beef noodles are quite huge.I was very full but I finish them all! The beef meat are not those tender ones u can find at tang tea house but CHUNKS of beef, real beefy meat.It can be tough at times.But I love it! Im a meat eater!
Seriously, if give the chance to relive the moment, I will still come back here and eat their delicious beef noodles again and again and again.The noodles tasted handmade and its not so proportionate like factory made.It was thick irregular noodles.It was a bit chewy but yummy! Cannot explain it.It was a WOW-WOW!
After finish eating, I stand beside grandpa and scrutinise his working area.Trying to peek into his secret ingredient or any recipe notes shamelessly lying around (hehe! are u for real?) …He was quite humble and wasnt hiding anything.In fact he let me take any photos I want…
The awesome soup/broth….delicious goodness …..

Grandpa gave me an extra big chunk of meat right from his hand (even after Im done with my meal) and dip into salt and he ask me to eat it.Ermm..quite big chunk that I had to say "man man lai"..and we all ended up laughing.
His daughter was quite shy to be photographed She may sound fierce but she has a good heart.She knows that Im going to bring back for breakfast and I can even say back to her in joke "ni hen chong ming" (U so clever).
Going back to hotel, I brought back the normal beef noodles.OMG, that was the best.You can taste the wholesomeness and feel the cow-goodness in it as u slurp slowly enjoying every single drop of it.
I even ordered the appetiser -braised beancurd.The beancurd tasted fresh and its heavy though its small.It was simple yet tasty.U can feel the food is all cooked with love….Even if its breakfast, I just pour boiling water beneath in it the bowl to warm it and eat them.Its still so good…Mmmm….. I love Taiwan Cows! I love taiwan beef noodles!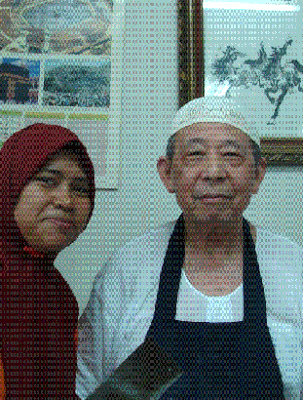 Going to Zzzz….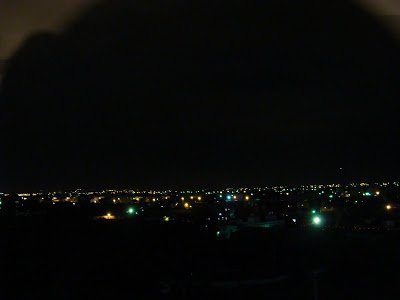 Tomorrow flying back….so sadz, I wish I had another day but Im happy and satisfied.Alhamdulillah.Thank you Eva Air again for this free stay.Remember whenever you have the opportunity,grab it!
p.s: Taiwan people are not that hugging ,kissing type of people unlike the Dutch.Perhaps, we are asians, we tend to be more conservative.But I heard someone told me that Chinese dont really show out their love verbally or physically.They are normally masked it with their good acts of kindness to one another.They tend to do it thru their food,respect and others….Hmm…
(Visited 13 times, 1 visits today)