The drive was only 10minutes ride.As I look at the view from Taouyuan Airport to City Suites Hotel (take note there is another hotel with same name but at Taipei),first impression,its like a metropolitan city similar to Singapore.Taoyuan is not that busy as Taipei.
Hotel address: No.442 Jhong Jheng E. Road ,Dayuan Township, Taoyuan County,Taoyuan, Taiwan
Before heading to Taiwan,me and my buddy (Thanks F!)has been researching thru google maps and google earth.Do u know that u can actually view these locations at the comfort of ur home?U can actually see these places courtesy of the travellers that have contribute pictures for other's pleasure and convenience.And u can use the "orange man" to walk thru the lanes as if u are there on the streets itself.U can do this in any part of the world.Woo-Hoo! Technology!
Anyway the hotel is 4 stars!!!Alhamdulillah!! (thank u EVA AIR & City Suite!)
Whenever I check into a hotel, I will inspect the toilet bowl first.Cos that is one the main factor that will gain my ratings.And this hotel pass with flying colours!!

Travel tip/trick:The plug/socket is same as the Americans (2 pins,narrow gap).Luckily I brought the Universal adapter along from my Hollywood trip (thanks Alex!)
They got bottled mineral water,Oolong tea,Jasmine tea and coffee free.
There are many TV channels available.They also have cable TV in which there are also discovery channel,travel channel,HBO and other American movies too!Woo-hoo!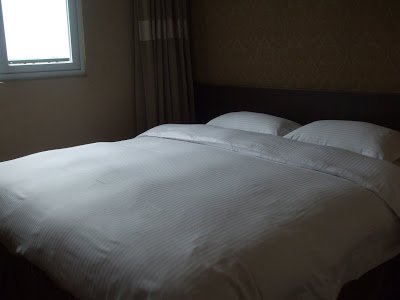 Look at those springy bed and plush pillows…make me feel like want to sleep all day long…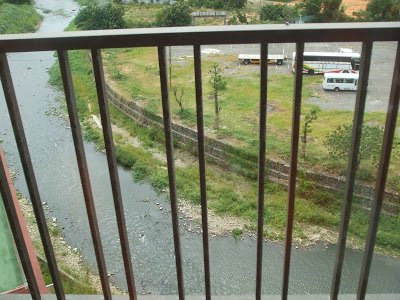 Hey! Look , there is a river trickling beneath…..
Wow! What a beautiful scenery from the hotel window.SubhanAllah!
Oopps..30minutes is up.I promised the reception, I will be down by 30mins and they call a cab for me.
The lobby area…
Anyway,I've already tell myself that I got to make the best use of my free trip here.And since Vee ,a regular reader of this blog (thanks!) has recommended the Taiwan beef noodles done by chinese muslims, thus I have to go there and bring it on the blog.Its a must! And so after a refreshing bath and snuggling (for few minutes) on the comfy springy bed, I went out in pursuit of halal Taiwanese beef noodles.
I was intending to take a cab to the high speed train to taipei .http://www.thsrc.com.tw/en/ticket/tic_time_search.asp
The receptionist told me that the journey to the high speed rail is 20mins by cab cost about $250 and train to taipei is about 20mins about NT$200 (but if u buy online , i think its cheaper about NT$135).Along the way, the driver convinced me that its best he take me directly to the place I want to go.
Travel tip/trick: You can buy a day pass from the MRT for tourist.Ermm, I didnt have the chance cos Im only here for a day.
The MRT map: http://crazy_azn1.tripod.com/taiwan/id5.html
He seems sincere enough to help me.I showed him the address in English.He dont understand and so he called the mosque up.And he wrote the address in Chinese characters for me.
Travel tip/trick: If u want the cab drivers to find the location for u, ensure that the address is in Mandarin (not hanyu pinyin but in Chinese Characters) .If u cannot get it, ensure the address has a phone number so that the cabbies can call them up and ask for direction.
The driver charge me $1000 for the trip to Taipei but because the location that I wanted to go was kinda hard, we got lost many times, and so its ok.Furthermore as I noticed on my way back (I took cab too hee!)It was about the same price.Cos that cabby has a metered installed.
Ok, the driver called the Beef Noodles stall but I guess they were closed at the moment and open at 5pm.And so I decided to go to the mosque first.
This cabbie is quite nice.He knew some facts about muslims.Oh by the way, he speaks Mandarin and lil English like yes ,no, ok.That's it.And so again, he was surprised that a "malai-ren" can speak mandarin (even if its broken here and there hehe!)
This cabbie was thoughtful enough cos he knew I wanted to go eat beef noodles for lunch but I was kinda dismayed but its ok.He wanted to bring me for a food tour of Taiwanese delicacies but I said, I cannot eat all kinds of food.I need to eat halal.He said he understand but he dont understand the Halal part.He knows we ,muslims dont eat pork but he thought beef and chicken is ok.
Anyway, end up, he keep thinking I must be hungry and thus persuaded me to let him buy me some Taiwanese vegetarian snacks.That was thoughtful of him.He said dont worry, all vegetarian, no meat.Yeah, he bought the food using his money (but perhaps its already included in the $1000 fare?Hmm..)
Anyway,the pastries are delicious! Flaky sweet bean filling and saltish outer layer just nice to awaken my tastebuds.Love it!And this is just a random hawker stall.How about those top pastries,Mmmm..I wonder..
The vegetarian buns (do ensure that they do not use any liquour like rice wine or sherry) is soft and although its only filled with vegetables and mushrooms, it was delicious and its big!The cabbie bought 3 sets each for me.I wanted him to have some but he said all is for me(Aww..so sweet)Anyway,I am full by the time, I ate my 3pastry.The bun is really filling.

It might look like meat fillings, but those are actually gluten or soy-based,mock meat items,which are vegetarian.
Oh,along the way, I saw some hawkers selling fried fritters.It look awesomely good…but are they vegetarian?I should have learnt the mandarin word for vegetarian.The cabby taught me but I soon forget…
Travel tip/trick: DO learn the essential local words to survive or else u might end up hungry…e.g vegetarian, alcohol/liquour/wine,halal, pork,cow,chicken and others that are important when u are searching for food when travelling.
There was a time, he ask me whether I wanted to see "NIU".I said what is niu? I know niu-nai is milk. Then he pointed from the cab..Oh,he wanted to show me the cows.I refused cos I thought it might take a longer time.But I did see from afar.And they were HUGE!! In Taoyuan, amongst the city streets, there is a farm right beside the road.ITs weird, cos right there, not at the village but in the hustle bustle of the town, u can see the best of both worlds, the farm and the city.But seriously the cows were huge,bigger than any cows I've seen in Europe (but my dutch friend beg to differ cos he said that most cows I've seen in Europe are the babies…so where are the mamas?ermm..I think I need to go back to Europe to measure…hee!)
It was an interesting ride.I felt at home with the cabby's friendliness.We had some fun and laughter.Even went for a car wash (what?!)It was free when he fuel up the cab.And since the cab fare is already fixed.Why not, have a jolly good ride around town? Furthermore,truth is Im jetlag.If I concentrate on my weariness, I felt like Zzz…but I got to make the best use of this opportunity and so Im determined to ensure that I do what I set out to do,insya-Allah.
Towards Taipei,we pass by 1 toll gate (like ERP gantry) but it look more like Malaysian toll gates…


Then we saw this lady with no hand and she was selling lil flower.The cabby bought one from her.Sweet smelling flower for his cab…
So did Putri reach the mosque or did she go elsewhere?Check out on her updates by visiting this blog often ,ok?
(Visited 2 times, 1 visits today)