Ok walking back to the Ibis hotel, I stop by….(hee… temptations)
Although Im in a muslim country, I ask whether it is HALAL, and they said it is (YIPEE!) And I had the Belgian chocolate. The crepes,waffles and warm chocolate muffins/cakes is tempting me but I cannot eat anymore…
The ice-cream was heavenly.Ordered my last mint tea in Marrakech.A bit costly but it's a bit different than the ones I had just now.And I get one mini dark chocolate free! yipee…
Right in front of the hotel, there is a mini provision shop.They also sell hardboiled eggs and some bread (if u dont mind… the ants already crawled on)
Travel tip/trick: They use 2 pin socket.Its the same as the Netherlands. I realised that these countries do not have switches like we had in Singapore. I think they are more energy saving than us cos even if we switch off, the electricity still flows and u still pay hefty sum for ur electric bills.(Dont believe me? Try plugging out instead of leaving them in the socket and u realised that u will save lots of money-in my previous post)

This is my sahur for tomorrow.Had the avocado yogurt.Very thick and milky.Nice…
Counting whatever money that is left….
The train leave for Casablanca/Marrakech every 2 hours.Earliest is 4.50am.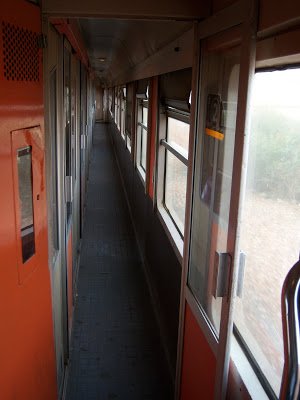 I got the whole compartment to myself…8 seats for the price of one-90dirham!Yipee!As usual I book the 2nd class.(I wonder why the classes differ to and fro.)Its like KTM,the cleanliness is so-so.Sometimes, u can see lots of bubble gum sticking below the table, a bit dusty, not so clean,the toilet..Eeyeww…)
Taking a short catnap…. (ask a stranger to help me take this shot hee!)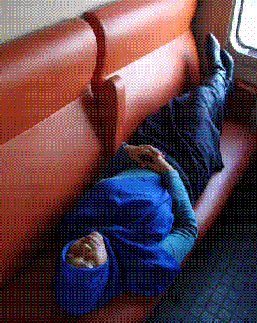 Woke up just in time ….reaching Casablanca within minutes…
Beautiful scenery…
These are the many cactus.U can see the colourful fruits.They can be eaten.They are sold in Morrocco and in the Netherlands too. I had them.Becareful of their thorns. U need to peel the skin and eat them.Full of seeds like "jambu batu" seeds.If u dont want to chew the seeds, swallow them (u can see them later hehe!)Its taste is like dragonfruit.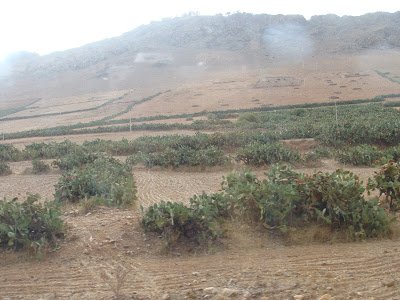 I called the below "3 little pig's house". They are hays that are stored/arranged in formation of a house.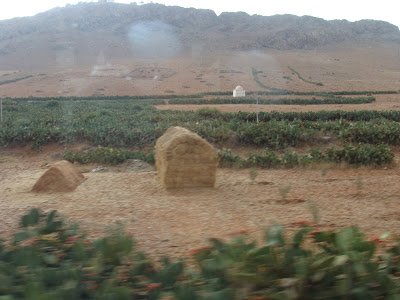 Reached the same Ibis hotel when I first arrived in Casablanca.

I love these intricate details of the mosaic tiles

The beautiful colours of the seating area at the hotel lobby as I was waiting to have an early check in…
After I refresh myself, soon Im in the streets again eager to explore Casablanca.Took a petite cab (red in colour differe from Marrakech which is dirty brown colour).The driver offered $400 Dirham for 3 hour tour ride.(did bargain…I dunno whether its a rip off but Im feeling kinda generous and time is running out..yikes!)
As I sat in the car, I look inside the car and wonder. Will this be able to bring me to the destinations in one piece err…insya-Allah.
This is the inner side of the driver's door. The driver is a young man (i think same age as me, he told me but I forgot).He played Quranic verses in the car for me.Very friendly and he told me more about Casablanca. Let's see what he can offer me within 3 hours of the tour….
First stop, souk .This market closes at 3pm for the wet market section. The cabbie became my unofficial tour guide.Luckily he was around cos its kinda confusing.The streets within streets and the nooks and corners.I can get lost here…I like the shops..I can be here for hours..(insya-Allah will visit again later…)
Remember what I said in previous post, look on ur left but took shots on the right..tricky?Once u get the hang of it, it will be ok. But Casablanca people are not that bad, if you asked nicely, they might allow u to take their pics.If they ask u for money., just said u dont have..hehe!
It's supposed to be a fast one in the souk cos I wanna to explore elsewhere but when I saw someone carrying dead chickens to bring home, I want to explore more, I want to find those alive chickens.Those meat section…Grr…
I can never spend a short time in markets. In any markets..I am just intrigued by what they are selling…

I'm not a shopper but Im very curious….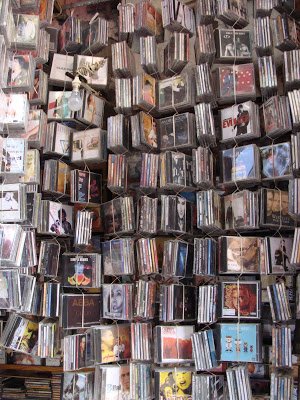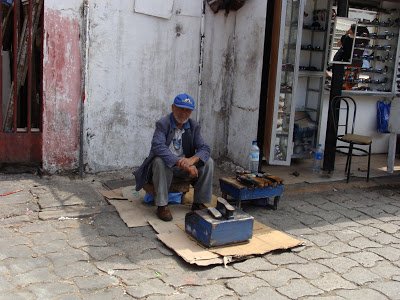 Travel tip/trick: The souk here has uneven ground.I wore my boots with tiny heel and its not that comfy to walk here in that.Will change my boots to sandals/sneakers later on insya-Allah. Im so happy to be here!!
Ok,to be continued…
(Visited 3 times, 1 visits today)