I went into the Koutubia Mosque.Wanted to do some prayers..
Both men and the ladies go thru the same door. Ladies, you must be dressed in loose clothes covered from head to toe (as I normally dressed) to enter. But if you dont, they just tell you to wear it inside the mosque (but no dresses available though)
travel tip/tricks: Some mosque dont allow non-muslims to enter. (In Hassan Mosque in Casablanca, u need to pay 120Dirham to get a 30minute tour guide with u)So there will be security at the entrance to ask you to say the kalimah shahadah for those who dont look like muslims.(I was lucky enough to look like one)
When entering the mosque, take off the shoes and take the plastic bag in the basket to carry your shoes along.
I was looking for ablution corner at the ladies side but found none. Luckily I met a french lady who speaks English and was finding the same thing as me.She was from Maghribi visiting Marrakech with her brother.She helped me by asking the ladies but they also said they dunno where the water for ablution is. I saw the men taking ablution and I thought that women should have too.And then the women called me over and showed me a stone.
They told me in their french and hand languages that they use the stone to tayamum. Which to replaced ablution in situations where water is not available. (hmm..)i learnt about tayamum and I procrastinate or perhaps, I was stunned cos I saw the men taking the ablution outside…and then they showed me repetitively how to do it and I just follow and then the call of prayer came in(the azan came in 2 stages just like Mecca/Medina)The first azan was sounded to inform everyone to come to the mosque.The second azan normally came after 15-20minutes later and that is when we get ready for the congregration prayer. I wasnt prepared. I was fumbling with my camera and videocameras and my bags and the pins of my scarves.One lady was kind enough to help me. (Note: No telekung, jilbab, jubah/dresses is available, so bring ur own)
After the prayers, there is a mini market outside the mosque where people sell their stuff kinda like Sungei road…
I saw this bug in the crevices of the wall stone….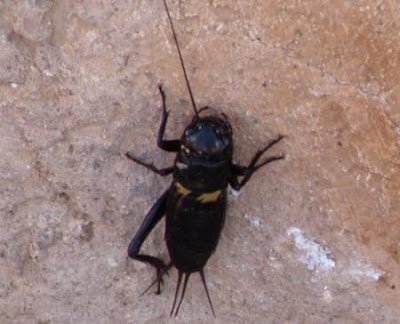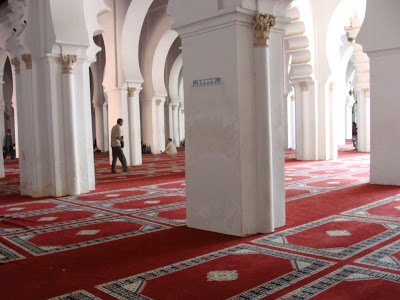 At the end of the prayer, there is no salam amongst the ladies (like we normally did back in Singapore).I stood up to shake hands with the lady who helped me and that is when i got smooched countless times by her and the ladies around her.They apologised saying that they can only speak french (I really must learn french,hmm..)
Feeling refreshed and rejuvenated, I walked to Djemaa El Fnaa… (aka Place of the dead)which is just across.5mins walk.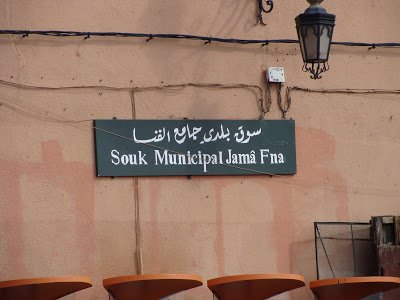 It seems so unreal…Like Im in a dream or something. I have to pinch myself many times to remind myself that it is reality.Alhamdulillah.

I was greeted by a strong stench of horse urine smell as I apporached Djemma el Fnaa square.There was a long line of horse carriadges.
There are many tourists.I was there in the afternoon about 3pm.The food stalls are not ready yet, only the orange juice carts and figs/nuts/dates carts are up..


There is another bazaar area nearby.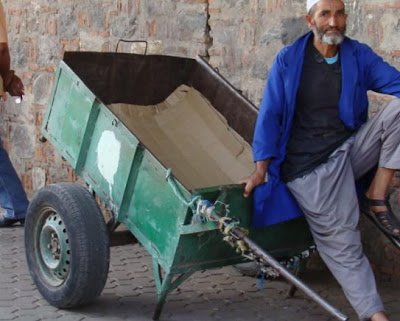 Travel tip/trick: There are many water sellers in Morrocan traditional clothings (red attire with big hats like the mexican) the square.But in Ramadan, there is no business for them that they might need to beg for alms.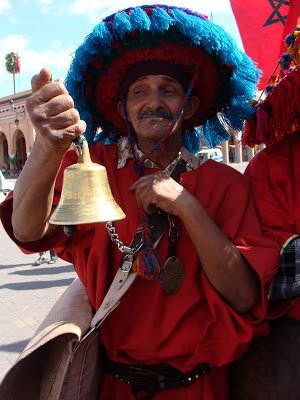 Take note that if you take their photos they will ask you to pay them a fee.Sometimes, they will be friendly and said "Come and take my photo" … not knowing that u must pay them 100 dirham later on.I read about it online so I avoid them at all costs.The snake charmers and monkeys are tricky too.Sometimes, they placed the animals on ur shoulders without ur permission and the next thing u know, u must pay them a fee.A man followed me around with a monkey, I got scared (of the monkey) and I sped off..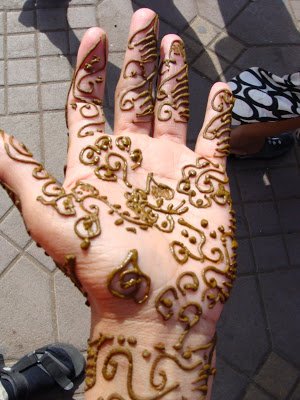 Also henna women are quite tricky too. I watched them at work.They come to the tourists and persuade them to engage the henna business. Sometimes, they chichat with the customers and before u know it, they ask to look at ur palm and then..within seconds,the henna is on ur palm. And u have to pay them about $250dirham for both sides of the hands.(very expensive!!)
Sometimes, I feel that its a shame that some areas of Morrocco is a "vampire town" (pardon my language,I called it that way cos it is too expensive and they suck u dry for everything and anything kinda camouflage the real Morrocan beauty)
Hey Doraemon!!
I exited this mini bazaar and walk towards the big square.Need some shade.The sun is getting to me…And so I walked on and saw more shops in covered building. I proceed on…to the colourful displays…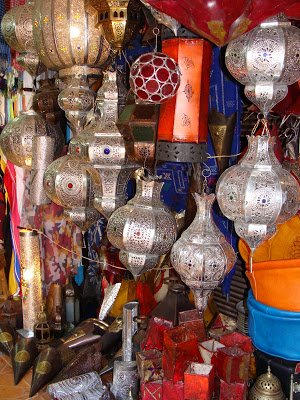 I went up to the second level…
Beautiful leather cushions….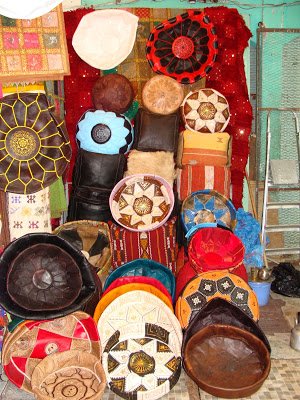 Musical instruments & toys
Weave baskets
Hookah…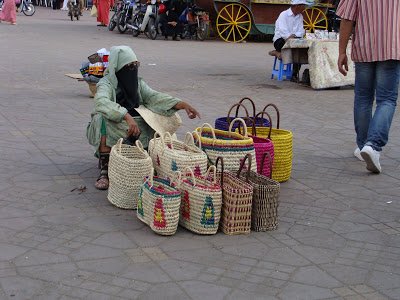 Oh, i felt tired…I need a rest..heading back to the hotel…. Im taking the petit cabs (different city has different colour codes for petit cabs) back to the hotel.The fare is about 50Dirham to IBIS hotel. Insya-Allah will be back….
Felt like standing in the fountain…. shiok!!
To be continued..(in the next post, insya-Allah)
For a good choice of hotels with discount prices, visit Hotels in Marrakech for more information."
(Visited 1 times, 1 visits today)