I cannot remember how many times I had visualised myself being here.I love the environment.The bustling food market.Now I just cannot believe my eyes that Im here!! Alhamdulillah.
I took the petit cab from the hotel to the Square for 50 dirham. Had break my fast with the bottle of fresh orange juice that I bought here in the afternoon. It was fresh and deliciously sweet. No artifical sweeteners, just the real fruit. One gulp will put Sunkist to shame.(So dont forget to try them if you are here.)
And I prayed maghrib at the hotel. Wanted to iftar (break fast)@ Djemaa El Fnaa but too tired and so I took a short rest. Furthermore, felt more at ease.Once you finish your prayers then later I can take my time to wander around.
Approaching the market,I took a sniff of the rich flavours floating in the air.Im in food heaven.Mmmm…. From a far, it seems to be crowded. There are many story tellers and snake charmers and monkey owners displaying their pets abilities. It was dark and there were many local crowding around.Did try to sneak a peak but I dont stay long, I fear the snake might break lose and find its way around me. (yikes!)
Anyway, as I approached the stalls, I was surrounded by many promoting their individual stalls (suddenly felt like in Newton). I said to them later cos I need to recce first… Then I snap pics as I go along…


Ok, there are 5 different types of food : Morrocan cookies/cakes pushcart, snails stalls, kebab/tagine/grilled food stalls,cow's head and body parts stalls, hardboiled egg+bread sandwich cart. The rest are mint tea corner, orange juice stalls and figs,nuts and dates stalls.
I tell myself that I must try all if I can, insya-Allah.

So I started off with the grilled stall. Im not sure which stall to choose cos its crowded and everthing on the cart look the same. And so I chose the less crowded stall.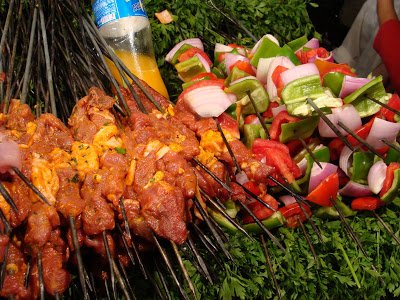 The Menu
Ordered mixed kebab, lamb tagine, lamb couscous,fries, mixed seafood.The food comes in small sizes so I am able to finish them all.They even throw in free bread and some appetizers.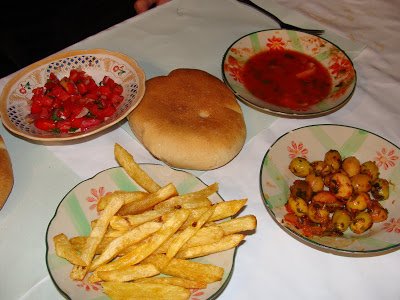 I like the crispy fries and the rest of the appetizers,couscous,fried squid and lamb tagine.It was alright.I wasnt really impressed .Perhaps I build my own expectations too high (when I was watching the travel program on tv)
Anyway while the chefs are at work,grilling I snap the pictures of the colourful array of fresh meat,sausages, vegetables and the chef/cook signal to me to go to the backend where they cook.They took my pictures with them as if I was one of the staff.Cool!
Mixed grill of beef, lamb,chicken and sausages with grilled onions and bell pepper
The Tagines-the famous earthenware
I like the couscous (made of semolina flour),there is a certain hint of sourish lemon (Morrocans are well-known for their local produce of lemons and oranges) in the gravy that kinda binds the flavours together.The meat and vegetables are soft.It seems that they are melting in my mouth.
Lamb tagine and lamb couscous has the same flavour.Only dfference is, one is with couscous and one is not..
The food came within minutes. Overall, I give the
Stall no 117 is 3 stars out of 5
.
They were so friendly that I felt at ease.
travel tip/trick: Dont forget to tip the waiter (who serve u) or else he might openly ask u for it (no comments on that)
After the meal, they give me a free mint tea.It was refreshing. A cart of Morrocan sweets came over.Bought some to take back home.
Then I proceed to the snail stalls.I do not know what to expect.I chose stall No. 6.
But I know whatever it is, I am open to a challenge.

5 dirham for a small bowl of snails and soup. I saw these 2 kids eating so deliciously and slurping the soup and asking for countless soup refills. I suspect the soup refills are free.


When the man gave me my bowl. I inspect the snails like a science school project. They were tiny.Not as magnified as in the tv. And then to my horror, I saw the tentacles of the snails.Yikes! (Err..Can I back out, please?)But I already myself that no matter where I go, I am willing to give my best to try out everything that I possibly can lay my hands on.
And so while battling with the inner self, I take a deep breath and take a toothpick and poke the slug out of its shell.


As i slowly placed it in my mouth…I chew on it.There were a slight crunch.(Oh no is that the tentacles?I think so)But as I chew more, it gets better and tastier. Tasted like..I dunno how to descrbe it, too small to really taste the slimy body.But the soup itself is tasty pepperish lil saltish soup.Quite nice actually kinda warm the body. Stall no. 6 is 4 stars out of 5.
Again, I was invited to go up the platform where the man was serving bowls of snails and get my pictures taken.I finish up my bowl and linger around. A couple was inviting poor people (those who beg on the streets) to eat at this stall.So nice of them!Within minutes, there were about 8-10 people -old and young, women and men all enjoyed their gentle gesture of kindness.May God rewards them for their kindness.In Ramadan, it is encouraged that we show great kindness and compassion to anyone (actually everyday we were encouraged to be kind to others but in Ramadan, we are asked to add extra kindness to our daily lives).Alhamdulillah, this couple puts that into action and somehow encouraged others to do their part too.
Anyhow, feeling encouraged, a man give some of his Morrocan sweets/cookies.Within minutes, there were many kids and mothers asking for some.Before he knew it, the box was empty. Hmm…May God reward each and everyone there who potray such kindness without asking anything in return.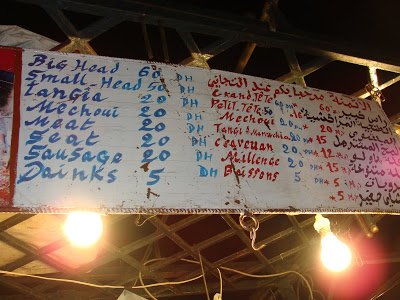 Then I proceed to the cow's cart.I was actually full to the brim.But the cook at this stall was eating and I saw how tender the meat was.I was actually drooling while he was eating.There were no customers for that stall. So I dont feel that suffocating.I probe and poke at the cow meat that they have.And I pose with a knife as if I was cutting the cow's head behind the counter .It looked so convincing that a passing by tourist stopped and took my photo (since when did I became a staff here? hehe! I dont mind working here part-time hehe!)
On display are the Cow's head, brains, tongue (huge!!) and err… breast or as they call it " cow tits"(do pardon my language).I had tasted the head and the brains in the Netherlands and so I decided to try other unusual meat.


In Singapore, there are mutton brains,head,meat,legs and tongue in Indian mutton stall soup.I normally ordered the tongue soup back home or the cheeks.The tongue here tasted similar back home.Tender springy.Nice…
Then as I carefully scan at the meat, I remembered, my roomate in Holland did tell me how nice it was to eat Cow's breast but at that moment (when I was there last month), there weren't any Halal ones so that curiousity stayed in my head. I asked them to give me each of everything.It was a small serving.As i tried the breast meat, it was delicious!! So tender and juicy rich with spices.Smackingly good!
Stall no 44 is 4.5 out of 5 stars!!!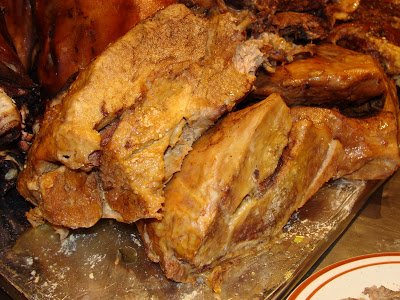 And i also tried their tagine lamb.It was phenomenal! This is what Tagine should taste like!Moist, tender, tasty with all the spices swimming in your mouth..Ooh lala!

They give me endless cups of mint tea.I love this mint tea.It is refreshingly good!!Its warm and its fragrant.Lots of mint leaves are used cos I can feel in its full flavour.And the best of all, it is not overwhelmingly sweet… just nice for me.(Im not really a fan of sweet stuff except ice-cream)
As I sat there , more customers came in.Everyone was intrigued by me.They wonder where I came from.I asked them to guess.Malaysia? Indonesia? Japan? (are u for real?I'm not that fair u know…) and in the end I said Singapore.Not many have heard of Singapore.Of course the same procedures of going to the backend and watching them cutting the meat for the customers is a must for me.
I had so much fun and laughter that other stall owners came over and chit chat.Had some laughters and shared some funny funky stories and exchange information.woo-hoo! Now I have more penpal friends! Passed around my card and told them to check out their photos in my blog. Cool people…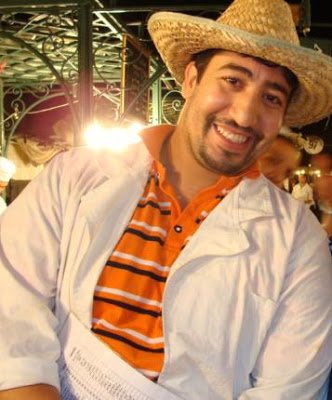 This is Hassan. He speaks fluent English thus he became my translator cum food initiator.He recommends the food but he is from stall no. 41. (hee!)But he said that this stall is his friend's so he is not considered a "traitor" to his stall Hmm….
After that, I head to the eggs cart.I wonder what are they eating.Since curiousity is killing me but my tummy is really gonna burst….I decided to take a doggie bag.(packed)

There were hardboiled eggs which are mashed and placed into Morrocan bread which were spread with feta cheese or smiling cow cheese with some potatoes and some added sauce. I took it back for sahur in the morning. Stall No. 100 is 3.5 stars out of 5.

Then I head to the Orange Juice stall for one last drink…
This is Mr Rashid. I ordered one orange juice and he have it freshly squeezed at that moment. And then later he gave me a special drink-I think its a concoction of lemon and orange juice.Quite nice… Stall no. 24 is 3.5 out of 5 stars.(I have my favourite orange juice stall-STALL NO.46 in the top picture )

One final stop at the dry fruits sections.

I love FIGS!!! The fresh juicy ones are delicious.But I seldom see them here.The so-called fresh figs seems to be fried/baked or something.
And the ones in a chain thingy is dry figs.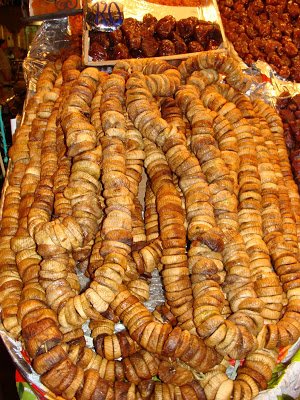 Dates galore
Apricots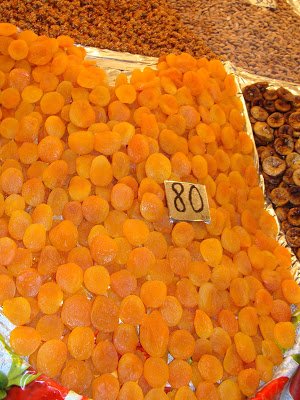 Wow! What a gastronomically good experience! As I left the square with a "tiny" (are u sure?hee!) bulging tummy, I felt kinda sad that I had not much time to stay here.It was a great experience,for sure insya-Allah, I will be back someday.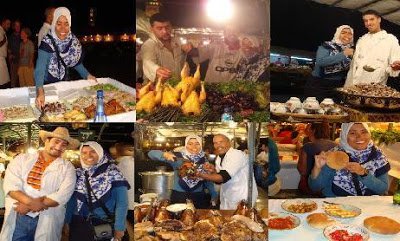 ps:Do not adjust the resolution of ur monitor.This picture above is meant to be unclear.
I can feel as though my name was being echoed from afar as I approached the food square but as I walked back to the hotel, I can hear the wind whispers it sad goodbyes to me, almost squinting a tear….I felt so belonged here that I dont wanna leave.
travel tip/trick: Do bring a cardigan/ sweater along cos at night, its quite cold.
Whatever it is…Im satisfied…Alhamdulillah.
(Visited 1 times, 1 visits today)