(Surah At-Talaaq 2-3)
"And whosoever fears Allah and keeps his duty to Him, He will make a way for him to get out (from every difficulty). And He will provide him from (sources) he never could imagine. And whosoever puts his trust in Allah, then He will suffice him. Verily, Allah will accomplish his purpose. Indeed Allah has set a measure for all things."
Anything is possible, believe and have faith…insya-Allah it will come true.
Dear readers,
Thank u so much for replying to my previous post (where is that post anyway?hmm..)about my love and for guessing what am I actually in love with .Hee..and it started with the letter M,some said its Makan, Magnum ice-cream (I love those!!),Macho men (ermm..) and some said magnesium chloride (I know it is used in making tofu…)
Ok, Im gonna reveal the answer..are you ready?!! Ok,let's go…
So M stands for….
When our eyes first met in Discovery Channel, it was love at first sight. I was in awe as they showed me the various parts of him.I had always been wanting to go and meet him (if u have read my previous years of yearning and pining) but things crop up in the last minute that somehow thwarts my happiness.
This time when I was told that insya-Allah there is a tiny possibility of me meeting him, I was ecstatic.It doesnt matter if it really happens, cos the hope itself shines thru every pores of my face.The days of yearning is over…my heart leapt with joy at the thought of us meeting.I got restless because nothing is fixed.I kept looking at the calendar counting down the days of meeting him.Im in love….and nothing else matters…what matters is meeting him…Everyday, I breathe and live on the thoughts of him alone…
There were moments of lows where I thought that it might not happen at all.I dare not think of that.It tore me open cos this is what I want and this is what I dream off.
Yeah, the whole year has been crazy for me.Mostly unplanned. And I never knew I would be flying almost every 2 months in a different country,different continent. Even my blogging has been affected.The heart is not in the right place.
And so,when it really happens, I was told that it will be fully sponsored (Jazakallahu Khair to the sponsors who wishes to stay anonymous, May God rewards and bless u for that on earth and hereafter).Alhamdulillah, tears of joy drizzle down my summer days.I am so thankful and grateful Subhanallah.(I remembered the last time, I felt this way was when I was chosen to go to Mecca/Medina 2X…it was unbelievable.Alhamdulillah)
I know my story is kinda weird cos it's supposed to be a she…but I called it a He…and before ur mind started wondering whether there is any funky business going on…and before the G word started to appear in ur mind….
It is MORROCCO!!!Marrakech…. Aah….hmm… *butterflies fluttering in the stomach…
This happens during the fasting month. I know its crazy to travel during fasting month, but opportunity knocks, I must open and embrace it.Furthermore it is permissible not to fast if I cannot take it cos Im a musafir. But insya-Allah if I can, why not right?Furthermore, the country Im going to this time is a muslim country…everyone will be fasting.
Ok, there are 2 ways to travel to Morroco. U can book a flight from Singapore to Marrakech Menara Airport (rak) which cost about $2212 (the cheapest at that moment) from www.zuji.com.sg or airfares.com.sg. Or if you are a budget traveller like me who loves to collect pit stops/transit points, then do like me..
Take the KLM to Holland (I'm back!) and then take the budget airline www.airarabia.com. to Casablanca for Euro $99 (return trip) and then take a train to Marrakech. The airplane is quite new and there is lots of leg room. You can book online cos its much cheaper.
travel tip/trick: It was said that travelling to Morrocco in Ramadan is 3X cheaper on airarabia then on any other month (Its true!) and the people are nicer to you too (its also true!)
Recycle bins at Schipol Airport -I realised that the immigration is better and friendlier than my previous years visits.They associate Singapore with mandarin (I guess the whole world does) and speak to me in mandarin to show his linguistic abilities.Then he ask me what other language do I want him to say, I said how bout Spanish? And i think the cat got his tongue but luckily, he stamped my passport already before he can changed his mind …hee! I immediately left before his whole face blushes…*kinda dejavu
travel tip/trick: When choosing budget airline, best to fixed ur seats cos I prefer the window seats and I dont want to rush and fight for my seat (hee!).Also take note budget airlines are a no frills flight.Check ur hand luggage and cargo is of acceptable weight cos it might be lesser than normal flights and u might need to pay extra. And if u are taking airarabia, the best seats are 7A(window), its right before the wing and the tv screen is right in front.

Since this is a no-frills flight, food and drinks has to be bought if you are hungry.No bringing of own food (that is what I read) but I did brought mine on the journey back home cos I need to break fast in the air (woo-hoo!)
Travel tip/trick: Euro dollars are used for both to and fro flights for the inflight meals/drinks and products. No dirham will be entertain. $1 Euro is about $10-$11 Dirham about $1 SGD =$5.44 dirham/MAD (to know the exchange rate ,go to www.xe.com/ucc )


Travel tip/trick: Although its stated on the website that there is a need for Singaporean to get a visa, check with the embassy again cos I went without a visa and mine is a short trip.But then so did the immigration officers. They were baffled.Singapore is kinda alien to them or something. Kept asking me why I dont have visa.and they kept asking around…each other…(same for both return trips)-
Fyi-if u are staying less than 3 months in holland, u dont need a visa. Or else, if u need longer stay, u might need to go thru tests of dutch language.
Ok,boarding the plane was a breeze.Before taking off, I was surprised that the Captain lead us in the dua /supplication to board vehicle. (the last time I heard this was my flights to Jeddah)Alhamdulillah , may our journey be blessed,insyaAllah amin.
oops, I forgot to mention that it was a night flight. I took the plane about 10pm, it was supposed to be a 3 hour flight.The plane was delayed for a good 45minutes.Its already there circling in the air but due to traffic congestion (errm, up there got traffic jam too?)Time zones-Morrocco is 2 hours later than Amsterdam.Singapore is 8 hours ahead of Morrocco.
I was excited.You know how i was in the airplanes. I cannot sleep unless Im very,very,very tired. I kept gawking at the window.Looking at the beautiful dark skies and try to see some stars.
Anyhow, all that droolings, butterflies in the stomach gets me excited…and as we landed safely (alhamdulillah) there were claps of gratitude. I think there were some Italians who initiate that applause (cos when I return home, no one clap or perhaps they were busy iftar-ing)
I felt uniquely rejuvenated by the clapping sounds which I had never experience before.(I know the Dutch clap at the end of the movies in cinema)Anyway, its a positive experience and energy. I like that.
travel tip/trick: Travellers are not allowed to bring $1000 Dirham in or out of the country and so some immigration might ask u that. Hmm, what can I do with $SGD544?!! So do bring ur debit or credit cards and take it from the bank atm located in the airport.
Take note of its operating hours during Ramadan.Its shorter.And so do most business especially the food stalls,restaurants except American franchise/fast food restaurants(but there are security outside , I think to prevent people from eating in public in daytime ?I think…but foreigners are allowed)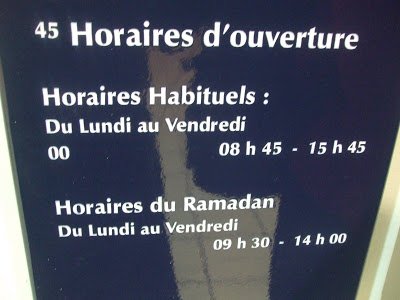 There are many car companies that u can hire cars with including Hertz. They drive on the otherside unlike Singaporeans.But I have to warn u that the traffic is crazy… (Im sorry but do French people /country that has been influenced by France always do that? I experience the same in Paris)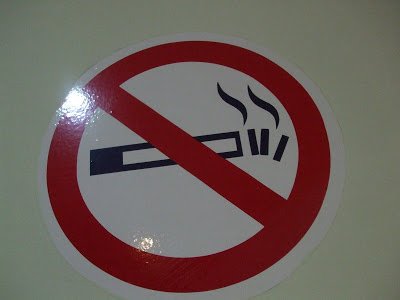 After going thru the immigration, I went to the arrival hall and I detect that it is kinda smoky.I wonder, shouldnt public places be smoke free as notified by the posters above? But it was the immigration officers/security officers whom were building up the smoke in the 1 star airport (almost like Senai Johor airport), Im not sure whether its aircon.The smoke gets in my eyes and clouded my senses..hee!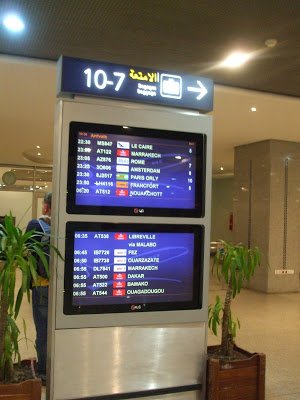 So once Im out, reached about 12am,the train station is already closed. http://www.oncf.ma/
And so I took the Grand Taxi-old Mercedes .I already expected that they wont have metered fare and so a Morrocan friend has given some tips and told me that a cab from Airport to Casablanca should not be more than $250Dirham. Sometimes, be prepared to share the cab with someone else unless u wished to pay more to have the cab to urself.

Anyways, there is a board of taxi fares guidelines there….
Travel tip/trick: Always ask the price first before entering the cab.If u can bargain, do so. I find that it is an art here.The people love to engage in the art of bargaining.
Some people say that it's not advisable to travel to Morrocco alone.So far the immigration never question whom Im travelling with unlike in Jeddah and has no qualms about me travelling alone even the people on the streets are good, no wild whistling or …trouble brewing.. alhamdulillah (dua is always a necessity in everything, so dua loads..and especially when musafir, the duas are normally easily accepted and come true (wallahu alam).But its true, travelling is best done in twos…especially great with a man (so grab ur brohers,husbands,sons and grandpas along!)
This hotel is only 100metres away from the train station.Good for me to escape to Marrakech or any other towns…anytime.
http://www.ibishotel.com/gb/hotel-2032-ibis-moussafir-casablanca/index.shtml
The rates are the same for single or double.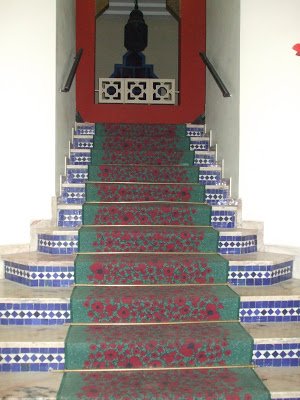 There is internet access but its not working at the moment *bummer.Did not bring laptop cos I travel light this time.(free wi-fi at lobby area)

I rate the hotel 2.5 out 5 star.It was ok for me. It's just that I saw 2 tiny cockroaches creeping as I was about to sleep…Yikes!

I think its is like Hotel 81 or something.Quite clean.I got 2 single beds, yipee!!There is a flatscreen tv with channels from Europe to Morrocco to Arab countries.The movie channel kept on blanking on me every few minutes.Hmm…

travel tip/trick: This is a MUST gadget for me. A compass irregardless where I am. To muslim travellers , it is good to find direction of kiblah.Although I go to a muslim country, this hotel room do not have the kiblah direction (but when I return from Marrakech and book another room here, I saw the kiblah on the table).Anyway,took a hot shower and Zzz…I got only 2 hours of sleep.

This is the restaurant where I took my sahur.The Morrocans called sahur- sohor @ 4am.They give me a wakeup call. I drag myself down and was a bit disappointed to see the food.Not many came down for sahur and so I had the privacy of eating romantically on my own and the luxury to snap pictures here and there.hee!
But the bread was GOOD! It was soft and yummy. Like eating delifrance bread but much, much better. Even the baguette is soft.

Even the cold cuts (salami or pepperoni or…) do not attract me.Im a meat eater but the bread is so good that I dont even glance at the meat slices corner.
The juices are oranges and bitter lemon(a bit saltish?!). I like the orange juice, very sweet…I know the Morrocans are well known for their homegrown lemons and oranges.
Aaah….yogurt…
So after that, head back to the room and waited for Subuh which is about 5am.Imsak is about 4.45am.Maghrib/iftar is about 6.50pm
So where will my feet head to today….? Keep visiting this blog to know the answers…
*note: Thank you to the many offers and invitations to the beautiful Riads in Morrocco.So sorry to turn u down but cos Im being sponsored, I have to follow whatever lodging they had booked for me.Thousand apologies….but insya-Allah who knows I might come again…
(Visited 3 times, 1 visits today)