I went back to the market that I liked.I went there yesterday but I had not much time to venture and recce on my own.This time, Im back for revenge.Im going to scout high and low and mingle with the locals.This time, Im prepared with a flat sandals on my feet.Aah…comfy…
A man approached me and asked whether I want to break fast (iftar) with the locals eating local food.I said why not? He has such twinkling eyes and kind looking face.Along the journey,this man volunteered to be my impromptu guide.Although I have been here 2X,he brought me to the other side of this market which I had not been to..INTERESTING!
My travel motto: I like to do things unplanned.And in regards to people, I follow my heart instinct on first impression then I try to think the positive side (fikir baik) of people,insya-Allah it will be positive…If there is a tiny atom of doubt, I will try to avoid that person or activity.Wallahu Alam, God knows best!
This is a small alley where the Africans hang out and where people can have their hairs braided by the africans.Kinda cool! I saw a man with springy hair being braided by 2 ladies at one corner.I want to do it too but erm, I dont feel comfy letting my hair out in the public… I think, I'll pass for now. Unless they do a personal hotel braiding service, do u? *twinkling eyes
Kitty, are u fasting too… like me?Why are the cats waiting patiently at the entrances of shops ?They seems very well-trained…not purring or meowing ignite that sympathy so that the people can give some food but instead,they just waited like some doll..Hmm..
Wow!Tagines smell so good..Can I take a peek?
Water outlet for the locals to do their laundry and get their fresh water supply.
Meat yummy meaty meat….Grr… Too bad, I dont enjoy raw meat or I might have purchased some hehe! I preferred mine charbroiled grilled, juicy and tender…medium well please..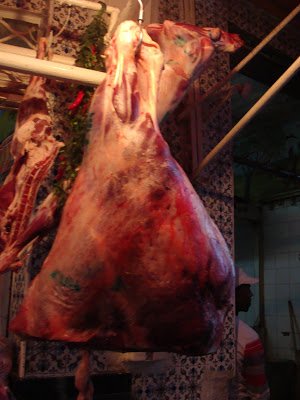 I wonder what the cat was looking at ?He must be wondering…Is that a…
I was stunned! I measured it with my head.It is bigger than my head!! I was like staring for minutes and then I heard roars of laughters behind me.hehehe! They were laughing at me.Cos I have not seen a chicken as big as this..in my entire "career" as chicken eater. I wonder whether my late grandfather has seen this?Cos he use to slaughter live chickens in the market. Hmm…
Ok,who thinks this is a TURKEY?Raise ur hands….and who think this is a genetically modified chicken and who thinks that this is just an overweight chicken?
The Answer-Its a typical Moroccan chicken…And its HUGE ,its GIGANTIC!They have normal size and XXXXL sizes.Take ur pick.I forgot to ask whether it is geneticaly modified. It's size is one third of ME!!!(still in awe) Its not turkey..seriously, I saw the real LIVE ones with feathers and it's still alive socialising with other smaller chickens.I wonder what they eat? Maize or Mice?heheh!Maybe this is the sumo chickens.Hmm…
This stage/platform is for Eid celebrations.On Eid, the kids are dressed like kings and queens and then taken here for snapshots.Like somewhat "pelamin"-Malay traditional wedding exhibition where the couples sat in a nicely decorated platform ..for the well-wishers to take pictures with/on.
Oh my these grilled items smell so good, that my drool buckets are almost overwhelmingly overflowing endlessly…
Ahmad has been doing this often that he has accumulated a large number of friends worldwide.He said he love to invite tourists to join him and his friends for a local food delight.Not those extravagant posh restaurant but a humble dinner like the locals.He said he love doing this cos he get to meet many people this way.Im not sure whether he does this only during Ramadan or daily after working hours? Hmm…
He brought me to a small coffeeshop (restaurant) which is just opened.Then came many locals joining us waiting to iftar together.While waiting,they watched a local cable tv of football telecasts.
Dates,fried fritters drowned in sugary syrups and sprinkled with sesame and FIGS.I love figs!
The food in my hand is similar to murtabak-a crispy bread fried filled with eggs and meat somesort of a pancake with pocket filling.Ahmad ordered Harira soup for me. Its like minestrone soup but lighter colour. Its very filling with loads of nuts,spaghettis and chickpeas.YUMMY!
I wanted to try the humble soup since the first day I reached Morocco but no chance.And in Marrakech,it was sold out.Thus when Ahmad ordered for me without even me asking, I was delighted!Kinda like telepathy….or perhaps its just a norm of local iftar.
The dark coloured item is the fried fish given by the nice grandpa.The fishes here have lots of bones.I was expecting it to be boneless fish steak but its not. So are the fishes in the restaurants. So do nimble eat slowly.Don't get choked by the tiny bones.Ouch!Grandpa also give me this fried samosa looking which is filled with eggs!Delicious!
Then I realised that there is only 2-3 ladies around.My self volunteered guide said that ladies normally stayed home.The men are the ones that often eat outside. Im okay with that cos the next door ladies are around.Furthermore their HARIRA soup is one of the best.And they only make a certain number of bowlfuls daily.Alhamdulillah, Im glad that Im chosen to be one of those who gets to savour their delicious soups!
This is one of the best hardboiled egg I ever tasted! At first I thought, oh..hardboiled eggs..nothing special…I waited till Ahmad picked it up and peeled the eggs.Then I watched him dip the eggs into a small packet.I copied his actions and it was DELICIOUS! Its just typical salt pepper and cumin/coriander or something that tickle ur tastebuds into frenzy egg-lover in an instant! Whatever he eat, I follow suit.Hehehe!
The art of pouring tea, the Moroccan way!!Eh,similar to our teh-tarek (handpulled milk tea)
This market was so busy especially during the last hour approaching Maghrib prayer.But 15 minutes before the call of prayer,it was quiet.Everyone had vanished within minutes! The bustling market became ABRACADABRA…empty!
A few young gals were entertaining me with their "entrepreneur skills".They were selling bread on the streets and at the last moment, they give us some bread.Alhamdulillah.So generous….
I was expecting the azan to be played out loud thru the streets, but it wasnt.My ears are straining to even hear the feeble azan from a nearby mosques but none.The people in the coffeeshop (includes us)were keeping track of our own timing and once the time has reached to breakfast…suddenly shyness sets in.Gratitude poured in,generosity were shown and sharing of food became a norm.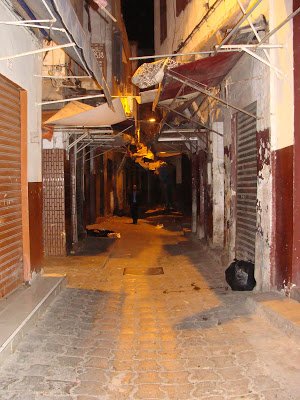 After dinner,he brought me to his friend's shop.But not to worry,they did not pressure me to buy anything.Instead, I pose with the products.I just buy one musical instrument-SGD$15..that's it.
Im not much of a shopper.I'm a light traveller.What weighs heavy in my rugsack is mostly the memories that is etched in my heart and the lovely experiences…and breathtaking sceneries…Lovely.
So this is how a real skin feels like….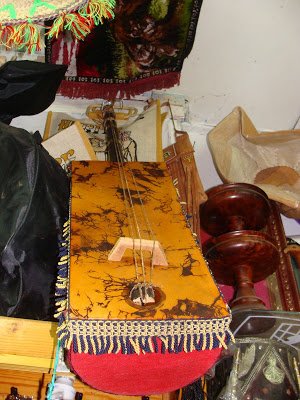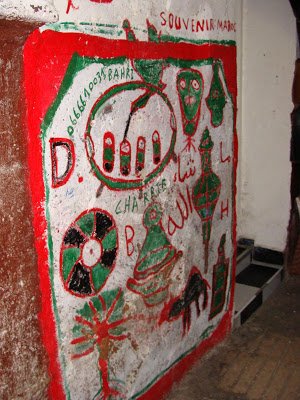 Ok,gotta run…We exchange data and said our goodbyes…A new friendship is formed.He invited me to his family house at Berber next time,insya-Allah.Asking me to bring many friends.Cos he said in a Berber village,the Moroccans are more hospitable and that I dont have to worry about lodging and food.They live in big houses.Hmm, interesting….for sure if I come back insya-Allah, I need to brush up on my French and Arabic.Goodbye!
After that, me walking back to my hotel…
I chanced upon this stall on my way back to the hotel.Meat galore…Mmm….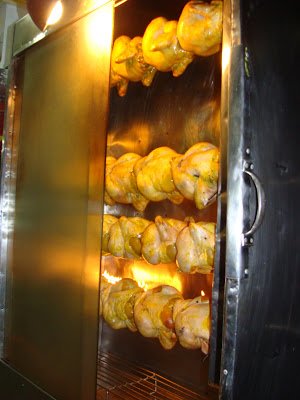 Look at those big juicy chickens being grilled…I was told to wait for an hour ..erm, so sadz I cannot wait..cos its nighty nite already…Hmm…insya-Allah next time.
I saw these men praying terawikh prayers till extend outside the mosque.They saw my camera flash and I heard someone shouted ..Erm, SCRAM!
Stop by McDonalds…
Wanted to taste the normal cheeseburger but end up ordering this tagine burger (what?!!) I guess the mouth utters differently than what the heart desires…that happens often for me hehe!
Taste wise-average.Not as tasty as expected.The burger patty is normal.Nothing to shout about.
Is this my sahur (early breakfast) or supper?Hmm, tough decision.Anyway,the KFC here is ok.Prefer Malaysian ones. The spicy flavoured are dark brown (erm, is that the original colour or is it over-cooked?"It's quite spicy…
This youth is reciting the Quranic verses beautifully.Below is the Ramadan prayers.If u look close enough, you can see the King of Morocco…
The Moroccans wear a long dress with a cape….similar to the Arabs in Mecca?
Is this a lotar or a gunbri…or oud arbi?Hmm…this is interesting…Read more on the musical instruments..
Ok,Im gonna strum some musical lullaby for myself…Zzzz…
p.s: Hmm,where will my feet take me tomorrow…? *Sweet dreams…
(Visited 19 times, 1 visits today)