Why am I writing so much on Rotterdam and Holland? Because it deserves much credit than what is given.
When people travelled to Europe, they normally stopover in Amsterdam for a day.And by doing that , most think that Amsterdam itself is enough to represent Holland. But that is not true. To me Amsterdam is too much "tourisy". Everything shown is for tourism and its costly, u cannot really see Holland in its true nature.
Yeah, I know the canals, the boat rides….tulips are all the same, yawn! But the environment is different. U got to mingle with the locals and BE the locals. Gotta spend more than a day to experience that or perhaps, change the city from Amsterdam to Rotterdam.(hee! Im advertisng for Rotterdam,someone should pay me….)
Alhamdulillah, I had the luxury of experiencing all 4 seasons in Europe.I had even done my fasting for a whole month (in Autumn , the hours are shorter I think from 7am-4pm) and celebrate the first day of EID in snow in 2000 in Rotterdam when the snow is not an everyday phenomenon during winter cos that year, Xmas day itself is not snowing.
The first time I step into Europe was the year 2000. I came a day after Euro 2000.Holland was the country to host.My nose kept on bleeding and dry. Wasnt used to its chilly winds and low temperature of 14-17degrees celsius.I had to sniff in some sea water to get better.My body wasnt adaptable to its drastic changes.But as u travel more, ur body is able to adapt to changes fast. It was a beautiful summer…and was my first.
Anyway, summer has always been a time for play and vacation. This time, its no different. There are many festivals in and around Rotterdam. Many shops are closed due to people taking vacation trips in their camper or just visiting their hometown with budget airlines. The daylight hours are stretched from 5am till 10pm.
Ok, back to Summer time in Rotterdam …
There are many festivals held this year. Go to http://www.zomerfestivals.nl/ for more information.
Latest Event: F1 event

Date: 16.8.09

time:Start 2pm

Venue:Hofplein & Blaak,Rotterdam (city centre)
I did not reach the venue as early as planned.I got carried away on the pc.Hmm…The race supposed to start at 2pm and it definitely start on time.I can hear the tyres screeching while getting ready… from my room ("wait for me!" *my heart shouted)
It was cold summer day.I can see the crowd from afar…(I felt like Im writing a novel or something hehe!ok change back..blogging style…)
I wasnt prepared, the pictures has not been uploaded yet, only 1 battery is recharged.We just come back from Germany yesterday.My buddy has no chance of recharging her digicam cos too tired from yesterday trip that we Zzzz…so she cannot bring her cam.So with one camera, 2 of us walked to the biggest event…dunno what to expect.
Hmm…it was congested with people of all shapes and sizes.I said to myself-There's no way I can see past these tall people. I saw some tools that they brought along.Do heed my advice..
travel tip/trick: Bring a ladder,stool,buckets or whatever unashamedly to the city centre to catch a great view of the speeding cars.If u are lighter than me, bring someone who can piggyback u…last but not least, bring a tripod and ur stamina.At least if ur arms aint that long, u can stretch that tripod and still get some action and ur legs are important.U need to breathe down the neck of those closest to the scene and hope that they get freak out and give way to u.If u got BO(body odour) bring that along.For sure, u will get a great view after many start puking…hehe!
We walked and try to squeeze our pretty large bodies thru but failed.So we try to scan for the tallest buildings that u can get in without security but fail.Then we try standing further away at buildings with steps, still not a great view.
We continue walking on till…
we saw there's a hole amongst the thinning crowd.So i sneak my head in (as usual) and slowly wiggle myself in and then the couple decided to give up.I dunno whether its the BO, the breathing down their neck thing or perhaps its the starchy breath of mine (yikes!Did I brush my teeth today?hmm..)
Woo-hoo!I got a great view…
Perhaps its not me but the boring and tiring moment of waiting…that they prefer to go shopping instead.Cos the cars wheeze by…in seconds and then the rest of the in-between minutes can take forever…and what do we do? We look across the crowd and do people watching! We stare at each other, scanning their fashion statement clothes, their facial appearance..and if u get too engrossed… VROOOM!! The cars pass by u…before u can actually turn ur camera on.And even if u get to turn on ur camera, u got to have fast reflexes…Many pics that i took, has empty roads… bummer!
Alhamdulillah, with so much practise of snapping empty roads and leftover fumes, Im getting better…getting closer to my new camera.Getting to know it upclose and personal.
So these are my ünprofessional" works…Take it as a prelude to Singapore F1 fever…
Im going for an oxygen theraphy now…(cos I inhale too much carbon monoxide and pots/weeds that many were smoking in the streets today)Have fun and Enjoy!
I had been trying to snap pics of cops on horses but Im scared they reprimand me or worse put me in jail… so I steal a quick snapshot and the horse stuck its tongue at me.Cool!
What happens here? Hmm…
Fire engine on standby..
What did I tell u?Bring whatever that u got…that can make u inches taller….
If u are agile,climb on whatever that can get on.I saw some yucky oily thing (like butter) they put on the trash to prevent people from climbing on it….Eew…
Free cards given away…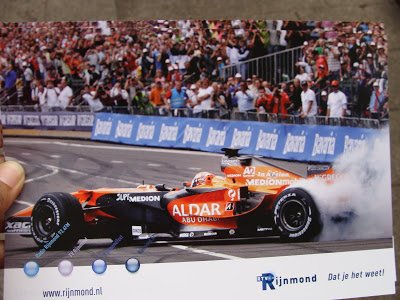 OMG, where do these people come from?


Cool hair,dude…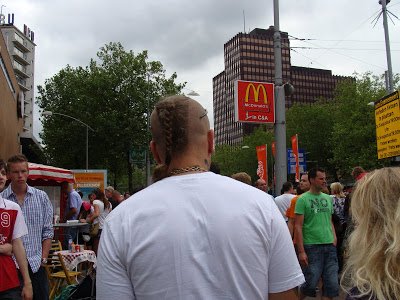 Awww…so cute!!


I dont mind volunteering for this security cum usher job.I can eat while watching the race FREE!
Even trucks race.I dunno whether they are flashing some advertisements or they are really racing..But this one, really leave us a hefty farty fumes at the end of it..
Eew…
Look at the tyre marks left behind!!!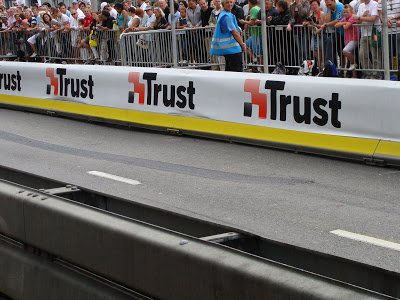 Hmm….
Safety car first then the race cars…
Vroom…..
Nice colours….go orangey!
Red is my favourite colour…
Wow!These are my favourites!!!
After the race…about 4.30pm..we head to Blaak to see the racing exhibition and get some autographs…
The normal Sunday market is still there…..(though not as much variety of stalls than Tuesday and Saturday)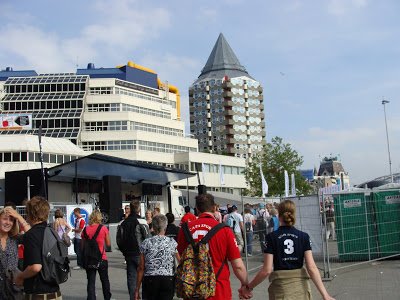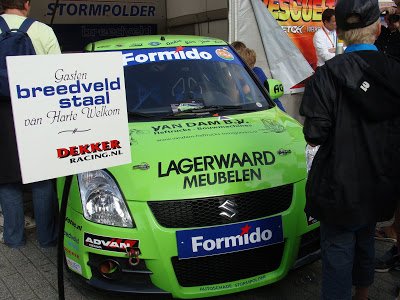 Cool uniform, dude…

Contest of strength and stamina-2 ladies were hanging for their dear life but now, only one left hanging…I wonder what the prize is….
Netherland racing team?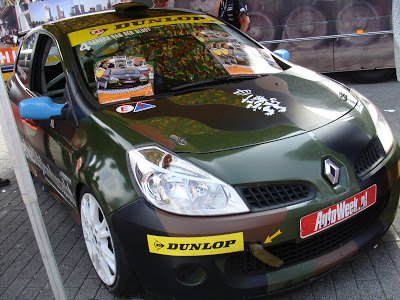 Playstation tent with lots of games for people to play..
This is my kind of vehicle…durable for all terrains..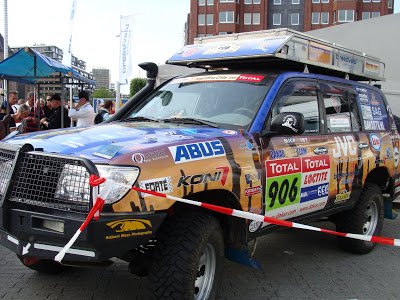 I dunno what this is,changing room?
T-shirts,memorabilia…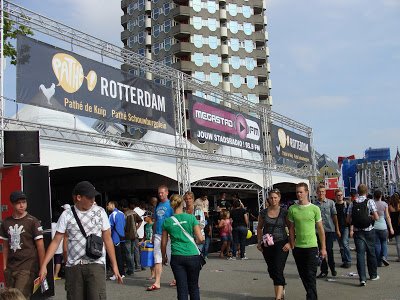 Pump
Racing Simulator…
Cool friends…
What's inside the car? Lets take a peek…
This car is sleek…
Red bull is a proud sponsor of many cars..
why is this car turnover? hey,there is a crash test dummy inside…
I have no idea who he is….but we got his autograph anyway..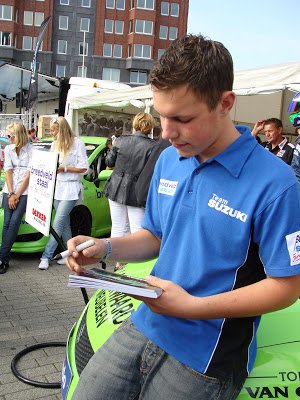 p.s: This has got to be the most exhilirating experience ever.First time I got to see so many different types of cars racing.The best vehicle was the Ferrari..when it sped past u, ur heart thump even faster and ur ear drums felt like breaking out!So exciting!
Ok,move on ….
One of the major ones (I watched on TV)is the TMF award (kinda like MTV award) held in Rotterdam in 4.7.09 and Black Eyed Peas is one of the famous artist to perform.Aside from that, there is a mass nightly rollerblades/skates on every Wednesday (5X per summer)7.30 pm- 10pm for .It was interesting to watch these group of all ages particiapting. Its kinda cool to see the rollerskates still as popular as rollerblades. I find it easy to balance on rollerskates than blades.I first bought my rollerskate with my own money when I was 9 years old.It wasnt the one with shoes but the metalic one that can be adjusted to ur individual shoes.Cool!
We waited at the side street to watch the mass of people roll by…. I can see many from afar with various boom-box (music speakers) playing out loud mostly Black eyed peas songs, lady Gaga …and those with techno remix. People are so creative, some even have a groupie signature costume, some made their own speakers and emit their own favourite songs… mostly u can see and hear fun, laughter, smiles everywhere….
Traffic warden to warn motorists of the closed routes…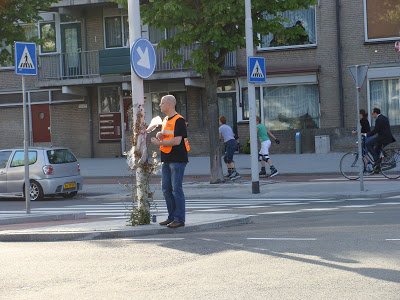 Traffic police and officials in orange vest…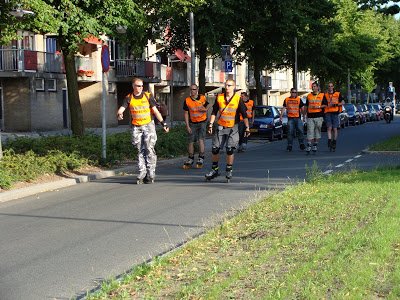 The first music pick-up….kinda deafened by the loud thumping bass…I wonder how bout those skating inches away?


Even those not equip with the right skills, staggered along, holding onto rails, street lamps, kerbs or whatever they can hold to keep balance .The traffic police closed off some streets and there is a public bus accompanying them just in case, anyone grew tired to skate and want to rest. (Fyi-Skates here cost as much as rollerblades about $50-$300 used/new)
At the end of the long journey, they will be treated to a party at Blaak (where the weekday market is)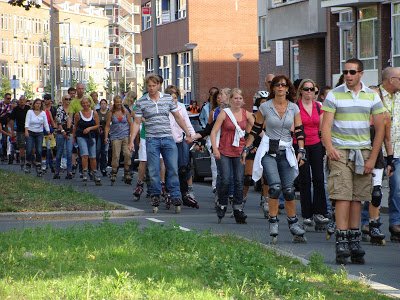 Look at those crowd! This is just the beginning….


The bus for weary skaters indicates the end of the line.


Cute helmet, delivery guy!




I did not join them cos my daily expenses do not include buying a rollerskates/blades (got a pair back home). Furthermore my rollerskills are so rusty (im finding excuses),I need 2 walking sticks to keep my balance. But then again, I should beg, borrow or…. cos I dont see any hijab lady (wearing headress) skating by…. I should take this initiative to be the first one…heheh!

WARNING! The below pictures will show many revealing skin/flesh…Read at ur own risk. (Mummy do pinch ur sons ears, wives guard ur hubbies from reading and salivating)
2) Summer parade -a parade starting from Boompjes (near Erasmus bridge) thru whole "Waterstad" city centre (Witte de withstrat ,Coolsingel..) and then back, 1 full circle.
Normally, we will wait at the Hofplein but this time, we want to beat the crowds and see all at one time (cos if u wait for the parade, it will take long and there will be huge crowds)This time,we go upclose and personal as if I got the backstage pass..hehhe!
We can hear the loud music from afar….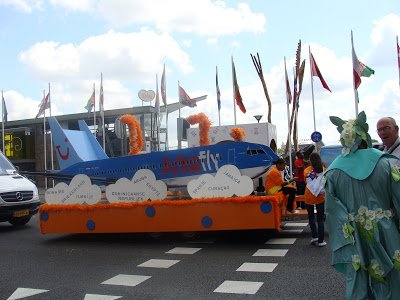 Trucks for the loading the bands and deejays…
Colourful pee-cross (urinals for men)
People getting ready for the parade….err..they change in public…..
The princesses have arrived….


Say "tiara"…. Wow what a SMILE! (Dont forget to return the crown to me!hehe!)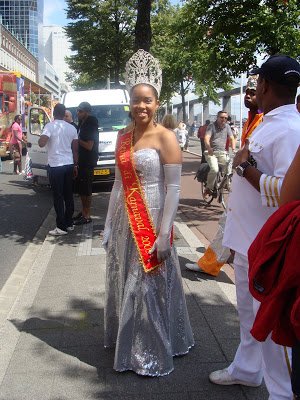 Shake those….
Be generous people, its for the children, our future generation…
Soapy bubbles were blown in the wind…
Move over Catwoman….
The real pussycat dolls….
Even the driver is wearing something to squeeze some giggles out of us…
It was so windy that some need to protect their head gears/props from flying off….
Bring ur own chair n snacks .Well, heck…just lie down n enjoy the show…hheheh!
I cannot see the man's face from this costume. He is totally covered….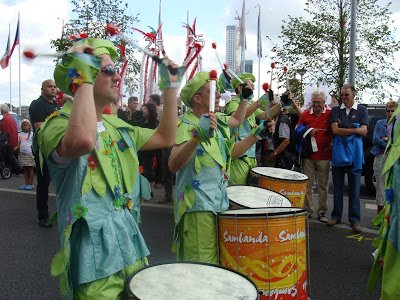 This man gives out FREE condoms (AIDS Program)
Even the sky is not spared….there are frequent advertisement.Below is an ice-cream advertisement.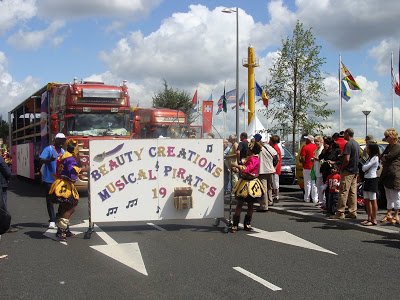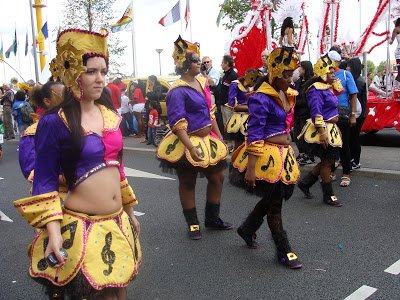 This parade is 25 years old!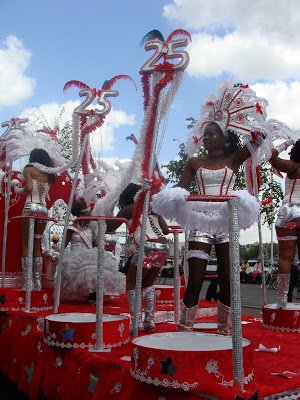 Wow, what fiesty n loud colours this exhibition is!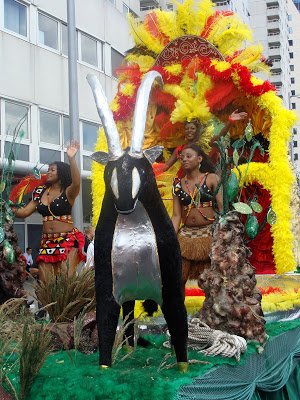 Show those moves, girl…
Princess taking a break…
I love this group.They beat the drums harmoniously to create great music!Look at the gals, kinda cool beating those huge drums!
Dont look angrily at me big momma, u look beautiful…. *grin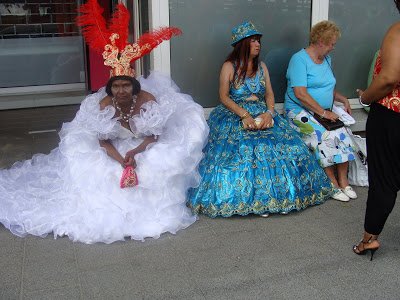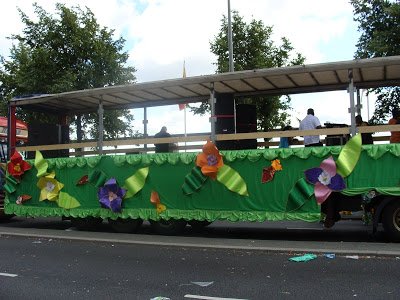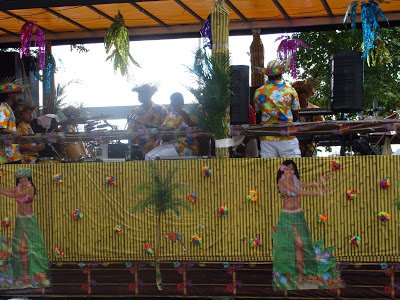 Hawaiian girls?
Dancers from Bolivia are some of the most energetic group and they kept dancing with great enthusiasm, even turn to our side to give us a personal performance. They have not moved yet cos they are the last group of the parade.

Look at those bells on their boots. I wouldnt mind trading mine for theirs… *wink .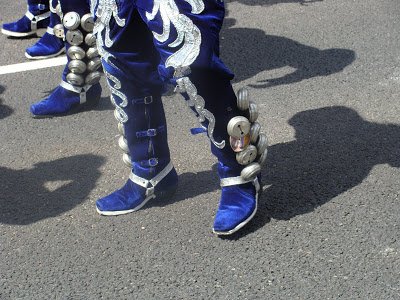 At least if Im lost, people can find me thru the jingling sounds…hehe!
Happy summer dayz! Eh, how come there is Thailand tuk-tuk here?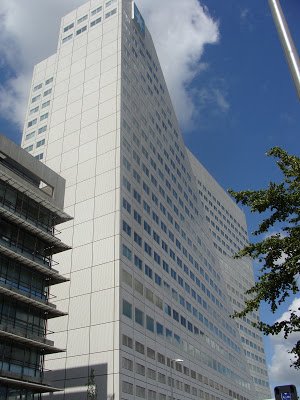 This building is where Jackie Chan act in "WHO AM I?" movie. They even have his hand prints in one of the streets….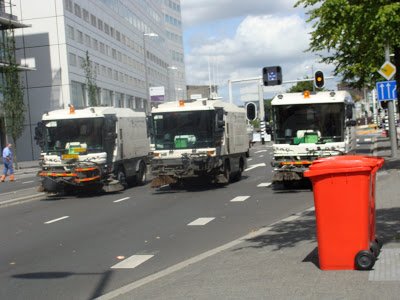 The garbage trucks waiting for orders….
These hardworking men are waiting for the parade to move off and they can almost immediately cleanse the road right after it was over.Very efficient!
Few years back,we saw Singapore flag hang upside down and one of us, emailed them informing of the error.Immediate apology was given and it was corrected asap.
Walked back to city centre…..
1) Near Zwaanshals, there is a big event.2 days full of activities, food and music..Lots of rap music, breakdance, jazz….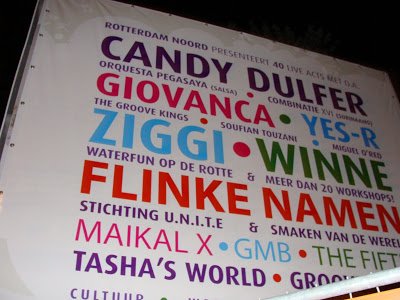 At night, we had a chance to hear a powerful saxofonist…Candy Dulfer.Beautiful ….
2)Another event….
We heard some music from the Blaak Market on Saturday thus like the Pied piper attracting the mice with his music, we were drawn in….
Upon reaching there, we saw this old man (in stripes) dancing happily in his own world…so cute!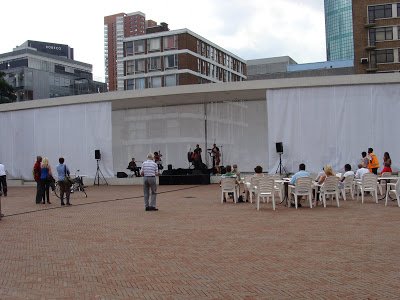 Then we heard this band…playing Caribbean music…Love it! I had my eyes on this sexy trumpet lady….powerful ,enchanted…or perhaps its her RED cowboy boots that my eyes are staring at… (i think she is perfect for the GLhorns,how about a new female member,guys?)



Powerful voice….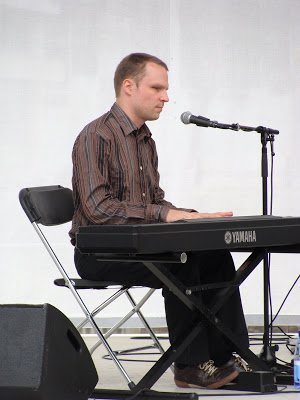 3)Another free performance…there were security at the entrance…but we entered free yipee!


He dressed like a priest but halfway during his performance, he went wild, and spill beer all over the stage and went down to the audience…hehe!The lady guitarist has a powerful voice!Girl power!
This is one angry lady…very petite but her voice is like so much anger…in it…quite entertaining…2 members band only.
Hmm, who does this reminds u of? This is a cute group kinda like a high school bunch or something. They play music with anything and everything even with toys. Even grandpa joins them below…
This is like one of the cutest boy band ever ….the singer stands out cos he looks much older.
He played on a small organ…small but powerful….
Today is his birthday…
Erm..this is very unique..a one man show. His songs are like circus kinda song. He played on his keyboard and he mimc comical songs…and his lyrics are quite funny.Quite eccentric actually….
I thought he was very peculiar cos his music is kinda weird….even other band members look at him weirdly..but I enjoyed his performance…quite funny. And he is nice…wanting to help people..
I like this group…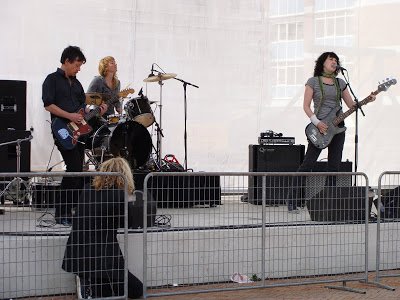 I like lady drummers, kinda unique…
Look at the crowd Im hanging with….
Most bands sings english songs, but below sang dutch songs, not bad…
Overall, we are quite entertained by these bands…..


Side note: Sometimes, when opportunity knocks, u cannot wait for it to knock 2 times (in reality,it wont) , so u just open the door at the first knock and grab the opportunity and just do it! (do ensure u got pepper spray with u just in case, its unwanted visitor).Ok, let's go back to the topic of the day. Summer time.
So if Im fated to travel across the world , I will grab it insya-Allah cos u never know what the future will bring u. Furthermore, I luv travelling!Gotta do it while I still can. Its tiring..but I luv every minute of it..kinda addicted to it….
No matter how much u are prepared , there will be some elements of surprise in the package. I luv surprises.U'll never know what the future may brings. Do what u luv/passion for while u still can!And travelling open the eyes and set u free,not be caged…by ur own fears, by narrow minded comments…
U felt free to roam and make friends and learn lots. And u will learn to appreciate the lil wonders of ur own country of birth by travelling far and wide.Once u travel, u cannot stop…

(Psst…I've tried passing on these contagious travelling vibes to my friends and they have not stop eversince.Woo-hoo!)
In Summer…

If Im a kid, I would play all day!Woo-hoo! And its an excuse to wallop those ice-cream.YUMMY!! And so u can noticed the change in Muslim prayer times too.Muslims pray 5 times a day, although its an obligation, we love doing it (insya-Allah).Cos praying keeps our spiritual side in balance and it lasted about 5-10mins per prayer (5X5=25mins only out of our 24hours).
The prayer times are as follows: Fajr (morning) 3am , Zuhur (afternoon) is about 1.45pm, Asar (early evening) 6.10pm, Maghrib (sunset) 10pm, Isya (night)-12am. We bow and prostrate to the Almighty in our own humble self. When we travel the daily 5 prayers will be "reduced to lesser prayers with conditions" (jama'qasar takhir/takdim) to facilitate travelling cos u will be in constant movement.Islam is not difficult, its easy.