ZWAANSHALS street
In Rotterdam, normally HALAL stalls are coagulated together.There will be a mosque nearby ,muslim community of stalls and shops such as bakeries,supermarkets,butchers,travel agency, groceries,carpet shops,barbers…..and lots more.
Listed here are some of my favourite HALAL stalls. Owners are muslims. Dutch is still the best medium in communicating with them. So I tried practising my rusty dutch. And hey! They understand me, YIPEE! Im not that bad, huh? Below is just an example of small talk I had with the butchers…
Upon reaching the slagerij (butcher shops):
(If u are very free, u can even act out the below dialogue with ur inflatable mannequin perhaps?Hmm..)
Me : Assalamualaikum or Hallo (if u are unsure they are muslims)
Seller:Wsalam.Hoe gaat met jouw? (how are you?)
Me: Prima.Alles goed? (Everything good?)
Seller: Ja hoor…(hoor is like "lah"in Singapore singlish)
Start looking around at the many types of wonderful meats they had. Drools if u have too…
Me: Hoeveel kost dit? (pointing to weird looking meat such as Rabbit and asking how much it cost)
Seller: $4.95 per kilo (Ok, this one I still cannot get the cents being said in a backwards sequence -"vier euro, vijf en negen ter ".Its tough when I need to say it but to understand is not a problem)
Me: drie kilo aub (pronounced as "dree kilo as-to-blift" which means 3 kilograms please)
Seller pack the meat slowly and cut if I ask them to and then hand it to me
(I paid the money and wait for the change and head to the exit…)
Me: dank ker well, prettige dag verder! Dag! (thank you, have a great day ,goodbye!)
Simple right? hehehe!If I can do it, so can you!
One of my favourite Islamic supermarkets.All products are HALAL,insya-Allah. U can use PIN (NETS) in this shop.
Colourful array of vegetables being displayed outside the shop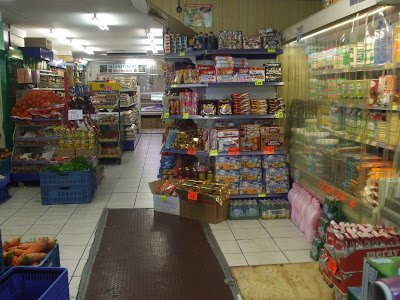 chillies and more vegetables inside…
Olives ooh lala….
Fresh Figs (remember there is Surah at-Tiin in the Holy Quran? about figs and olives)
Fennel and Radish
Chiller section-fresh sheep/goat/cow cheese, pepperoni,salami and cold cuts…
Yoghurt and sausages…
Fresh cheese
Rice-Basmati ,Thailand fragrant…
Pickles,jams,sauces…

Mini cakes

Canned frankfurters…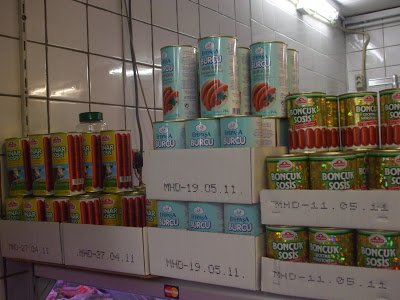 Spices….marination powder…bouillon/stock cubes..
Pita bread and roasting bags…
Frozen area -frozen hotdogs,krokets,meat patties…
Eh,nuggets, fries…and the Loempia/Popiah (spring rolls) skin look familiar, I think the HALAL logo is from Singapore…
In the same shop, all the way behind, there is a small MEAT CORNER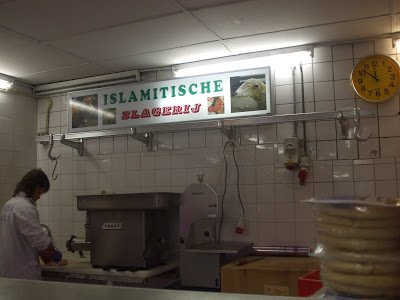 This is Ali, a young butcher. He is kinda cool, he will answer your queries regarding HALAL meat and if u need help with what type of meat and how to cook it, feel free to ask.These butchers are quite knowledgeable. Hmm…what shall we cook today?

Beef steak,lamb chop…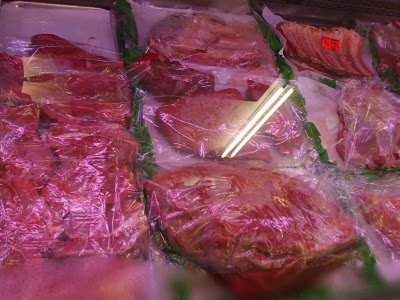 Minced meat,bratworst (cow/calf/sheep/lamb)
There is no goat meat in most shops .The closest to goat meat is sheep meat.
Lamb ribs,sheep ribs,skotelet….
Cow's Heart,chicken heart,liver and lungs….

and more chicken parts… (chicken feet, u need to order first and collect days later, anyway the chicken feet is tough and its not as yummy as back home,try at ur own risk…)
Some butchers sells Ox balls (dont ask me what and why, I dunno) , rabbit meat, intestines….. gotta ask them if not on display, sometimes, they kept it hidden due to unpopular demands…
This is one of my favourite Turkish pizzas,here. I cannot find anything similar in Singapore.I've tried many turkish/mediterranean food but most of their pizzas are thick.This one is thin (almost like crepe but not as soft) and normally they will ask u whether u want salad with it. YUMMY!!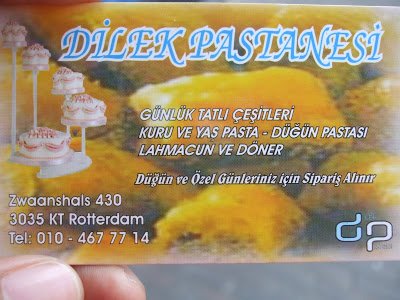 The machine that knead the dough for the base of pizza….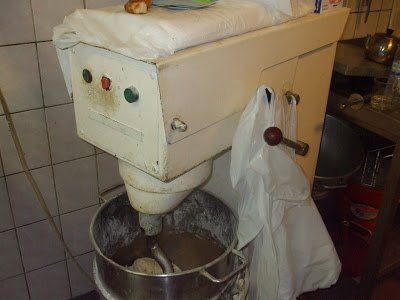 The man in the kitchen…
Flatten the dough…with the help of this machine
Add tomato paste +minced meat
Baked into oven for 10-15mins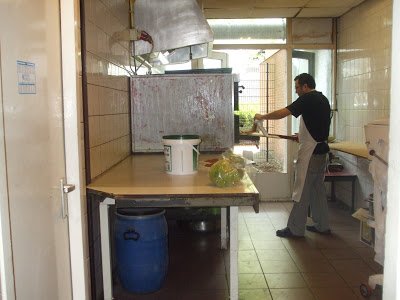 Salad? Yes please…the salad + creamy garlic sauce +chilli (if u want) then rolled and wrapped in aluminium.Best eaten there and then, on the spot! Cost about $1.25-$1.75Euro .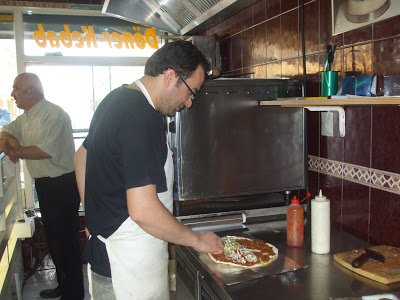 Soft bread eaten with dips?
I've tasted their sweets before, very sweet…some are too sweet for my liking.Most used pistachios in their fillings…i need to taste the baklava…
Hey,a festival is coming…
Overall verdict: The Mediterranean food here is much better than back home, probably due to the different spices found locally…So once Im here, I eat as much Mediterranean food,as often as I can…That's why I seldom eat kebab or shoarma back home unless I got the cravings (once in a blue moon)
More shops along the area….
Another bakery..
Turkish pizza
Bread,fresh bread being baked….Mmm….smells yummy.
Chocolate croissants
Bagels?
Travel agency…Wanna go to Turkey, Morrocco? My dream destination..Marrakech, fly me there plz…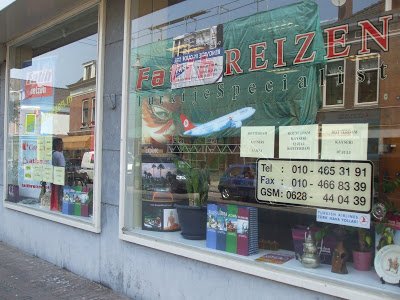 Fish stall- Normally fish stalls sell only 100% seafood, so its easy for us to buy fishes without any doubts.Not mixed with meat…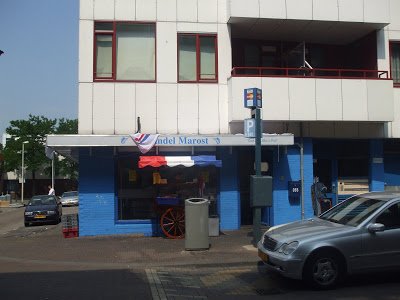 All products shops…
Another bakery
p.s: Thank you to all owners, butchers,staff….for letting me roam into their private/public businesses, took some photo shots clear/blur and candid videos… and cast some blunt questions unplanned….Thank you from the bottom of my heart.May ur businesses soar and prosper, insya-Allah.amin.
(Visited 6 times, 1 visits today)