One fine day as I was lazing around….My roomies surprised me with a big bag of interesting meat (what?!!) bought from HALAL butchers in and around Rotterdam.They want my tastebuds to explore and discover.They want to know whether I'm game enough to try everything….Ermm, ok
….*feelin lil creepy and kinda squirmish but still putting a brave front….
Before I turn ur stomach inside out and whatever acidic leftovers on the floor,I think its best I started out with something nice ……
Ok, what do the Dutch people love to eat?
But first let me feed the birds downstairs…. *creating suspense (hee!)


No need to fight,there's enough for everyone…




Eet Smakkelijk, my fine feathered friends (ducks,seagulls,pigeons,swans,water chickens)
Ok, food number 1-Patat (chips/fries with dollops of mayonaise)




Raw Haring-the lady was celebrating her birthday and she get dressed in traditional dutch costume and give free haring bites to everyone!


Mini cream puffs -its a dessert …it was served chilled.Some have ice-cream inside the fillings…




Stroopwafels-thin waffles with syrupy sugar fillings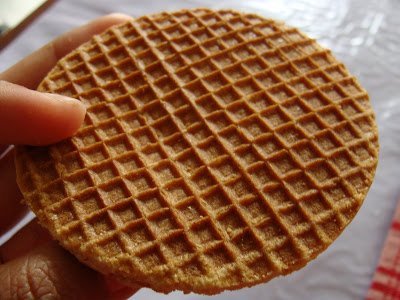 Fish and seafood-fried fish,smoked mackerel,grilled salmon,smoked eel, fried mussels, and squids…..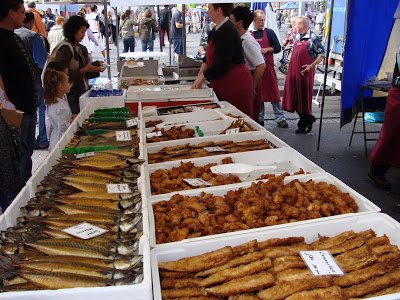 Pannenkoken-thin pancakes
Turkish pizza…american pizza..homemade pizza
Shaaf Ijs -ice being scrapped and top with combination of syrups (like our version of ice-kacang/slurpee)
Octopus salad -u can buy them in most fish shops
Fresh milk , cheese, vla (milk custard), yogurt…
Grape leaf Dolma (Turkish)-Grape leaves tasted like tapioca leaves (pucuk ubi).We try making them ourselves using lots of minced meat,rice,olive oil and then wrapped in grape leaves and brush tomato sauce all over it before we steamed.
Sausages
This is poffertjes-mini pancakes covered in fresh butter and powdered suiker (sugar).We tried it at a restaurant with a 100jaar (year) old recipe.Lekker!
Poffertjes from the prepacked frozen ones in supermarket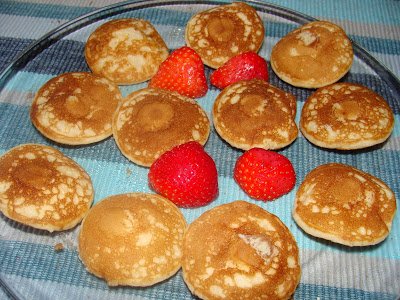 Pies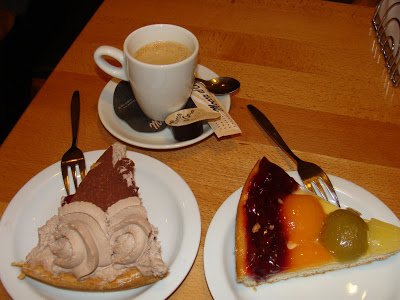 Ok ,now u have a rough idea what food u can get in Holland…ok,let's get to the creepy part… (are u ready?!!)This is worse than MJ's thriller video….
Warning:Not for the faint hearted…
Ducks




Sheep head,brains,cheeks and brains -cooked into soup.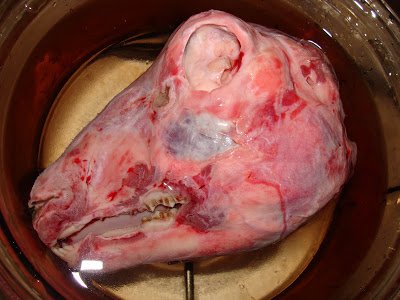 Lamb Balls (pardon my language)

Konijn (rabbit)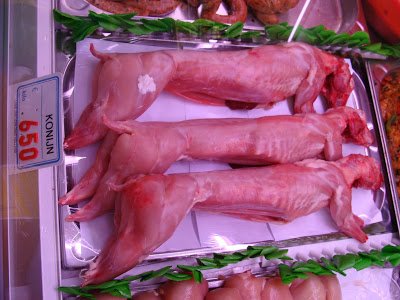 Roasted rabbit meat


Verdict:
Duck is not that scary cos we often eat them in Singapore.
Sheep's head and brains-a bit queer taste.There is a burnt taste cos I think they burnt the head to get rid of the skin.Sheep's tongue and cheeks are similar to mutton cheeks and tongue back home but not as smelly as goat's one.Spongy chewy soft texture.The head and brains are not my cup of tea but alright.
Balls are intimidating. There is similar soup in KL called torpedo soup.Anyway, my roomy cut them into slices,marinate them with spices and deep fried.Taste like fried fish eggs/roe.
Rabbit meat taste like chicken but if u dont cook it right, there is a queer smell.Roasted rabbit marinated in spice is good.Or u can have it stewed or in soup. It keeps ur body warm in the winter
There u have it….I've tasted them all…..alhamdulillah.
(Visited 5 times, 1 visits today)