Help!! There's water in my house!!…
(hehe! these are art pieces in the river Rotte near where I stay)
Reached home about 10pm, just nice for Maghrib prayers. Now is Summer so the daylight is from 5am till 10pm. Cool,huh? more playtime…more activities…
But upon reaching, had a hot shower and then Zzz…in my lil green room.I got my own room so whenever I come down to Holland, alhamdulillah I have a roof over my head, insya-Allah.I chose each n every furnishing details in this room.

I love this room.The windows faced the river.Every day, u get to see the seagulls, ducks, water chicks, occasional swans and geese lazing around,swimming….They are my friends.
There used to be sparrows but they cut down the bushes, so no more visiting sparrows.So sadz…The sparrows are fatter than the ones in Singapore. So cute!I love to throw bite sized bread to the birds from my windows or the balcony.And all will start flying/walking to your direction.Felt like in bird paradise or something.Love it!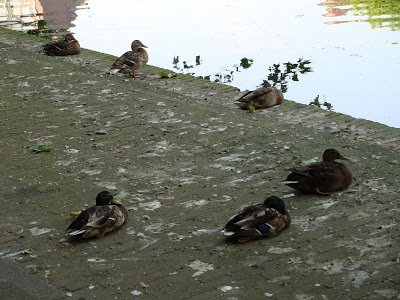 The white stuff on the floor is their poo…


travel tip/trick: There are many dog shit/poo on the streets. The dog owners pay tax (honden belasting) so that their dog can shit almost anywhere except some areas like playgrounds….(there is a sign) No need to clean after ur dog. So watch out!


Note: I just watch a reality series , whereby they reward anyone who will smashed the dog shit/poo on the street with their naked bare feet a $50-100Euro in Holland. Eeeyeeewww!!
wokeup at 12am for Isya prayer then Zzzz…woke up at 3am for Fajr prayer and stay awake eversince…
Im an early bird, my parents taught me not to sleep after Fajr prayers…so here I am awake…in the wee hours of the morning in a different continent, blinking endlessly, wondering "Is this a dream?". 1 and half month ago, I was way across on another continent. Now Im in another. Sounds like a dream, huh? Yeah… I never plan this.It came unplanned and err..what's that word..I forgot already..never mind.
Anyway, here I am on a different kind of adventure. Im here with a purpose.I have 3 major things to do.I hope I can do it well and succeed, insya-Allah.(Dua for me, do say prayers for my success, ok? Thank u very much!)
And while Im here, let me go back in time (go back to places that Im familiar with) and recce for HALAL places. Though I've been in and out of Europe many times, I did not do justice to its many wonderful HALAL places.So here I am again, walking the same old route but with different tools e.g digital camera, notebook,pen and a very empty tummy.Hee!
Sometimes when u plan to go places, it never happen, but when u did not plan,it just happen…So err…I just grab that opportunity while I still can.Grab and run!! hehe!
So what are you waiting for? Are u with me?Come let's go to the market!! YIPEE!!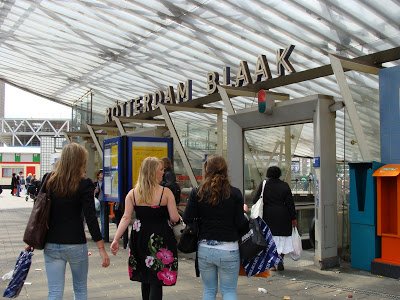 If u are coming from Amsterdam/Schipol Airport, U can take a direct train to Central Station in Rotterdam and then change to another train/Metro to Rotterdam Blaak. Normally I stop by at Central Station and walk to Blaak.About 20-40 mins stroll.If u see the yellow cubic houses, u are in the right location.The market is just at the doorstep of the station.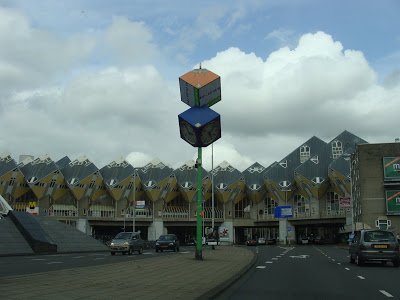 The open markets will travel all areas on different days, certain days not everyday. For this area, it was Tuesday and Saturday. Sunday market is smaller and is an occasional bonus sometimes.
I love Market days. Market start from 7am-5pm (but at 7am not so many will be open yet, so best to go at 10am )
Travel tip/trick: If u want cheap bargains,come at about 3-4pm cos most want to clear their products and head home early.On rainy days, even better, wear ur rainclothes and linger around and u can hear the stall owners shouting bargains to customers cos they dont like rainy days and wanna go home early…
There are many type of products sold here:
From fruits to vegetables to fish, meat, bread, spices, nuts, sweets, chocolates,clothes, shoes, cloth, textiles, bicycles,furniture and lots more….all under one roof. I can spend hours and hours in here! Don't disturb me…
What I love most are these stalls: fishes, the clothes, the boots, the antique corner…the patat…the ..EVERYTHING! Spoilt for choices…. pamper me please..
Ok, now…What can I do with…err… $10 Euro … ehhe! Im not really a shopper but Im an avid window shopper. I lavish my eyes with goods that I cannot get back home. I dont buy things when I travel.Yeah, those who know me, will know my habits…I travel light and go back home with even lighter bag if possible.If I like a certain product, I will know instantaneously.Yeah, Im not really a typical woman….who dolls and shops in own sweet time…I prefer doing something else..
HALAL food stalls


This is HALAL baked potato stall. It is BIG and yummy!U can have lots of different fillings with ur baked potatoes.Good to eat on the spot especially in cold weather like now.Price start from $3 Euro
HALAL loempia-the owner is not a muslim but he notices that there are lots of muslims in Rotterdam area thus he ensure that his food is HALAL so that they can enjoy them too!
His parents had been in this business for 15 years.And he has been in this line for 8 years and 2-3 years HALAL certified. So cool!Friendly chap.
Vietnamese loempia anyone?


Even the sambal is nice.Its not like the sambal they sold at the fast food (which still has some rawness in it) Its sweet and cooked. The loempia is like our version of vegetable popiah. Very crunchy! and come piping hot….

The fat loempia is kip-kerrie fillings (chicken curry) which contains mostly curry flavoured minced chicken meat,corn,onions,eggs…the skin is thicker than normal loempia. Lekker! (delicious!)cos he fried only when ordered. Wait about 5-10mins for the big ones.
Strawberries (aardbeien-pronounced as "art-binds")

Berries- I love these!! Some are sweet and some are Owww..sour!! They have blue berries, black berries and …..bram,framboos,blueberries


Stroop wafels (Dutch speciality) Some are extremely sweet.Some are baked fresh especially in the markets. Yum! Placed them on top of hot tea and they will soften a bit.Eat with no suiker (sugar)tea.For tea or snack time.

Many types of bread sold here…

Spices…they even have lemon in powder form…
Look at those Goji berries! I love them! great for health…



Antique /second hand stalls


Bicycle shops-Dutch love to cycle. Perhaps like the tulips, the bicycle probably was introduced by China..thats what I thought (facts: bicycles are from France and UK.Tulips are from Turkey)They got their own lanes. And they can cycle on the roads too. I think this will help to reduce the pollution caused by cars and other vehicles, right? Yeah, I think its a healthier option too…work out those legs…and body. I love watching those classy office looking people cycling to work. Even in dresses or skirts, u can cycle..even in high heels… its a wonder. I love people watching!


Look at these old stuff. Some give an exhorbitantly high price .That is a shame. But some do give much lower prices. If u can mingle and chat with them.They might throw in some freebies. i love to "kijken kijken niet kopen " (see, see but not buy)

Incense sticks… I dont really fancy them but some can find peace inhaling these. A moroccan man said the incense sticks in Singapore smell much better. Err, does he meant the Arabic ones or the Chinese buddhist versions? Hmm…

This 1 euro clothes shop is my favourite! Err…many branded stuff u can get if u come early… (now stop staring at my clothes and wonder whether everything is $1 Euro hehe!)
Slurpee…icee drink….slurp!
Patat (fries) stall-some stalls sell patat only and some sells with hotdogs.Check.Normally they fry separately in vegetable oil without animal fats. Do enquire though…Sauce /dips are not GRATIS (free), some spices , I called it "sprinklers" for fried fishes are not free too. I know we, Singaporeans really take our FREE chilli sauces in fast food for granted. Some took so much that they wasted it all. I prefered them in packets (but think about the plastic being made)so, if there are extras, u can actually bring back home. Hmm…Accumulate them and u can serve them to ur visitors too, without having to buy bottled ones. hey, save $$, right?! Hmm…


Seafood stalls-What I like is that they clean the fish for YOU!!! YIPEE!!! And they do it well and really clean it as u specify.If u want them to cut for u, do specify it…. After they clean and cut the fish for u, they wrap it up in light brown paper.And placed it in plastic bags.Very nicely wrapped and no leakage too! So u got a peace of mind…no need to rush home, go on window shopping, sorry roomies..I'll be home late..hehe!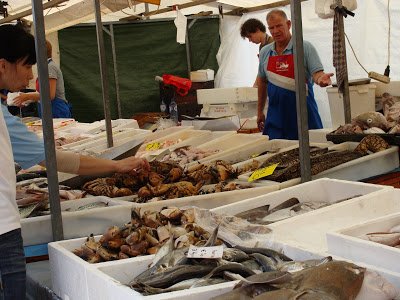 There are many different types of fishes that I have not seen…. Interesting.
travel tip/trick: The people dont really like you taking their photos or their stalls. If u want , ask for permission. But sometimes, i feel its kinda absurd especially when I gotta take close shots of vegetables and nothing else. I think that if I want to ask permission, I need to ask the vegetables itself, isnt it?
*Psst… I act like a typical tourists and just take shots of the stalls as and when and act blur.I stayed in the middle of the streets not too much into the stalls.Sometimes, I blend/camouflage into groups of people that came in to shop and just snap2..hehehe! Best is when its very crowded, the stall owners are too busy to notice you…Hmm…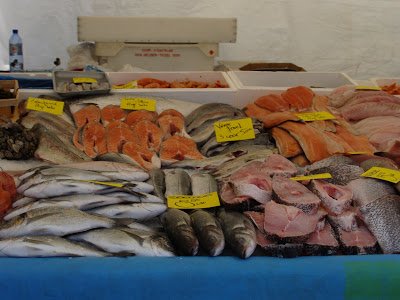 The fishes sold here have very thick skin. I tried buying sting rays and cook them in assam pedas (sourish chilli gravy), and it was tough cos of the thick skin…thicker than usual stingrays back home. Even the vegetables are tougher.U gotta cook it longer. Perhaps due to the 4 seasons it has to go thru…I wonder whether the people has thicker skin than me, hmmm..? hee!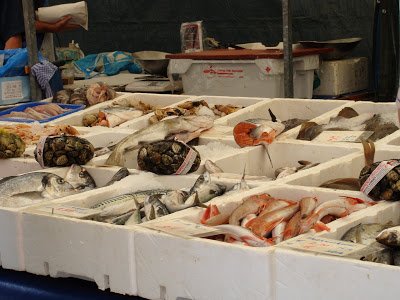 Olive trees, grape plants, tomatoes, flowers….

Beautiful flowers…but they have a different climate then ours…If not , I would have planted tulips in my balcony…summer is almost similar to San Diego's weather..but much more unpredictable.Some said the weather is like a woman, so unpredictable, really? What do u think, women?Are we that unpredictable? I like that…
Travel tip/trick: So since the weather is really unpredictable, bring a raincoat cum windbreaker for urself if u are fragile.The wind can be very chilly and unforgiving sometimes. But if u are like me, who love the rain (the rain has no weird smell, nature at its best), dont bother…just enjoy the pitter patter !!
Beautiful flowers….i love flowers!!My favourite are white roses but i got new favourite -fresia (yellow lil flowers but so fragrant! And lavenders, so yummy smelling and its anti-bacterial.Hmm….)

These white roses are cheap! 3 small pots for $1 Euro only. GRAB!
travel tip/trick: If u are invited to an open house/visit some Dutch friends and have no idea what to bring? Just give them potted plants/bouquets of flowers or some pies/tarts.
Fresia-My granny love this! I love it too! Very fragrant…Can last for weeks,if u cut its stem slantly at the bottom and often then add suiker/sugar to the water in the vase.Some said add panadol/paracetamol ..Err…no comments about that.Is it in pain?

The textile corner-the cloth is much expensive than the ones in Singapore (arab street).Unless u find something that u cannot find there….then, do buy back or else…buy back home.


Avocados -my roomies bought some and made some SPICY guacamole which they amended with their own touch of bird eye chillies and nampla (fish sauce) for me! So touched …quite yummy, actually…


Cheese…Mmmm….


I normally buy cheese from the HALAL slagerij (butcher shops)….not on the market…cos u do not know the origin ….


Roasted nuts, cranberries, dry fruits…sometimes, u can smell them far away, the yummy scent of nuts freshly fried/roasted…Mmm…yum..

Some clothes look similar to those found in Geylang Market.Hmm…. I find that the materials used in the clothes are more delicate.So read the washing labels when washing them.Important.


Headress for Muslimahs are sold here too. There are many muslim shops/stalls anywhere in Rotterdam and big towns in Holland.
Belts…

These are for the beautiful… golden, aged people. The elderly Dutch people are very independent. They love to go out and shop on their own.That is why they look younger than their age.Very sophisticated machines…it has its own braking system , seating area and goods compartment.
Lightweight shoes…

Hey Bob Marley…sometimes, they play songs in the market, all genre. There was once UB40 played in the background and someone said that they are imitation reggae.What do u think? It dont matter to me, I like UB40….

Woah! Roller skates ….by the way, roller skates are still in trend here even though they have roller blades. Summer time, they will hold weekly night skating on wednesday thruout Rotterdam. http://www.wednesdaynightskate.nl/

June is the best season for the fresh Herring! (nieuwe Haring)-"Vlaggetjesdag" So fresh that it tasted almost like butter. Belgium is the one that create this. If u can withstand fishy smell, this is a must try whenever u step into Holland or Europe…I love it!


Cooked and fried fish in batter. They have fried fish roes too! Smoked mackerel, paling (eel) and also zalm(salmon). Normally fried in vegetable oil with no animal fats involved and no alcohol.But ask again to be sure…


Too bad, these yummy gebraden kip (grilled chicken) are not halal…


They do have second hand stuff or reject BRANDED items (I saw Topshop denim jacket in good condition like new for only $1 Euro,Grab!) So if u wanna travel light, do buy some clothes over at the market.They are cheap yet good quality! Especially boots, do open ur eyes wider, bring extra lens if u can and try to scan all products especially antique and second hand corner….come early..

Sofa set, anyone?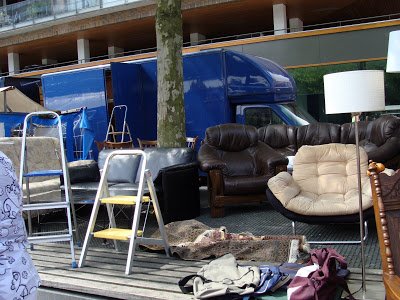 Baby chair…

What is this thing? Hmm…

Bird house…

Fresh fruits and vegetables…


Travel trick/tip: the Dutch love their vegetables at the softest for cooked vegetables.But salad is ok…and their patat/fries must have a sauce e.g mayonaise,sambal,satay sauce (not like our satay sauce, its more like peanut butter gravy).And they love satay sauce (peanut gravy).If u have open house, ensure at least one of your dish has satay sauce. U can ring ur mama up for recipe or u can buy the marinated meat (but again their satay is a mild version, much creamier but less spices, I prefer our version, though)


Cherries….and lychees.They also have mangosteen but they are smaller and much expensive.There are durians in Asian supermarket too (mostly frozen ones) but very costly and its from Thailand (not as smelly/fragrant and with very thick flesh).
Apricots -can be sour or sweet
Avocados and mangoes and gala melons (so sweet!!)

More antiques…

Books…

Travel tip/trick: The Dutch here are not as verbally open as the Americans but they will grab u, hug and kiss u 3 times when they meet u anywhere, irregardless what gender u are (even if u are in doubt about ur sex… hmm..)
So dont be surprised. I am SURPRISED, very surprised…CULTURE SHOCK indeed.I stiffened up cos Im not used to it.hehehe!Sometimes, I hide behind my roomies whenever we meet new people or visit others. hehe!
In terms of sizes, there are all types of body sizes in Holland. Cos there are many immigrants and many various nationalitites. Almost like Singaporeans. I am middle size, not too big nor too small. Dutch used to be tall and big like the Germans probably due to many potatoes they consumed…but I was told, there were very midget like last time, cos I see the beds are so small in the mollen (windmills).Echt waar?(Is that true?)
When I first arrived here, the first important thing I learnt in Dutch language is numbers and money.heheh! Yeah, u dont want to be cheated …Im not saying that there are many cheaters but sometimes if u are ignorant, u are careless with ur money and before u know it, u are on the streets. So gotta be clever with the money,baby…Hmm..
Heading home…So what did we actually buy? Food of course!!!
When I first started eating this, I felt uncomfortable eating this fish with some small bones included. Im not afraid of its rawness, in fact I welcome with open mouth….cos I love SASHIMI!! I love raw OYSTERS too..
Raw saltish Haring + onions to remove the "jerlak" taste/fishy taste.. (we eat with the bird eye chillis for some fiery KICK!)

travel tip/trick: Always ask the fishe seller to clean the haring/herrings for you.Dont buy it whole unless u are from a family of fishermens/fish business is in ur blood….even if its cheap bargain!


I love Tin!! These are fresh figs. In Singapore,the only supermarket that has these occasionally are MUSTAFA centre,they import them from India. So when I get to eat these, I ate without the skin, I threw it away…hehee! But actually u can bite it with the skin. Sweet,juicy… soft like kiwi.


Framboos is like strawberries but slightly softer and sourish.Abit hairy too…

Bought many vegetables. There are cucumber, lime,tomatoes (so sweet!),tuin bonen (the one looking like a gigantic peas..broad beans/kacang parang), champignons/mushrooms, aubergines/egg plants, grapes, zucchinni ,prei/leek and venkel/fennel (best eaten with fish aka jintan kasar in malay..its good cos its a blood cleanser/perjalanan darah)
Of course their soft ice-cream…Its a must try! (ask whether it is vegetarian and whether it contains alcohol).If u have the time, try Italian ice-cream, they have many delicious flavours… Oooh…i got sweet tooth for ice-cream. Im not a fan of sweet stuff but ice-cream, dont ask..just give it to me…(of course ensure its HALAL,insya-Allah…)


Patat with saus (fries with mayonaise).Eet Smakelijk!


And err…I bought boots too, I have a weakness for European boots and this is second hand (used), still in good condition… guess how much does it cost? New ones will cost $100+Euro… So guess how much were my boots? U wont believe it…


Travel tip/trick:Sometimes when buying boots/leather shoes, u gotta look out and ensure that it is not made out of pig skin, internally or externally especially the linings. They said pig skin have these tiny skin pores that look like a triangle shape.Hmm, Im not sure how true it is….If u want to look, go to OG shopping centre, they have many and they label them….
Today, the oysters,mussels shop is not around, perhaps they went for summer vacation.Normally, I head to their shop first, cos the OYSTERS are HUGE!!! And the mussels, I love it. Its not like Asian ones, they are HUGE and yummy….Also have bamboo clams… I Love seafood!
travel tip/trick: Not enough money to travel to Holland? Now u can just head to Japan.They have this theme park which is like the real Netherlands.Every thing, the streets, the canal, the buildings…the flowers..its like the real deal?!! Head on to: Huis Ten Bosch ….

Travel tip/trick: The 2 pin plug from Singapore is not a problem in Holland but the real problem lies in the 3 pins plug which need an adapter (the left one).U can buy it anywhere in hardware shop. The right hand side is the International adapter (for usage in America) and cannot be use in Holland.
p.s: Nowadays ,when blogging, I realised my brain switch to "dutch mode". Its not fast and efficient as it used to be in multitasking.If u live in Singapore, everything is fast (stress level is high too)….but in Holland, its more relaxing.Even in markets. U gotta wait.They do one thing at a time.Don't compare and rush them…relax…
I gotta lots to blog about.Everything is so chaotic and excitedly dancing in my brains… in my head, waiting to come out .Felt like want to explode.Dunno where to start. Normally, I will blog immediately but since the pictures exceeded the words, I had to arrange and slowly compile the story in my head. Hmm… kinda exhausting after one post Zzzz….
To be continued…
(Visited 2 times, 1 visits today)