They are the unsung HEROES which sometimes we take for granted. If u take the time to ponder, they really do lots for us.Each and every fireman in the whole wide world are heroes.My heroes…
Let's take a real peek inside a fire station 52 in Rotterdam. I had always wanted to know what is going on behind the scenes.Come, let's check out their playground…


This services car is use to transport of people or equipments. e.g fire extinguishers.




I am so excited!!!


Where have all the fire engines go???Hmm…

This is appliances bay. To me its like a garage.

Hand drawn by one of the gifted firemen (C Shift)
This is bucket pump used in the 50s.U have to placed ur feet in the hole and pump the water out of the bucket.So cute!
Memoribilia table-Souvenirs from visitors all around the world.I've got nothing to give them…just brought apple pie for them….
This is the TV lounge
This is their dining table.Normally there are 1 Rota (about 10 persons in a group,7 on duty)
Their spacious kitchen. They cook their own food and eating together,a bonding time amongst the guys.If there is a muslim, the whole group will eat Halal food.Cool, right? Respect one another beliefs.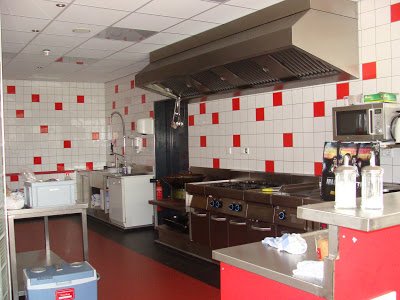 Fire-fighter's computer desk. There are more computers to access the internet in the other office.

Personal space for each and every fireman, own bedroom and closet….
The view from the fireman's room….its beautiful….any room space for 1 firewoman (me)?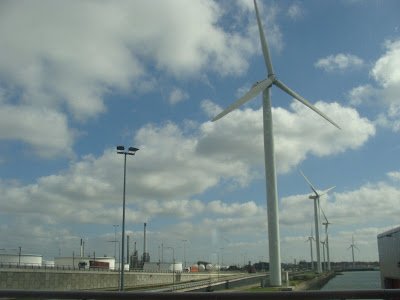 Digital alarm notice-when there is fire, there will be siren and messages will be flashed here for 30minute.The firemen were also notified by pagers.

Oh my…glass panel roof.Look up!Beautiful sky…
Ok, where should I go? Where is the fire? Im lost…
Someone from Denmark Fire Station give them this shield.
Time to clean urselves up…
Look at the handsome ME!This suit is about 10-15kg. I have a hard time fitting in.So heavy! And after dressed up, I walked like the man on the moon. hee!I think by the time Im fully dressed, the fire is already extinguished..heeheh!

Ping pong (table tennis)table…
Cage ladder is only for training purposes..I thought I can do the pole dance err..no I meant the sliding pole but most fire stations in Rotterdam no longer have it cos there are many injuries caused. Hmm…
How do they keep fit? Gym training of course…
Pheewitt!! PT attire-They are going out for some exercise (for 1 hour)

Game entertainment area for game consoles and stuff

Hey! They save someone from the electric windmill.Was told that there is one tiny lift inside fit for only 1 person. The victim accidentally bang his head inside the windmill and may have major concussion.His partner who is his backup called the firemen.
Exercises done overseas (e.g UK,Sweden..)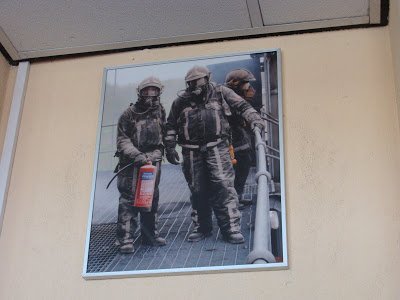 Water hose in the 30s (this used to be decoratiove item at City Hall)
Branded Coffee machine and chilled water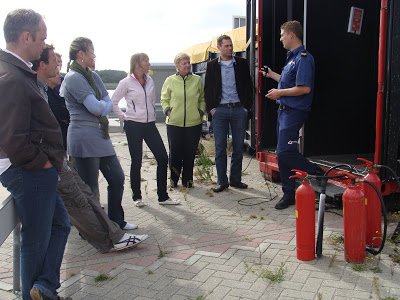 BHV training-to train companies in basic firefighting and first aid..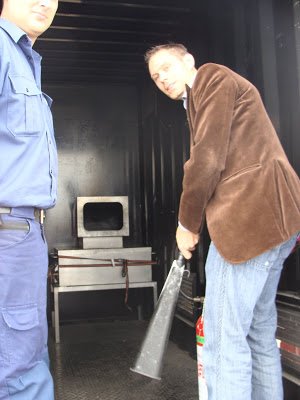 Ok, my turn to extinguish the fire.The extinguisher tank is quite heavy. Now u see the fire…now u don't!I think I pass the test.Ok, u can recruit me..but err, is there an inflattable extinguisher tank?Where I can fill it up only when I reach the fire location? Very heavy, u know…
Fire Engine-Foam water pumper of 1500 litre water ,1200litre foam (No-50.1)
Must ONLY use fresh water for the water tank.
Fresh water tanks-Refilling station for ships but the fire engines get thirsty too!
Ok,learning to put out the fire by water….Whoosh!! Wow! So powerful!!!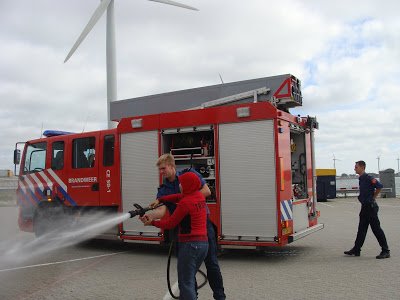 We are going for a ride in the fire engine !!YIPEE!! Put ur seatbelts on and check the 2 side mirrors.
Wide window screen
Sorry Frank, u got to seat behind….Im gonna sit in front. YIPEE!!
Martijn concentrating very hard on the road…
Trailer monitor-throw water from a distance (90 metres)
Now, who left his son's bike here?? Hmm…
Come, let's check out the fire trucks!!!
Equipments and hoses stowed n the fire truck
Back-Pump panel-to control/monitor the water pressure
MDT -it's a GPS cum mini computer
First Aid bag and
defibrillator
Torchlights and walkie talkies
Under the jacket are air tanks (16 kg each)
Breathing mask-connected to air tanks
Top view of the fire truck…
HAZMAT suits are hanging inside out to dry (for training pruposes)
Normal fire fighting kit
Me and J (Jeff, the dummy-25kg)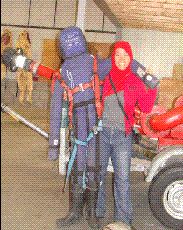 This dummy is so heavy about 50-60kg.Im gonna do CPR….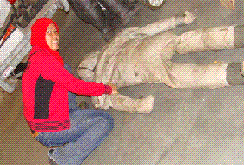 The seat has some sort of suspension, very comfortable.Like there are springs beneath it.Cool!Ok, new job designation..Putri is gonna be a firewoman!!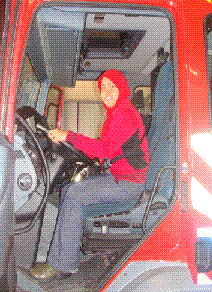 It's not easy being a fire driver.So many knobs to remember…
Thank you so much to …..all the firemen in Station 52 (even if u are not physically present,I can sense ur team spirits hanging around) for being so accomodating and patient with me.And thank you for the informative tour, fire fighting lessons and the fun joy ride!!Bedankt voor alles!
Now I know how tough it is to be a firemen.Thank you "Firemen of the world".No amount of gratitude can repay ur hardwork and dedication in helping others.Continue your great job..God bless.
I love hanging out with the guys.If u read my post on the 25km walkathon, u will see my firemen friends there, too!!They are the ones who motivate me, who spur me on to finish the race.(Bedankt!)
Ok,after that joy ride…we head back with our own car.during the journey, the car stop..the battery fail to respond.Hmm…Gotta wait for 30minutes for help to arrive.
Luckily they come in time, or I might have to eat this flower for lunch…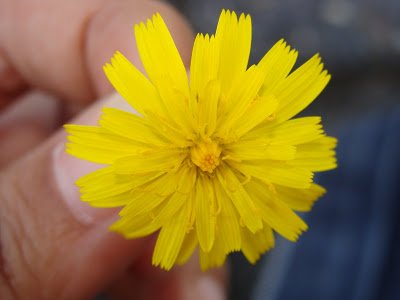 Im going home soon.Tsk,tsk…gonna miss the Netherlands….


This is another alternative to UK, by ship…. Dont leave without me!!

Aah..back home..eating fried halal "frikadel" (its like hotdog but its taste is more of flour than meat)Quite tasty.Best eaten with mayonaise, dutch curry sauce and chilli sauce.
(Visited 6 times, 1 visits today)