Hmm, alhamdulillah we have reached the last country ,the finale …..which is Luxembourg!!!
Oh no, my Sony cam battery has died. So I need to use my reserve cam but not as good quality, so pardon its non-clarity pictures…
Driving towards Luxembourg, we stop by these juicy vineyard…to droolz (cannot eat cos owner not insight, need permission..)It was beautiful…in awe with saliva overflowing…
Aah…reach Luxembourg…
We dont intend to stop cos we've been there before.And yeah, we forgot to check out HALAL food places, bummer (I guess, we are tired thus our bodily functions are slowing down…especially the brains hehhe!)
We did our sight seeing thru the car windows. Alhamdulillah,I was here before…in 2004…but I dont recall any HALAL restaurants..(normally we pack a picnic basket from home but just to be sure, do click here http://www.zabihah.com/ )
It was a great road trip, one should not attempt alone….(but anything is possible..so its up to u , its just that in my humble opinion preferably,there are 2 drivers)
Beautiful metropolitan city….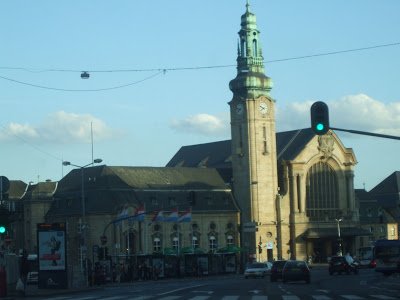 The flag is similar but its blue is lighter shade…
Final PITSTOP…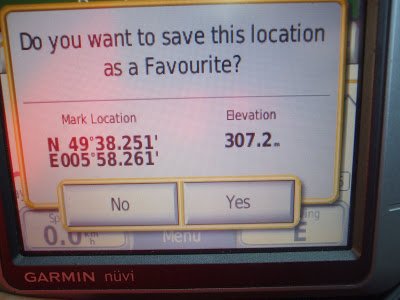 There is a supermarket cum restaurant where u can easily top up ur body "fuel".. and get some rest before proceed with ur journey.I saw many campers with large families. Wish could join them! Some have boats tied to it….

Smile…


Ok,my turn to drive back home. A bit jittery cos I've never even warm out or try out driving on the left side.A bit scared that I wreck someone's car stupidly at the pit stop.But I can do it! And I did…alhamdulillah…. (I just sweep away those fears and replace it with excitement of being able to do different NEW things.When else will I get the chance to drive on the wrong side, right? )
Gratis map available at the "pitstop"…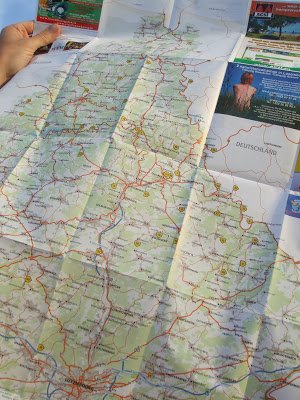 Nature camp anyone? Err…hmm…


So at the pitstop (Aire de Capellen),stretch those short and long legs. Drink some hot tea and eat some snacks before gearing up, to head home…
Hot tea to warm the body..its kinda windy…cold

Nuts for that energy booster…

Driving back home, it was weird cos my left hand (mine is manual car back home) kept wanting to grab the "invisible" gear stick.And when I want to signal to turn right or left, my right hand keep turning on the vipers instead of the signal light.It was funny!Luckily, my buddy was awake the whole time to guide me…
Manoevering the gear stick with ur right is kinda WEIRD!! I felt like my body is not in uniform.Kinda felt "chaotic"…the left and the right is not in cohesiveness.hehe!
Anyway, this is supposed to be the easiest part of the journey, cos Im driving 4hours straight on a freeway/expressways at speed of 120km/h (sometimes 70 or 100km/h as shown in the signs).
So far so good and I gain confidence gradually…and alhamdulillah, drive smoothly…
I did some mistakes though. I road hog a few times before I get the hang of it…and some drivers horn me but I didnt hear (I think I'm too engrossed or Im concentrating too much on the road that my ears are tune out hehe!) and they speed up in front of me and wave their hands but no foul language (thank God!) or any impolite gestures.
But once I get the hang of it, I speed up beyond the speed limit till car kinda vibrate wildly… that my buddy has to caution me many times. I gave the excuse that ëveryone was doing it"..Whee!
And since I was driving at night…upon reaching our town (no more expressways) with all the traffic lights and narrow bends and little turn-ins…I cannot really see the cut at the pavement where cars can drive in,so I kinda panick, unsure where should I turn in…but with my buddy guidance, alhamdulillah we made it! (thanks Bud!)
It was the first time, I ever drove 4 hours straight in a row without stopping.Even in Malaysia or Thailand aint that bad. We stop every few hours.
Anyway,upon reaching home..unpacked,bathe,brush teeth in ….speed record, pray and Zzzz…too tired to even utter "Welterusten!"..Wow! What a day!
Note: We stop by a car stranded at the highway cos a man (alldressed up in suite) was waving wildly for us to stop. His problem was that he has no cash money to top up fuel cos he's on vacation or something. And he wanted to give us his GOLD jewellery (bling bling) in exchange for some money. Smell kinda fishy right? Could be a scam, might not be… anyway, do take note…
(Visited 8 times, 1 visits today)