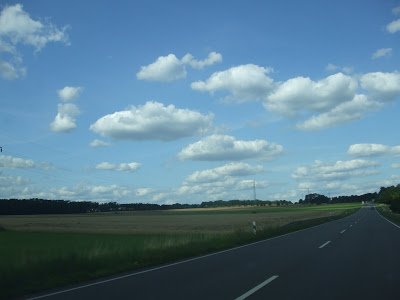 "Country road take me home to the place, I belong…." I felt so belong here. Felt like rolling down the fields….
Driving to Saarlouis, we get to pass thru many meadows and countryside. Im so in luv with the countryside…
Look!So peaceful..look at the hays being rolled up…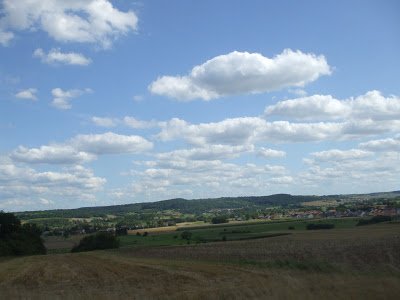 Fire-station no.1 : Pass by local fire station..chat with the local heroes….
There's a self-service flower garden in front of another fire station. I was there all alone wanting to cut some flowers but then…
Penknives to cut the flowers are provided there.
I heard a rattling sound….in the bushes…. YIKES!!! I thought it was my imagination ….but it moved when I move and it rattles as i moved… I got scared and take slow but large steps and escape! So no flowers for me….
This is where u slot ur money in.There wasnt anyone around,so be honest and pay for what u pick, ok?
Fire-station no.2:
Anyway, we take a brief stop at the fire station, a friend need to use the toilet and I stop over to take a peek…what goes on in a fire station actually? Psst..come follow me *whisper.
Hey! Firemen Uniforms…with their boots all lined up neatly
Antique fire engine…
Err, Im lost…im supposed to go to the ladies but I end up at the GENTS…
so how do I go about it…Ermm…..
Please do not forget to ……..FLUSH! Eeew…
Ok, care to give me a lift to the town? Woo-hoo!
Roundabout…
Reach the city centre, was told that the shopping malls are open till 7-8pm.Normally in Europe, the shops are closed by 5-6pm.In Summer, some shops open till late about 9pm on fridays.So Singaporeans, count yourself lucky that u get to shop till u drop…from 10am-10pm. Anyway if that is not sufficient,there is always 24hour Mustafa centre hehe!
They have these twirl around poles…kinda cool for parents who wants to shop and let the kids play at the same time or have a light snack/sandwiches with family at the courtyard.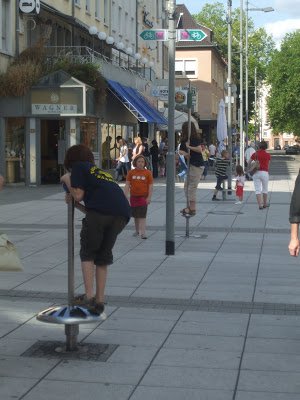 Ok, sorry, I gotta join these kids, WEEE!!!….water is my weakness….
Hey this is one sign, I can read in GERMAN..yipee!! ACHTUNG!
What are u waiting for?Its shopping time for gals and a headache time for guys!!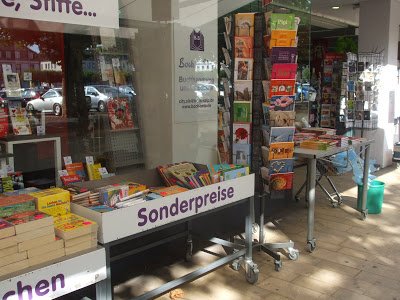 The shoes cost about $20 Euro each pair.It may look cheap but its not.Its from a branded company. Inside the shoes boutique there are many glamourous brand. Aint that cheap even during sales promotions.
Im not sure whether this is Aussie brand or American brand. Perhaps its a self-print surf shop.Where is J-town? (squinting my eyes to read the tees)
Germans are famous for its bratwurst…sorry,not HALAL..
Circus coming to town? I've never been to a circus before..I would love to go if had the opportunity.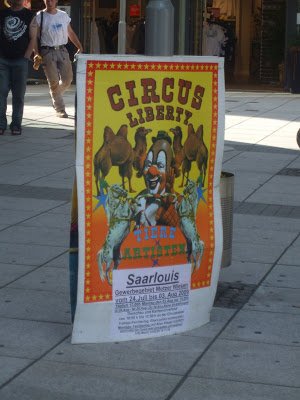 This is the local pharmacy or drug store….
Asian food is an abundance in Europe, so no fear if u missed local food just head to nearest Asian restaurant.But to find HALAL ones, that might be a problem, though.The best thing is to cook them yourself. I love cooking….nothing beats a homecooked meal, right?
Some historical facts…
Hey, its Mr Fire hydrant…as u can see, they come in different shapes and sizes in different countries.Their main colours are normally red and yellow.
These plates indicate the location of the water pipes underneath…
Look at the font used in the street names….
Shady,shady walk…
Now who hang the pots up there?
We head to the food alley. There are many pubs and cafes gathered there. And u can find Halal food mostly Turkish/Moroccan. We found 2 in these alley.Take note, alcohol might be served too.
Altstadt Kebab is NOT halal because only the chicken is halal ,the rest is not so sorry, NOT HALAL.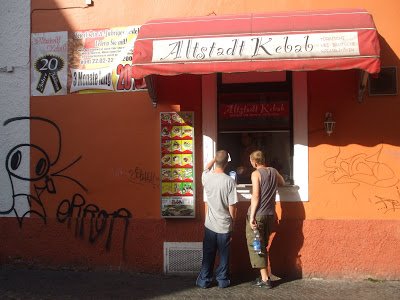 This restaurant sell HALAL food but alcoholic beverages too. So….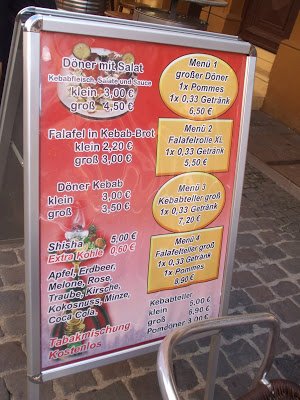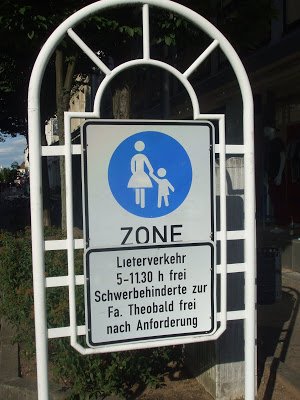 Okay its time for ICE-CREAM…my legs are sore from all the walking and eyes are tired from all the browsing ….and window shopping…
Germans love their ice-cream. I luv ICE-CREAM too!As usual, we asked whether the ingredients in the ice-cream are animal-based and have alcoholic content.If they do, we avoid.
This is fruit sorbet with peach, melon and fruits at the bottom. Delicious!My friend has a knack at ordering the best desserts, Im gonna wallop his dessert….
Spaghetti ice-cream. No, its not the typical pasta with tomato sauce but instead Vanilla ice-cream with white chocolates and fresh strawberries syrup.They also have pizza ice-cream, i wonder how it will taste and look? Hmm…
The chocolate milkshake is not milky as expected unlike the American milkshake. Its more chocolatey, more pure chocolate used so its a bit bitterish.Not bad…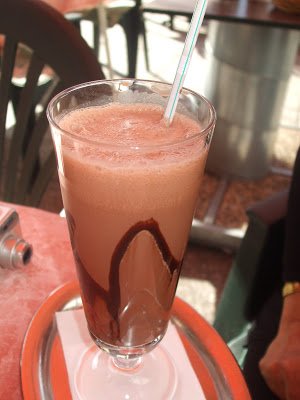 I think this is cruel.To prevent the birds from perching or birds dropping from decorating the buildings, they add these thorny spiky things around the sides of the buildings but the birds are still adamant to stay in their territory and build their nest. Cool…
Alhamdulillah!! Halal restaurant…
Near the courtyard beside the bus station….
If u are wondering…This is a pedestrian lane.
And this is my second time to see a dead bird in one day….in different countries…
Sadly to say, time is running out and we gotta rush. Had a great time here.
Tschüss!!
Time is about 8-9pm when they left Saarlouis.Can Putri and her buddies make it to the next country before night falls? Do check her blog for its updates…
(Visited 3 times, 1 visits today)