The Masala hut
37 Chander Road
Singapore 219533
tel:63415101
Halal-certified
http://themasalahut.com/
Saw the advertisement in one of the local newspapers.
The people in the restaurant are nice. The lady staff at the counter allow me to take pictures in the restaurant itself. First time ,I was allowed to be so carefree in the phototaking to such a point that I was daring enough to take the HALAL certificate upclose.I realised eversince I came back from the States, I became daring enough to show my face and explain myself so that I can take pictures out front without having to hide my true colours (no more fears of being chased out by dogs, or creamy pies or stones heheh!).
But dont worry, normally i will do that after I order and eat/take the food so the food will be as it is and not been "Authored" in some ways to win some extra positive criticism, in other words "bribery".

The fish head curry is best eaten in the restaurant itself and it is CHEAP-$9.00 for 2-3 person.Waiting time: 10-15mins.It was hot and piping when I received it.
If u take away like I did, it will cost u about $15. Where can u get these?!!! Especially when it is HALAL certified. Dont compare with Muthu and others…I dunno their standard. Have not tasted theirs (waiting for them to be HALAL-certified, if any)

The restaurant's fish head curry is nice. The fish is fresh. The curry is nice…If u can eat there, even better cos I saw many varieties of food displayed and I saw how the indians enjoyed their meal eating with their hands.For sure, I will come back to try out their other tempting dishes….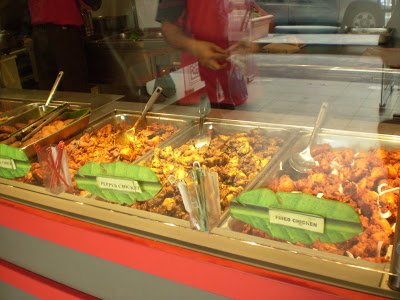 If your father love curry, Why not treat him here for a meal? Father's day…or any other day….
Anyway, my favourite fish head curry…
Blue Diamond restaurant at Kerbau road, WOW! Their fish head curry is SHIOKEST!! The first and the BEST one I ever tasted!! (2 years ago, I think)Thick and dark coloured fish curry with personal attentive waiter at our service. Felt at home. But they dont sell fish head curry in the menu anymore. If u want, u need to call up and request.
Price wise I dunno. Previously we bought the smallest one at $25 and it is huge for 2 person. And it was WORTH IT! I still remember how my tongue scream with delight as I scoop spoonfuls of the curry and fresh fish meat into my mouth. Mmmm…yummy! (dont forget to try their spicy fried slices of bittergourd,no taste of bitterness at all,even my anti-bittergourd friend loves it!)
Sorry for the sidetracked…
but if u want to see how I cook my own fish head curry ,
http://www.putriberendam.com/2007/08/goodbye-mr-fishy-head.html
But for sure, its more of a comedy than a cooking experience.heheh!
p.s: I know Im supposed to give up fish head eating but eversince my teacher gives the thumbs up, had not been stopping eversince….the eyes are my favourite… hehe!
And if u like that and want more laughs…than recipes, go here…
http://www.putriberendam.com/category/diy
Im sort of like a clown chef….hehe!
Warning: Try out the recipes at your own peril.I held no responsibility. Hmm..
(Visited 3 times, 1 visits today)