Updated 2010-This restaurant is no longer Halal-certified.
Barcelos Flame Grilled Chicken
1 Harbourfront Walk
#02-91 Vivocity
Tel: 9339 6853
Opens at 11am
HALAL-certified
http://www.barcelos.com.sg/our-menu.php
They were open at 11am this morning.Unsure what to order, I asked the lady what their specialities are. She didnt answer much.So still blur, I just ordered quarter chicken and chicken liver (hati) cos I find it interesting to find chicken liver in the menu.
Then she said choose a side menu.And we need to look up to the board for its side menu.They should have it at the counter. Anyway, choose either fries, corn,coleslaw…. and then u need to choose its marinate(again we need to look at the menu on top) of either tangy lemon (not spicy at all, good for kids) and other peri sauces which range accordingly to its spicyness.
Drinks are separate. If u order all-u can drink is about $2.95 each, u can keep refilling till u are bloated with the soft drinks and ice lemon tea BUT u cannot share, u will be penalised (a fine, perhaps? *grin) cos they have CCTV cameras everywhere. I did cheat a bit somehow…errr…hehhe! But so far, nothing happen…

After we ordered, we waited about 10mins, before we were served. Utensils are self service. The chicken is nice. The meat is not dry but not so moist either. So it was ok. The breast meat was tender.
I like the chicken liver, tender, not too hard and I chose the spiciest, it was indeed spicy. Love the thick spicy gravy that comes with it.The bread that came with it was soft.I like!
But the coleslaw was average. I think KFC one is better.(oopss!) The fries are the large thick ones.It was nice.
The sauces that were on each and every table was unnecessary since I already asked the exact type of marination that I wanted on each food.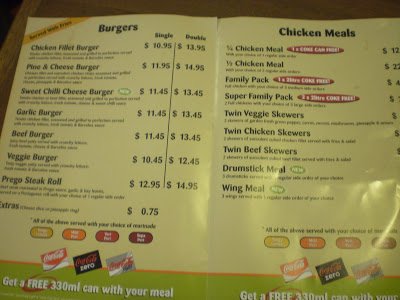 But just in case if the marination is not that strong, u can still dip it in the sauces provided.
Overall, I like the seating and cosyness but I dont really like the prices. Cos price range is about $10+ each person. I did try asking whether they have fried chicken or somethin'..they dont. 🙁
Overall, it was alright to bring a family down.
I find that it is similar to Nandos (in Malaysia) and CHARCOS (in terms of prices and portion and yummyness, I prefer Charcos portuguese chicken but its original failed to impress me as this Barcelos does)
(Visited 6 times, 1 visits today)