Who says u cannot survive if ur restaurant do not sell liquor? Well, this restaurant below has done so for many, many years…HALAL meat only and no LIQUOR, my kind of eatery…
Note: Many restaurants told us: the reason they sell liquour or pork (alongside HALAL meat although they said they use separate utensils and all that) is because of the majority Dutch customers requests.So do check its HALALness, use ur eyes n scan around for any dubious brands…
Farao Restaurant
AMSTELSTRAAT 39-41
1017 DA
AMSTERDAM
TEL:020 624 3712
OPENING TIME: EVERY DAY 3PM-3AM
(WEEKENDS TILL 6AM)
Sometimes, Im drawn to a certain restaurant by its "vibes". If I felt a certain connection or positivity, I will enter the restaurant and order.Sometimes in a different country with many choices for HALAL food, I have no idea which one to choose. U cannot choose by the number of customers/tourists that patronise it nor can u choose because it look fanciful..but mainly…I chose it with my heart…insya-Allah
This restaurant is one of them. It was medium size but there werent any customers in sight. It was empty around 4-5pm. My legs are killing me, cos I had been walking for ages touring around, in awe mostly…
But that is not the reason for me to stop here. I felt that they gonna serve me GOOD food and I was RIGHT! Me and my makan buddies and roomies had been in and out many HALAL eateries,querying about its HALALness.But none attract me as much as this restaurant. They have nothing cooking at the moment so I cannot blame it on the yummy smell. I dunno, I just felt it…
Sat down and I saw RIBS….spare ribs..(YAHOOOOOO!!) in the menu but these are from the lamb…Im a FAN of RIBS…and MEAT…dont ask me why..
Ordered ribs, steak and shoarma…
The food is FANTABULOUSLY GREAT!the Ribs are tender and marinated well with its roasted smell and taste.I was shocked by its GIGANTIC size and fries by the side.But knowing me well, I wont waste good food, I ate it all!!
There are 4 sauces and dips-Garlic sauce and tomato dips are favourites! The sambal (chilli paste) and mayonaise tasted homemade. But the sambal is different than in Singapore, like uncooked chilli boh (tak tumis).Its like that everywhere here, so prepare for that.
Shoarma-minced beef with patat (fries) and salad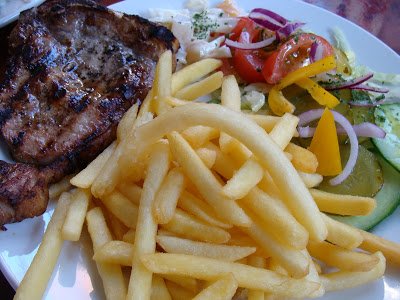 Charbroiled beef steak -they called it "Karbonade"

The steak is charbroiled, my roomie kinda eat it bit by bit to savour the taste and the meat. She said it is one of the best. The minced meat of shoarma was good too, a lil sweet. I tried all 3 food, it was really good…
HUGE yummilicious ribs, are u drooling…yet?
At first I use fork and spoon and then, I just throw it away and use my fingers instead.(wash these hands first, of course) Felt so at home, mouth all mashed and messy..with the sauce and all that, I cannot eat like a princess…sorry..hehe!
Service was great! The food came only 15mins after we ordered. Its a one man show and the man treat us well. He was attentive to our needs. My roomies kinda finish lots of the garlic sauce and tomatoes/chilli dips and he replenish them almost instantaneously.
I chose SPA Citron-with bubbles…

At the end of our meal,we were given large mint sweets tasted like Polo mint(the one with the hole in the middle, remember?) -Feel free to freshen up ur mouth …


The total cost-is quite affordable ….

After that, we chat for awhile and found out that this restaurant has been in business for 22 YEARS?!!!! Alhamdulillah. That explains why the food is tender, yummy and good…speaks from the heart.
So if u do travel to Amsterdam, do visit this restaurant. I love it! I hope you too!
Alhamdulillah, Im full now, where next?
Hmm, let's take a FREE ferry ride across to Northern Amsterdam (its free 24hours, it comes by every 15mins)
Total there are 5 routes.There are 3 destinations from Centraal Station area-IJPLEINVEER,BUIKSLOTERWEGVEER,NDSM-WERFVEER.Another 2 destinations are from TASMANSTRAAT :DISTELWEGVEER,NDSM-WERF
We went to the IJPLEIN route…
Purpose of going over is to find the mosque as shown on the map..Motorbikes,bicycles and mopeds can travel alongside passengers on the ferry but not cars.There are another route for cars to go over by road/expressways..
As we found out later,it wasnt as near as the map has shown us.Luckily, a local muslimah showed us the way. It was a 10min walk. hmm…
Masjid Al-Muhsinin (Mouhsinnine) @junction of Meeuwenlaan and Valken Weg
travel tip/trick -Wear light weight boots/sneakers or anything that is comfy to walk in because in Amsterdam, u need ur legs to be in the most comfortable…to enjoy the sightseeing..I wore my green Kipling boots everywhere,in any country..
Door bell cum camera-u can buzz them and they can see who is at the entrance.Call first before u come to ensure they are open.
The mosque is closed. Perhaps, it will be opened during prayers time.Next prayer time will be 10pm for maghrib.Got to go home to Rotterdam before dark. So we left..but it was a good experience.
Travel tip//trick : If u have a hard time finding HALAL food in any country, try to locate the masjid/mosques first, normally there are HALAL stores and community nearby (but in US, that is not the case sometimes) but at least, u can pray and meet other muslims in that country and get more information.And make new friends too! Get to know their culture and their way of living and how they instill Islam as part of their everyday life. Its beautiful…
Other mosques location (shown on map,err, u know this mosque wasnt located as shown on the map, so expect some discrepancies, best is to use Google Earth/Google Map)
1) Near Zeeburgerdijk -junction of delistraat and Celebes straat
2) Junction of Lombok Straat and Timor plein/Straat
3)Near Dappermarkt-Junction of Swindednstraat and Dapper plein
4)N.S Station Muiderpoort (Railway station)-Insulindeweg and Toministraat
5)Metro Station :Wibastraat -Junction of Weesperzijde and Grensstraat
6)Sint Willibrordusstraat & Nouts Straat
7)Van Ostadestraat & Sint Willibrordusstraat
8)Bessemestraat
9)Joubertstraat
Out of City centre-Osdorp
10)-Ookmer weg & Geer Ban
11)Wolbrantskerkweg
12) Waterschapstraat
13) Nolensstraat
14)Osdorperweg & Caland Laan
Another town council -Slotervaart
15)Jacob Geelstraat
16)Postjesweg (Metro station)
17)Legmeer straat
Far northern Amsterdam -take Ferry to Ijplein and take bus to Nieuwerdam noord
18) IJdoorn Laan
19)Heimansweg & Breemstraat
Near Westerpark area (West of Centraal Station)
20)Wormerveerstraat
21) Zoutkeetsplein
Slotermeer
22)Looystraat & Louis Couperus Straat
23)Arthur Van Schendel Straat
24) Ernerst Staesplein
25) Willem Leevendstraat
De Baarsjes
26)Jan Evertsen Straat & Mercatorstraat
27)Portjesweg & Ortelius straat (opposite the church)
28) Witte De Withstraat & Van Kinsbergen straat
29) Chasesstraat & Van Kinsbergenstraat
Oud West
30)Jan Hanzestraat
31)Rozengracht
32)Frederik Hendrik Straat
De Pijp
33)Ruysdaelkade & Gerard dousstraat
34)Albert Cuypstraat & Herc. Seghers Dusart Straat
35)Ceintuurbaan & Herc. Seghers Dusart Straat
Zuid Oost
36)Karspeldreef (Kraaiennest Metro station)
And many more…..
Travel tip/trick: U can drive over to this northern Amsterdam (Ijplein) and park your car FREE.Then take the free ferry ride over to the city centre. Because Amsterdam has the most expensive parking charges especially at the city centre.One day parking cost is about $50 Euro or $4-$5Euro per hour.
@ Bloedstraat & Zeedijk (near Nieuwmarkt)
As we walked back to our parked car…there were some crowd gathering..Wonder what's happening? There were shouts and tussle and tuggle kind alike someone fighting.Hmm.There were 2 policemen on horses running towards them, then I heard sires of police cars…What's happening?
There were some kinda of robbery. My dutch is terrible.Luckily, one of my roomie is dutch.So he asked around and found out that the man pinned down on the ground tried to steal/rob someone or something and those holding him were plain clothes politie (police).I love those horses.They are fast in chasing and strong too! Cos another trouble maker refused to budge when asked and they went galloping away chasing after him.Wow! So many action…. I hide one corner, I fear the horse might trample me… err…
p.s: What I love about Europe..is the tiny minute details of their buildings…U'll never know when or where a little man will pop up…it can be above ur head

And i love the stones in each of their walkways..Men of many histories has walked on them…and Im one of them…

Ok, Meows….

Goodbye Amsterdam…

Will visit you again, insya-Allah…
(Visited 29 times, 1 visits today)