To tour around Amsterdam City centre : Take Metro to Centraal Station
Red light district-Near Chinatown between Warmoestraat and Nieuw markt
Besides being famous for its drugs , Amsterdam is famous for the red light district too. Let me just explain briefly. There are many streets in Amsterdam that U might got lost and wander into. These "special" streets are those that have sex shops and "window shopping" facilities. U can see ladies in their lingeries (and nothing else) being displayed at the clear glass windows.If the curtains are drawn that means they are in "business"/busy with customers.
I got lost in here. The funny thing is that the places or things that U badly want to avoid are the ones that u end up in.
Travel tips/tricks:Don't take pictures of the ladies…its not nice.Furthermore, they might chase after you.Try not to judge cos we do not know what and how their circumstances are.Keep an open mind..
I've got some weird story to share. Once I saw some naked butts in postcards in a bookshop in Rotterdam and it was unintentional because there werent any "warning"/labels to separate them from the typical tourists postcards. I think its just naked butts… after that my eyes were "sores", red for 2 weeks and so badly that there were a point of time, it cannot be open, sticky (there were starchy sticky pus emitted out). It could be a coincidence ,perhaps someone with sore eyes were just beside me(how do we get sore eyes, anyway?)perhaps nothing to do with the naked butts photos…hehehe!Besides typical doctor's prescription, I heard of weird remedies for sore eyes: human's milk, own urine (the first wee2 right after u woke up)…Yikes!
Travel tip/trick-Some tv channels in Holland especially after midnight are XX rated…so parents ensure ur kids do not watched tv after midnite.
Halal eateries @ Damrak


The Halal restaurants are easily located. Just at the main shopping street. I do not see alcoholic drinks on these menus.I did ask and find out that the food is HALAL even Gandhi Restaurant is HALAL.The eateries in Europe seldom have a HALAL certificate displayed like Singapore and Malaysia. It is because there is no such official organisation that does that.
So normally, if they placed a HALAL sign, normally its because they are muslims. So no qualms about that, just need to check whether they serve alcoholic drinks and whether it is 100% Halal.


Travel tip/tricks: Not all FALAFEL/kebab or mediterranean-looking shops /Indonesian shops or those with Malay names are HALAL. Most Indonesian ones arent.Some muslims sell alcoholic drinks though the food is HALAL. I will try to list out all that I chance upon but do ask them again just to be sure. Some "muslim" shops sell both HALAL and NON-HALAL meat.So ask in details.They are happy to answer your queries if you ask politely.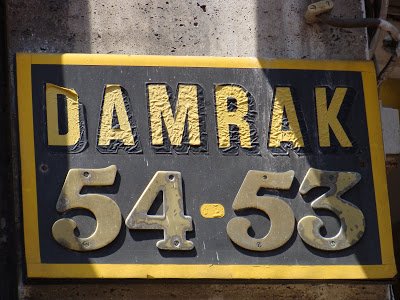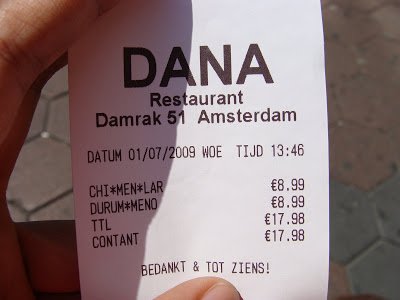 Souvenirs shops are abundance in amsterdam.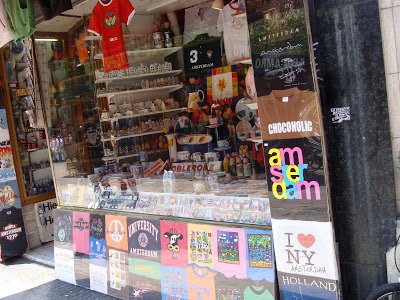 I like the "Ï love NY" t-shirt (strike and replaced by Amsterdam) hehehe!
To buy souvenirs, its expensive to buy in Amsterdam. But the postcards are one of the cheapest. I saw 10beautiful postcards for only 3Euro. Sometimes, u can get good bargains at the market (white tents) which normally end by 5pm everyday even in Summer (when it is still daylight @10pm)
Tired of walking? U cannot cover Amsterdam in one day. I tried…but its just too much to see and do.Everytime, I landed at Schipol , I will tour around Amsterdam and there are still lots to see.It never fail to surprise me. So get these rides (below), if u are tired….
Fiets taxi-Bicycle taxi

U can rent bicycles in Amsterdam and cycle. There are separate lane for cyclists.They are always speeding here and there without much warning or slowing down, more chance of them bumping into u, if u are not alert.Ouch! So watch out!

Water fiets-water bicycles
U can also pedal ur way thru the canals…get a partner with good stamina and strong legs…Ladies, dont worry, ur man can pedal it alone, it will still move well…
Bak fiets- for transporting cargo
Felt like having a horse ride tour?
Serve Halal food but also alcoholic drinks…
Most HALAL restaurants are closed on Wednesday (I do not know why cos I came here on Wednesdays)
Magna Plaza
I love this shopping centre building…Sissy boy brand, anyone?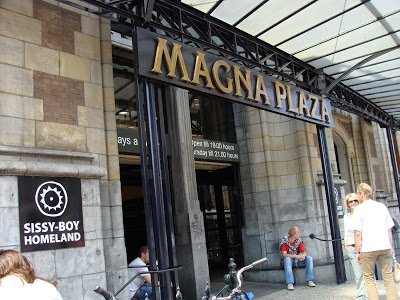 Royal Palace @ DAM (if there is a flag/banner with Royal emblem, that means the Queen is there,but normally She will be in Den Haag)
Does this bus look familiar? I saw this in Singapore,US,London…and now Amsterdam.


De Bijenkorf-One of the shopping centres with good quality products,all under one roof..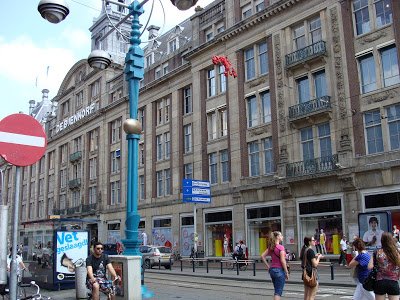 Pott /Potty change? If u can change ur currency in Singapore or ur own country , do so, cos here u will be charged with service charge….
KFC restaurants (@ Damrak)here have a slightly higher chance of being HALAL.U gotta ask the staff.This branch is HALAL. I'm not promoting fastfood but just in case…. (There are many KFC branches in Rotterdam that is HALAL, fyi.-West Kruiskade,Bergweg,Karel Doormanstraat,Groene Hilledijk.)
DAM-The origin name of Amsterdam is from the dam built here into the Amstel river.
At the main square…
Buskers at work…. This man entertain us quite well …Simple tricks up his sleeves, minimum contribution is $5 Euro hehhe!
Hollywood?Micheal Keaton?
If look closely, there is a "weird" looking Spiderman….
Nieuwekerk -new church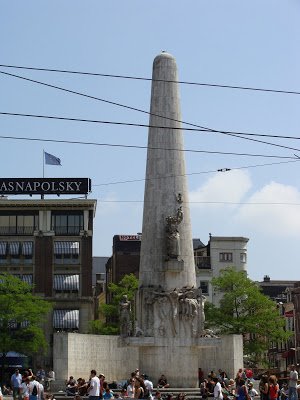 National Monument -casualties in World War 2
Wax museum….there is a very long Q…
Suka bumi Restaurant -Indonesian Restaurant (sells pork and beer) @ Geelvinckssteeg 2
For more information on restaurants available in Amsterdam :
http://www.amsterdam-eating.com/cuisines/indonesian.asp
Remember what I said about Coffeeshop in previous post?-a place for smoking weed/pot above 18 yrs of age…
Love the many creative graffiti walls….
Marokkaans restaurant @Nieuwezijds Voorburgwal
Im not sure whether this is HALAL, no indication furthermore its closed…
Homosexual monument @ Wester markt -there are 3, below are 2 of them, the third one is near the water. Their colour is Pink… Hmm.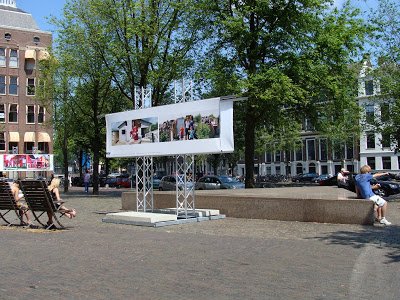 Anne Frank house- I read her diary when I was in high school as Literature text.

Normally ,there is a very long queue but today its not that long so went for the tour. NO phototaking inside the house. Furthermore the house is not the real house. They renovate it in such a way that its modern but some of the interior is the old one.Even the pavement, they move it in there…. My dad had gone in about 30 years ago and he said last time, was much different.
But even so, u will get goosebumps when u enter the kitchen and some areas too…


People continue placing flowers in her honour…
She has another sister that has similar face…The only person survive the war was her father (but he's dead now). And what his father said in one of the documentary is something like "No matter how close u are, U'll never know ur children that well"…cos when he read his daughter's diary, he still has trouble believing that is his daughter diary…
This is the real Anne Frank house (the building beside it)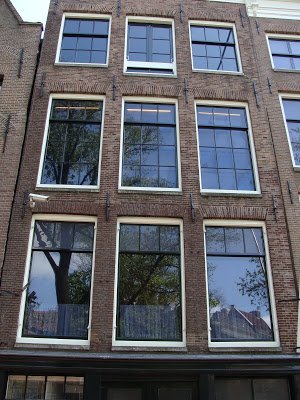 If u are tired…or u wanna wait till the queue shorten, u can wait by the canal…sit and relax…
fyi- If u are free, its a must to see the many market stalls @ Waterlooplein (9am-5pm)
Take the Underground Metro station (like MRT) : Waterlooplein
(Visited 15 times, 1 visits today)