How do I feel about this event?
At first, jitters..of course.I never have the thought that I would actually meet the fans/readers of the blog. But hey! alhamdulillah i did it!
Sembawang Eating House (seafood restaurant)
Bottle tree Village
60 Jalan Mempurong
(2nd LEVEL)
tel: 67589692
12pm-10.30pm
CLOSED ON MONDAY-(thanks anonymous!)
Co-ordinates (GPS): N 01'27.54 E 103'50.651
Less than 24 hours ago, I was in another country and was even quarantined. So still groggy, I went as promised.But a word of caution though, my tongue might not be used to it cos I had not been eating any spicy food (even its hot sauce aint that hot) when I was in US. So the tongue might take some used to it or perhaps its not as sharp as it is so Im gonna put what the others say about the food too, ok? Sort of like my makan spies.
The event was initiated by V.She is a fan of HALAL food. And let me tell u this, she is a non-muslim,insya-Allah soon and it makes me feel "Subhanallah",we at times take HALALness for granted.Hmm…(May God bless her!)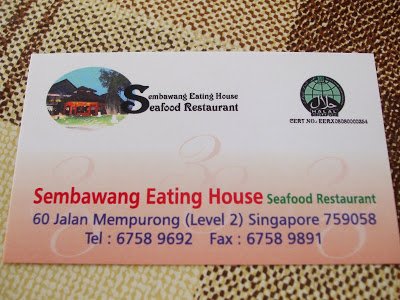 Anyway, the location was a bit far off from the main roads so most of us took cab. Mine was actually using Garmin/Malsingmap. Anyway,it was breezy and cozy.We got the whole restaurant to ourselves. The staff were friendly and I did email the owner before hand inform him of our presence so that I am free to take photos and all that.I also email MUIS to confirm its HALALness before going (just to ensure that the certificate is still valid and did not expire)
Are the food as good as it look? Hmm…
Indeed it was GASTRONOMICALLY good!!
The ACAR appetizer was complimentary. Kinda whet ur appetite…Its made of slices of cucmber, carrots…tastewise is sourish sweet and crunchy.I like it.The sweet sambal belacan was ok.
Rate/Comments (out of 5 stars/droolz):
Putri=3
S=3
A=1
D=did not try
V=did not try
This is Banana scallop-I felt intrigued to taste this cos its unique. The banana was covered with you-tiao (dough fritter)and the tiny bit of scallop is encoated with egg (green) and then it was fried. Tasted like a normal fried banana fritter (pisang goreng).The scallop is tiny thus not much impression can be made.It was to be eaten with the mayonaise. I like the mayonaise, it has a tangy taste to it. Not like the typical ones u find bottled in supermarket. Overall…

Rate/Comments (out of 5 stars/droolz):
A=3
S=1 and half
v=1 (couldn't taste the scallop at all)
Putri= 1 (comments above)
D=didn't try
French beans fried in garlic -U can taste the freshness and crunchiness of this thinly french beans. Garlic is not that overpowering.
Rate/Comments (out of 5 stars/droolz):
S=4
V=4
D=3
Putri=3
A=2
This is hotplate beancurd.Not the typical hotplate beancurd. I was surprised actually.Cos the gravy was red in colour. Hot and sizzling. Mild spicy. Jellylike tofu, fresh. Normally you find other seafood with the tofu (beancurd)but not this one. I prefer the SEAFOOD TOFU .
Rate/Comments (out of 5 stars/droolz):
V=4
D=3
Putri=2 and half
A=2
S=2
This is sambal fried rice, said to be popular amongst customers. I like the flavour.The rice is not clumpy,the grains separates and u can taste the seafood flavour in it. Mild spicy.
Rate/Comments (out of 5 stars/droolz):
Putri=3 and half
A=3
D=3
S=3
V=3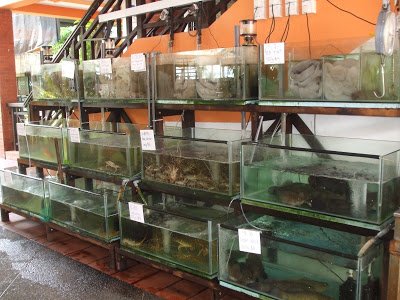 The STAR of the lunch is CHILLI CRABS. We were asked to come downstairs and check out the crabs.There are many types of crabs to choose from. Personally, I have no idea on how to choose crabs, Im good at eating only. V is the one who chooses the crabs. In fact, she told me that the female ones might be better and tastier. (Psst, I do not know which one is female, which one is male or …. err…)The staff showed us the different "sexes" of the crabs. Interesting, I felt like I was watching discovery channel or something. Cool..
Anyway, the crabs were alive and kicking when we pick it up. Quite big and burly too. So the freshness is a WOW! The sambal is not that sweet, just nice and not that spicy too. I love it! (Though I am shy to "attack" the crabs, I was actually devouring the crabs wildly in my mind hehe!)
Rate/Comments (out of 5 stars/droolz):
V=4
D=4
Putri=4
S=4 (Nice!Fresh!)
A=3
The fried buns are small, so order MORE! Let those buns soaked in the yummy gravy and let the goodness of it slitther thru ur mouth into ur throat..Mmmm…
The makan KAKIs…..

thanx 4 editing the pics dad….
AUNIQUE cheese cakes are SHIOK! Especially if u let it refrigerate and eat it when its cold…Mmm…Its cute though, like a miniature cheese cakes.Ok, the verdict…


Our favourites:
Putri-Chocolate and Yogurt
A=Strawberry and Yoghurt
D=Strawberry and blueberry
S=Strawberry
V=Mango
http://auniquecraves.multiply.com
email:auniquecraves@yahoo.com.sg
tel:91457955 (Ms Ati)
So that's it…overall , each of us forked out less than $SGD20 bucks. So it wasnt gonna create a hole.Dont worry, next time will impose a FINE -"latecomers will pay more"…hehhe!


Alhamdulillah, thank you ALL (the readers ,bottle tree management, staff and the crabs..hehe!)for your valuable comments. Interaction came easy for all of us.Not too big a group.Very easy going, laid back and enjoyable experience.Looking forward to future meetups insya-Allah if Im not off travelling n seeking adventure in another country…Hmm..
Luv,
Putri
(p.s: I know we did not eat much this time, perhaps still shy but personally, my tongue has not warmed up yet.. So next time, insya-Allah we can improve on that and also the timing, cos I know many wrote in asking for a change in time cos of work and stuff. Insya-Allah…)
After the lunch, stroll around…

They have fish spa (those turkish toothless fish that eats ur dead skin) and prawning (like the ones in Pasir Ris park)

My personal visit, previously:
http://www.putriberendam.com/2009/02/bottle-tree-village-seafood.html
(Visited 8 times, 1 visits today)