Day 3…..Beverly Hills walking tour
After my German roomie left, another german roomie came in.
Sidetracked:(Oh by the way, I watched Vakyrie, I dont really like it.Yeah,I hate sad endings though it wasnt that sad in this case, I just prefer happy endings.So if u wanna ask me out, do keep in mind of the movie endings.I watched Benjamin Button halfway,cos I know the ending is sad..courtesy of in-flight movies.I wonder why ANA has many old movies and Clint Eastwood movies?Hmm…)

During breakfast, I was reluctant to make pancakes some cos I fear i will accidentally cause a fire to breakout in this kitchen shared by many but luckily,(As if she can read my mind) my roomie made some for me, YIPEE!! (some inexperienced pancake makers did get us almost evacuated due to the amount of smoke/fumes from burnt pancakes)
And I accompany her for the walking tour around Beverly Hills and Rodeo Drive an inhouse tour guide from the hostel. This is only USD$12, bus tickets are paid for. No need to tip the guide too!

This is a whole load of us in 1 bus. It was exciting…In the bus there is a map in the tv (like the tv mobile) so we know where this bus is going. And there is a bicycle rack at the front of the bus. the rest is almost similar to our buses.
I prefer this walking tour method cos its more relaxing and at your own pace .Whole tour is from 10.30am to 3.30pm (5hours).U dont have to worry about traffic, u can take all the pictures you want and now worrying whether the guide will change to speeding mode since he is also the driver.
Ok, now our guide is kinda funky retro man. I like his curly hair and retro Ray-ban glasses and his checkered bermudas +Manchester United jersey. Kinda mixture of all. He is funny too.
In fact one of the plan he had, spontaneous one was that he act as a superstar and then all of us (about 20 people) will come and gawk at him , take his pictures and ask for his autographs. Then after that, 2 of our group will play that role too and he will act as a fan so convincingly that people actually came up to them and ask for pictures. We gave the couple the name "Mr and Mrs Wolfgang" from germany cos he's a german. Hehehe! kinda fun!
Who would ever thought I would be here..BEVERLY HILLS 90210, hmm?
Ok, first house is Dustin Hoffman. I had the pleasure of watching "Last Chance Harvey" -inflight movie. I was actually selecting Marley and Me but I got this movie instead but somehow its related…. So Alhamdulillah.Anyway…this is his house.
Below is Micheal jackson's house.He just bought it.
Sometimes, if u are patient enough, u can wait like some of the fans/paparazzi park outside and he might come out and say "Hi" cos he wants to be in the limelight again-that is what my tour guide said.

Below is Nelly's house (the rapper).He was at the front porch with some people when we walked by.Saw him but forget to take shots.
Have u heard the song "Hotel California" by the Eagles? Yeah, I like that song. This is where the inspiration came from. The real hotel California..(there is this rumour that if u play the cd/record backwards, there will be weird sounds that gives goosebumps?Err…dont try it at home, try it in public..hehe!)


Time for a lunch break. I like this place.Kinda retro with tiny juke boxes placed on each and every table with retro songs played in the background. The uniforms and the ambience is great.It was full of people when we arrived.But within minutes,we were seated.
They served large servings of American food. Too bad, not HALAL. I tried the milkshake. Was shocked that it came in 2 containers.One in glass and the other is in metallic glass where they shake it(I think).I was stunned but the girls say that this is common, they will shake it all up and all the extra , they will still serve it to u and not stinge on it.Hmm…Money worth spent.
(do query on the ingredients used in the beverages or food, dont worry,they are happy to answer your queries even no matter how busy they seems.I realised that the Americans especially in the customer service line, is very much pleased to clear any doubts till you are satisfied,now that is REAL customer service.And if u feel happy, just TIP them! 🙂

REAL American food
Burgers, onion rings, fries…salads…milkshake was GOOD! I was full just by drinking that!

Even club sandwiches are huge! This is only one serving. Here they have everything with avocado too if u want!
These food are ordered by my tour groupie.It was HUGE servings. Some cant finished it.U can always put in "doggy bag"(another name for takeouts) and gave it to someone else on the streets in Hollywood. They normally appear 5pm onwards.


There were 2 Scottish women in my rooms who said that they cannot find healthy food in LA.If they did, it was expensive.They called American food, "JUNKS" and they are much cheaper. Hmm…no comment on that. I hope to taste these JUNKS someday, insya-Allah. Halal, ones of course, have not met any recently and also due to time constraint…so next time ,perhaps?Insya-Allah..
The bill came…. eating in America is about USD7-10 per meal.
Next is Rodeo Drive…
These are for parking. The closest we Singaporeans can see these …are in Malaysia. In Singapore, we normally use coupons or cashcard for parking.
Posh cars park in front of these luxurious boutiques…
The tour guide (Adam is his name) came up with this idea >>We "act" as though some members of our groupie are Celebrity/Movie Superstars.The scenario is like this: A couple went up the streets first.They need to act as though they are Superstars doing some shopping. We called them "Thomas Wolfgang & Wife". Then we will walk slowly to them, and someone will shout "Hey, its Wolfgang!"Unbelievable!" Then we will crowd around them taking pictures, saying that we love their movies. And that we want to take pictures with them. Autograph and all that. Everytime, topless tour buses pass by, we will exaggerate the acting more and u can see them snapping pictures at the "Celebrity couple" as they drove by. It was comical.

We make it so believable that passersby thought they were stars and even take pictures with them. Heheahaha! We had a fun time!
After few hours,we headed back home.It was tiring but enjoyable tour!
Below are the places we see on our way back…
If Im not wrong this Viper room is co-owned by Johnny Depp.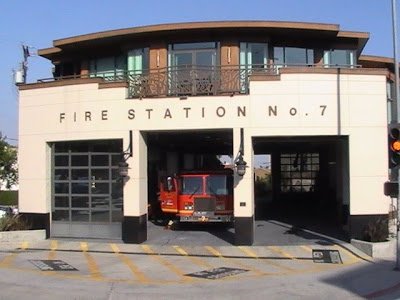 Fire station….(for u,dad)
The rest of the afternoon, I went to downtown (7th street Metro station) to get a rented car which my roomie has booked.She is going to Santa Barbara and then to Vegas with another friend which she is going to meet there. I had the urge to follow her but I had booked a week at the hostel and paid for it. I can cancel it but ….I think I'll stay…No Vegas for me this time…
But anyway, she test drive it and brought me up and down the hills of Hollywood, we tried to get as close as we can to the Hollywood sign and end up at the observatory where u can see the stars with one of the largest telescope there but too bad, it wasnt open yet.I was there at 6+pm but it will be open only at 8pm. It was great cruising downtown and up the Hollywood boulevard and on the freeway!YIPEE!!

I like the signs at the roads in Downtown. Very motivating.It kinda eliminate that helpless,lonesome feeling when u feel like giving up searching for something/miracle.Hope.
Day 4-Muscle beach & Who is HARRY PERRY?
These pancakes… I made myself….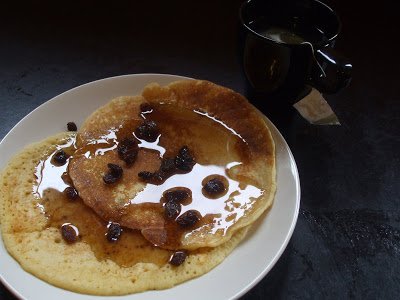 WARNING:This pancake is free and u can eat as much as u like but u cook it yourself. So u can see many types of pancakes.(I did some pancakes training in McDonalds way back but I never knew pancakes come in different colours? Black, brown, white, stripes…??!small, minute, big, thick, smudgy..yikes!)Anyway, after a week of stuffing urself with flour (that's what i called pancakes) I felt so sick of it that I changed my diet to bagels in SD.
Then as we are eating breakfast, we mingle more and got to know a guy from HongKong travelling on his own.So my roomie ask him to join us 3 girls(from New Zealand,Australia n Singapore).Actually, I had already booked a one way bus trip to Santa Monica beach but the rest of my "crew" has no seats. It was so popular that it got fully booked within days.So I cancel and join my other roomies.
Travel tip/trick:
Want white teeth?Use a pinch of bicarbonate soda and brush ur teeth with it. Or just gargle in bubbling Soda water.heheh!The gargling one, i personally never tried it the bicarbonate, I use it sparingly, perhaps 2 X weekly or when I forgot to bring the toothbrush set on sleepovers.
Bring loads of nuts and M&Ms or chewing gums to lure them into making friends with you. For kids, just buy the cotton candy and u will be like a magnet to them.
Always have water in your bag. And perhaps hand disinfectant..if u must. Health is wealth.Fyi-I took NEEM as my daily ritual before breakfast. Cos it is anti-bacterial,blood purifier and it is good for the skin, hopefully youthful glowing skin.Hmm…
We went there by bus. The hostels got map and small pocket instructions to go anywhere, so it was good to know.There are 2 good navigators in our group. So i keep my antenna and radar(in me) and just follow around(I think Im a good follower) but when it comes to asking directions, Im good at that! And because of that I had to mimic the way they talked so that they can understand me better.SINGLISH was put away.I thought they might have problem understanding me but they said my English was good (yeah , wait till u read my blog …lots of grammatical,spelling,typo errors) and to me, if they understand me, that is good enough.Furthermore I had some practice with my American students at weekend class.
So upon reaching there, again I did no research, So what I see are surprises and I love surprises. I wont have any judgmental mind and I wont expect nothing.But my roomies were disappointed by Santa Monica beach. They prefer the muscle beach -Venice beach (Hmm, why are they called that? Cos of the muscle men flashing around in the open gym there)
And upon reaching the pier, there was sort of like a mini carnival funfair playground with all the roller coaster ride and stuff.
And there were many things sold here. Like a flea market or something mainly clay making of ur face into small replica (kinda scary on how real it looks) , there are buskers,jugglers too. and I got a free ticket (good for 5 people) to American Got Talent. I watched those shows in Singapore before and some acts are hilarious. There were other talk shows but I just take one. Oh just in case, if u need to plan ur trip, u can get more FREE tickets as LIVE in audience@ http://www.tickets.com or just head on to Santa monica beach on a saturday.
And there is a restaurant called BUBBA SHRIMPS (the one that was set up in Forrest GUMP movie, remember?) Hehhe! Interesting. It looked more like a souvenir shop than a restaurant. If u can see beneath all that souvenir t-shirts and enter.
The weather was cold and smoggy (fog+smoke like haze in Singapore but not as bad). There were many people but its not packed yet. Many families, surfers, kids….enjoying the beach and the waves.I was told California surfers are crazy lot. They even surf at night, in winter , in fact, all seasons! I think I should give it a try, hmmm? Errr…are there sharks?
It was endlessly. We walked on the sand till my short legs cannot take it anymore, I chose the hard wet sand instead…We walked about 45-60mins to Venice beach. Along the sandy beach, there were many seaweeds.
The waves are not as huge but the sea was kinda in a mild rage. No topless sunbathe (Err, heard of black beach?) or anything undecent. Even the lifeguards wore red jackets on (So if u think its like baywatch babes and hunks, forget it, come again perhaps in Summer?)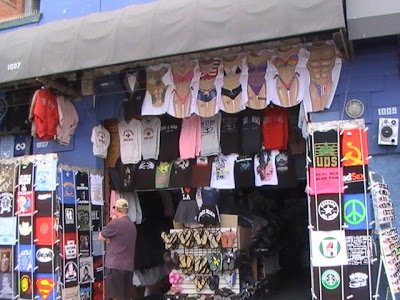 When we reached Venice beach, we can see from afar, many side stalls, like a long road of flea markets ranging from artificants,handicrafts,cds,Bob Marley printed t-shirts and funny t-shirts…artists at works…,jugglers,buskers..tattoo parlours, massage stalls..souvenirs shops, many hat shops (like those worn by Jason Mraz, straw hat..u can get for US15.In fact, locals love to don on those type of hats anywhere in LA,HW or SD…all over California)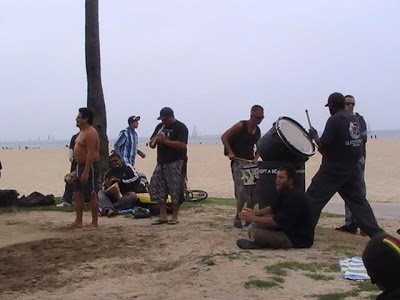 And often met Harry Perry ..Wanna know who he is?Amazingly on wheels, with electric guitar entertaining the people around, pass on some positive vibes thru his music.I google his name and found him in WIKI.Hmm, he's very famous… hmm…

And the turban do look kinda heavy. Is it?

There were many musical performances. On the streets , grass patch and all that. I do whiff some weird cloudy smell along the way and as I glanced at the side, Oh, its a clinic. Its no means the usual clinic, I think its marijuana clinic of some sort cos I remember reading a whole magazine (its free at the hostel) on pot as a clinic medicine. Hmm…
OMG! This BBQ stall is so tempting!! This is one thing I need to try.. AMERICAN BBQ. U know how I love BBQ. And I know Americans love to BBQ. I think I might ask SD people to have one at the back of the mosque when I come again, insya-Allah. heheh! Tummy growling thinking of the charcoal grilled meats…Grr…
Oh, did I tell u what I ate?
After a long stroll and endless captivating buskers and stalls, we were hungry.The three of them ordered hot piping pizza (I do want to join in but they got ham and pepperoni . I know they have vegetarian too but…)
The breeze is kinda cold too, so people tend to eat more.Hunger pangs grew and grew.I did buy cotton candy and it was HUGE! I passed it around till none of us can take it no more. So since it was still half, I passed to a kid on my way back rushing for the bus. He was smiling gleefully. Glad I made his day, hopefully his parents dont mind.
That is what I like about LA. There are many homeless people and they dont mind if u got good food to pass to them. At first I thought they were scary but they were nice people.Just different situations. Of course, I gave them food that is untouched not those I ate halfway. I even gave them fruits cos sometimes, I travel alone and its too much for 1 person, and so I just gave it away. It felt good.Alhamdulillah. I know food is not wasted here.I like SD hostel whereby they have FREE food corner whereby the people in the hostel who has extra food can leave it in that corner for others to enjoy e.g bagels, cereals…cookies…
Anyway, back to the story…
So I ask each and every stalls that have the potential to be HALAL.

I ask one mediterranean shop "Is this HALAL?", they said No, almost immediately.
Then I saw this small Japanese sushi counter. Knowing the Japs, they do love their pork, I scrutinise the menu. No meat can be found. So I asked, any alcohol in the sushi rice? I elaborate further "MIRIN?" and the man answered me that there isnt any. He is a Korean chef but he does Japanese food. So he got interested on why I was asking thus I started telling him my dietary conditions and he was intrigued and wanted to know more. He asked me whether I was allowed to smoke and all that. He was very surprised that I never tasted PORK in my entire life.Kept asking me over and over again. After equipping him with all the knowledge that he needs, I left with UNAGI sushi roll. And it was good! Yeah,he put avocado flesh in the sushi too.Yummy….
I thought the wasabi was mild thus I put a fingerfull of it in my mouth.The heat travel slowly and then it gets in to ur nose and to ur eyes. Like a dragon fuming..Almost teary eyed,I went back to my friends ,who went for second helpings of the pizza. Ok, that was the only time I broke the spell of being a vegan. Alhamdulillah.Errr, dont eat the soya sauce, (always read the labels on sauce and dips) cos it contains ALCOHOL.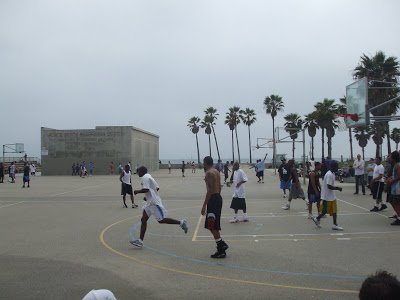 I love these basketball courts at the beach. Full of activity. I dare not participate (Someone did ask me to go one on one in basketball?!!) cos Im at their tummy…I meant my height. Instead of basketball, I might be playing monkey ball (where they pass the ball to u and as the "monkey", u need to snatch or prevent them from passing) and I will be funnily trying to grab their tummies, or perhaps, tickle them silly….to get hold of the ball, of course..hmm. No matter how much padding I put in my sneakers, I cannot reach that minimum height requirement hehe!
TRAVEL TIP/TRICK:
Californians love to exercise and work out. So bring ur stamina along. It doesnt matter if u dont bring no running shoes, u can run barefooted….
Next is Rodeo Drive (evening) .It is a shopping district of posh, branded boutiques.

Travel tip/Trick:
Dress to impress if u go to Rodeo drive, dont be like us. I came from the beaches and so I refused to change into nothing but flipflops. And I wasnt planning into going into GUCCI, PRADA (they dont have any signboard at all, cool!) COACH or even LV. But I found 2 of my roomies missing as I fastforward my pace. Found them in LV boutique. I was in my jeans and flipflops and thinking, will they stop me from coming in. Err…
I came in, there were an alarm (YIKES!!) Like u steal something that kind of alarm.I act nothing just proceed on.The security look at me but do nothing.Cos I just entered, hello?

Travel tip/trick:
This is very important, jot this down in ur DIARY, ok..I did not get the chance to advise my NZ roomie and ……
If U want to do window shopping or REAL shopping , do not EVER ask for the price. Cos the mindset is that if u got the money, no need to ask the price, honey..just grab it and pay…the credit card will get a serious shock at the end of the month. Its like saying, if u can afford it, buy it, if not, dont bother…
So the story continues…
My roomies doesnt know that rule (which I got from the tour guide previously)and ask about Chihuahua dog collar (the smallest one, of course) which is made of leather (i was thinking, if it is cheap, I can buy it as bracelet hehheh!)Anyway, they were very obliging but the truth is no one knows what the price is. They went frantically searching for its catalogues and asking one another (I wonder why didnt they just scanned the tags to get the price, but I just held my tongue)It took them 10-15mins. My roomie was panicking when I told her the no.1 rule of shopping in Rodeo Drive. Guess what is the price? $290USD.Hmm…I think I wont be keeping any pet for now.
After causing such a "chaos" (they were still very nice to us, no plastic about it, seems very sincere..) we exited when a group of tourists enter. Hehe! And luckily this time, the alarm did not go off, I bet they must be thinking, either the chihuahua is in my bag or the collar tag is.I bet they learn their lesson. But Im happy that they are not as snobbish, they allow us tourists to enter even in bermudas and flipflops full of sand. Some boutiques have big-sized men at the entrance as security,that look like they can crush u with their arms alone.(Yeah, I am the smallest built everywhere I go, so Im happy! Cos in Singapore, Im considered medium,large built) Anyway, some have the look "Enter at your own peril" .Err, I think I pass…
But luckily my branded conscious roomies have learnt their lesson and refuse to enter anymore. But it was a good experience, I've never been to an LV boutique in Singapore. I thought "if u cannot afford it, dont bother looking at it, u might end up wasting all that droolz for nothin'."(Yeah,I drool for good-lookin clothes too..)
And then we head back to Hollywood Blvd because earlier before we left, we saw some companies trying to put up a BIG Event in Hollywood with all those balloons and white tents, we thought there is another movie premier but it was a performance from renowed singer Jose (something like that) there were no signs or poster to inform us what was going on.But when we reached there, all were packed up.
So we took the metro to Universal City (at night)…just one stop away from Hollywood highland (Hollywood metro station)


I find this place "happening".This is where the famous Universal studios is. An Aussie roomie wanted to go there badly since she is here for a nite and so we did take a look around. The last tram up and down is about 9.30pm. Walking down is no problem, walking uphill, hmm…
Anyway, at around 11pm, there will be an announcement saying that there is a curfew and thus if a uniformed personnel approached u, dont panic, just show ur identity card or passport. Its a routine.
We went from shops to shops. We went to chocolate shops, oohh..so good..the smell I meant. Then head to equally good smell soaps and bath essentials from head to toe made of food ingredients like chocolate, vanilla…I tried on my hand, and it lasted the whole night! Wow! It smell so good, i felt like having a bite of myself..hehhe!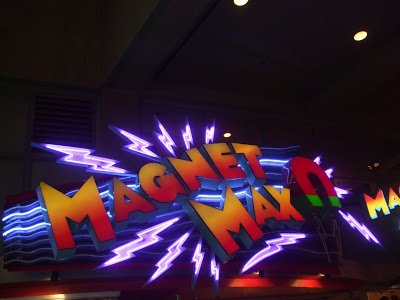 There were souvenir shops, baseball shops,universal studio shops, hard rock cafe, Bubba shrimp (a huge branch!), Tony Romas (They wanted to try these, I was reluctant but I did not say anything, I had tasted Tony Romas in Malaysia and it is HALAL but knowing the non-HALAL branches and its speciality is Pork ribs.Hmm…did not say a word cos this Aussie girl seems excited about it and it is her last night so…. Inside my heart, I was thinking, probably I just watched them eat. Luckily there were no tables for us (did muttered many prayers continuously..so that we dont have to enter the restaurant…hmm)

We settled for a food court above. There were many discos and dancing clubs. It was interesting to watched them salsa from outside. So intense, so passionate.Hmm..
My roomies bought Mexican food while I took vegetarian food, another roomies took chinese food. I saw SUBWAY sandwiches, I love SUBWAY in malaysia but I refrain myself even though they have vegetarian and tuna…they also have ham too…its kinda complicated to explain about the utensils and stuff.So to avoid it is the best solution.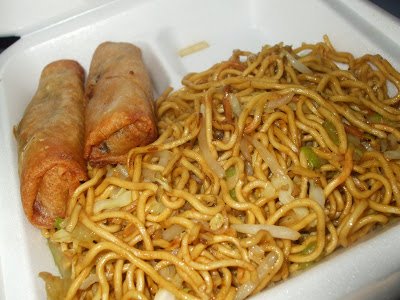 Anyway,it was quite chilly here. But there were warmers around. It's like a street lamp but beneath it there are fires to warm us up. Cool!

I sat between 2 warmers. Felt like Im right in front of campfire. Warm….comfy, bed is greatly appreciated…
There is a cowboy ranch looking place that got people queue up. It is a restaurant cum bar cum boogie floor. So it was popular. We were tired and decided to head home. I realised all of us are not party animals (lucky for me!) and that is good…cos its not easy to find a good company with the same mindset. But Im easy, I can be a chameleon if I want to. That is why, I try to avoid Vegas..hhehe!!
U know somehow from these few days almost a week of being a Vegan, I felt my bowel movements very smooth and less "fragrant" (hehe!) than usual. Felt lighter and healthier.
Alhamdulillah, this is another good place to visit….should visit again and spend a day here cos Universal studio has rides, location shots with all the filming apparatus as if u are in the real movie set!! http://www.universalstudioshollywood.com/
Wanted to go to Warner brothers studio the next day (cos they say this is less gimmicky than Universal Studio) but no time…cos I've got something on…
(Visited 6 times, 1 visits today)