I look at the map again and located J street (the irony) and walk straight on. Blocks and blocks (did get sidetracked by baseball pitch/stadium). I was alone walking the lone streets of J. And there was a time, i wanted to turn back cos I was uncertain but I said "tawakal, insya-Allah" and I just proceed on and on. "……
This is what I've been searching for the past 2 days….Alhamdulillah. i found it!




Masjidul Taqwa

2575 IMPERIAL AVE

SAN DIEGO 92102

619-239-6738

WWW.MASJIDULTAQWASANDIEGO.ORG
I passed by the front but it was locked. So I went across to get some drinks.Then I walked back to the mosque and I met Bro Doug who told me to enter the mosque from the back but I ended up entering from the kitchen (sorry, the delicious scent of freshly fried fishes are clouding the instructions given hehe!)
As i enter the kitchen, I was surprised, I thought I entered someone's house by mistake. Because the mosques that we have in Singapore,dont normally have a kitchen as big as this.Though our mosques are much bigger….
Then i met Bro Syakir, the assistant mosque. He was very friendly but again my attention is on the fishes that he was frying heheh! He make me feel welcomed.
"We are REVERTS not converts…" Quoted from Bro. Syakir when i asked him when he converted to Islam. He said that everyone is a muslim by birth and that he is just reverting back to his original religion…(something like that)
Then I enter the mosque. It was a small one but cosy. Im not sure whether I can enter with my shoes on. There were many tables and chairs arranged neatly. I asked the brothers there and they told me where I can placed my shoes.
As I entered the main prayer hall. I looked around and chose a spot and sat quietly.Tears well up in my eyes and within seconds, it gushed out non-stop like a waterfall. I felt a sigh of relief and gratitude filled me up immensely. I had been searching for this peace and tranquility since I reached America and for so long, I was out of touch with my spiritual self.I am thankful that I found the mosque.Alhamdulillah.
No words can really express how happy I was internally and externally. I spent some time inside and no one came in. I was alone in the prayer hall. I felt at peace.SubhanAllah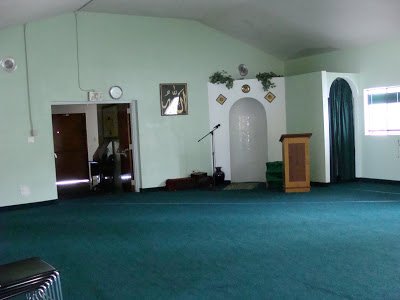 Then I recce the mosque and took some pictures.I did ask their permission on everything, I wouldnt want to step on people's toes, rite? But they were very friendly and allow me to take whatever picture that I want, in fact they told me that I dont need to ask permission.
There is no second storey for ladies.Both are on the same level ,same as men (ladies pray at the back) cos its a small mosque.
Below is the ladies toilet. I felt so cosy.Very nicely done, homely feel…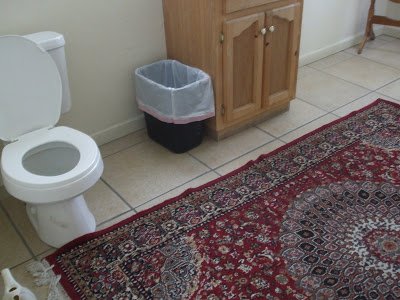 I went out after I had finished what I wanted to do in the mosque.Felt a bit awkward cause all are men…brothers in Islam.But I muster my courage and talk to Bro Doug. And asked him questions.Then I went back to Bro Syakir to ask him more cos I really felt comfy talking to him. He told me about Nation of Islam and how Islam was brought to US. And the history of the mosque..bits of it..cos he was busy cooking..and Im busy interrogating heheh!
Eventually, I "chased myself"out of the kitchen cause I felt that me and my questions are deterring him from finishing his work….and later I met many more muslims brothers and sisters….(Thank you very much…err not in any kind of sequence.. to: Bro Doug,Bro Syakir, Imam Wali,Bro Syabazz, Bro Malik,Sis Rasyidah,Sis Eka & family, Sis Gwana,Bro Rashid,Bro Rasyad…and lots more.. those name whom escapes me or I did not get the chance to get to know more about you, thank u very much from the bottom of my heart. I felt belonged,like family.Jazakallahu Khair.)
They even have their own publication below…


So this Fish fry day was actually a day whereby they did a fish and rice thing and the community came over (both muslims and non) and pay US$10 sort of like a donation for the mosque. It was my LUCKY day. I had not eaten any HALAL meal in days except vegetables. Fish is consider meat too, right? Kinda like a luxury when u had not eaten meat for a very long time…hehe!
Coleslaw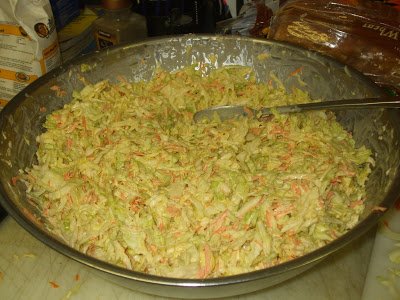 Fried boneless fish
This rice tasted somewhat like Nasi Goreng (Singapore fried rice) but the ingredients include olives.


Dessert is some mashed up pie… quite yummy, really, never tasted the pie as moist and drooliciously good… this way.
VERDICT??? It was DELICIOUSLY good! It was a huge serving but I ate avery single grain of rice and morsel.Alhamdulillah.Im not saying it just because ….but its really yummy. U can feel the food was cooked with love and sincerity with lots of helping hands…
And as I found out that LUCKILY, I got lost, cos if I came and found my way somehow to the mosque(few days back), it might not be open and it will be a great loss for me cos wouldnt get to enter the mosque and might not meet any of the SD muslims.The mosque are open only during prayer unlike the mosques in Singapore (all 68 of them) are open from Fajr prayer (5am) till Isya prayer (9pm) everyday.
Anyway their prayer schedule is below:


Alhamdulillah,things happen for a reason. Everything fit so perfectly like a jigsaw puzzle. That is why, I have to expect the unexpected.And it surprise me more ways that I can imagine.Alhamdulilah.
The people were shocked that I came all the way from Singapore on my own. I told them about my blog and they were very supportive and give me more ideas on how to expand it. i got many invitations to pot-luck, picnics, stay over at their houses…lots that I had to reject some of them. If only I knew them earlier….but everything happen for a reason….
I was so at ease with them..that I volunteer to help them out….serve the food, clean the pots and pans..make myself useful…i dunno why , I felt so at home, probably I've been wanting to find some sort of family environment or perhaps I missed my family back home..that I slot in perfectly in the picture. I dont feel so awkward anymore, I just blend in…

They often have interfaith programs (with other religions) seminar/workshops/gathering… I think this is something i can learn from…We can get along with one another irregardless what religion we have and learn from each other…insya-Allah.
Then later on, the Brothers and Sisters drove me around in search of HALAL eateries and businesses….alhamdulillah.
Travel tip/trick: Do call the mosque up if u intend to come for a visit. Everyone is welcome, even if u are non-muslim. If u are non-muslim and want to know more about Islam, come on Friday before 1pm,insya-Allah there will be many that can explain to u and u can experience the Friday prayers with no obligation whatsoever.After that, normally they will have a meal together.Currently since end of June 2009, the mosque has been opened at 3am-5am for fajr prayers.So do come and visit! Do call up first to confirm, ok?!
Wonder what places did Putri and her friends went to in San Diego in quest of HALAL food? Keep on checking this blog for more updates…

(Visited 3 times, 1 visits today)