Day 3-I stayed in the hostel, the whole day.My roomies were from Australia, Germany and France. Hang out with the people.Rest and relax.I saw the notice saying that there will be a tour to Tijuana tomorrow (saturday) from evening till 2am…Hmm…but I did not go cos of the swine flu and all that.Furthermore, I did not do enough research on Mexico and its immigration rules/visa or whatever…
Day 4-I gather my ïnteligence(what is left of it) and decided that I must find the way to Imperial Ave. This is my last chance. If I failed, I still got the Jazz festival at night to cheer me up…
In the morning, I ask the reception where I can purchase the ticket for Jazz festival (just enquire cos i know its expensive about $25-$30USD) and I was hoping for free ones, hehe! And true enough since the hsotel is at the doorstep fo the Jazz festival, we can get in for FREE. I got my green wrist band on immediately.
As I left early morning, they were preparing for the Jazz festival.
Then with a real map (i bought at LA) I scrutinised the streets again. I found it! Eureka!My senses are back!
I chose J street and walk straight (Im good at walking straight) ahead till I hit upon Imperial ave. It was about 45mins walk. I went uphill, thru towns and houses and I dont see anyone along the way cos I left very early morning. Im an early birdie..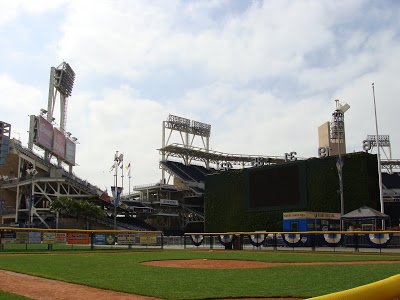 I pass by the baseball stadium.This is my first time I saw this type of stadium. Normally, I would travel and visit soccer places.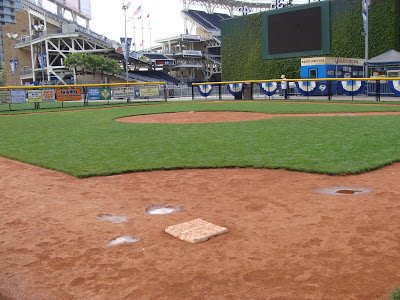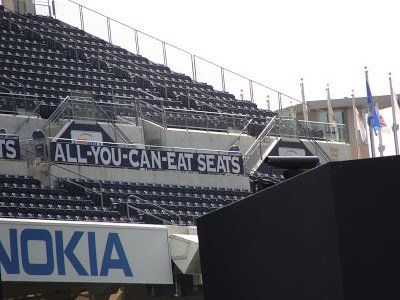 There is a baseball pitch outside where its open to public. A man was practising with his son (probably 4-5yrs old).I just watched.Cool…
I pass by the fire station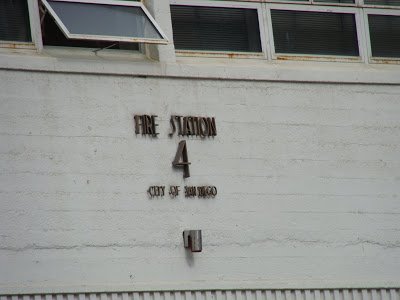 Then, I proceeed on and I pass by the freeway…felt …a bit of creepyness (I was told later on that this area is quite dangerous to visit at night cos there will be lots of crime carried out around this area …Hmm..alhamdulillah, someone drove me back later on in the evening or I might have to pass by this area again.)
Alhamdulillah! I found it….and there is a good reason why I found it at the right time and day.Sometimes, things dont go our way and we question why,why ,why… unknowingly that God has better plans for us.Hmm…

Saw this cute white car….I wonder is it for kids or adults?

Farmers' market!! I was so excited to go in ….but cos I've got a goal to achieved at 2575 imperial ave thus i had to forego it.Perhaps when going back to downtown, I might visit it…insya-Allah.


This house has a unique roof that got me thinking that it was some kind of mosque,temple or shrine…I like its uniqueness.


Below is an eatery beside the gas station. They were barbecuing MEAT in the early morning.It smell so good.(tergugat imanku) that I was swayed in following the freshly scent of BBQ meat…MMmmm… The droolz are overflowing.U cannot blame me, its been 1 week plus, since I last ate meat…white meat,red meat… whatever…

After wrenching myself away from that magnetic pull, I proceed with the journey…
Beautiful houses along the way…

So did Putri get to find 2575 Imperial Avenue? Visit this blog often for more updates…
(Visited 3 times, 1 visits today)