February 2009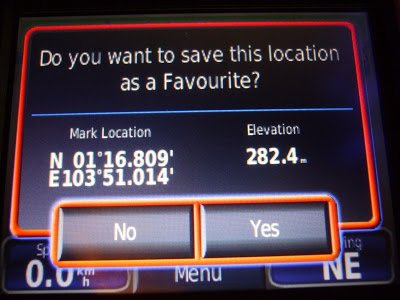 Had not been here for ages…
Everytime
, I want to come here, there will be incidents that prevent me from going..after tasting the food, I understand why.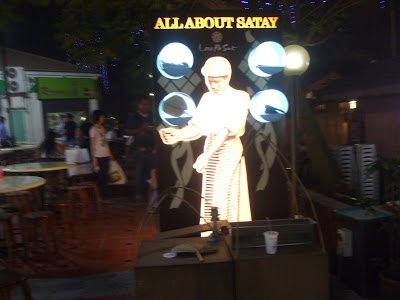 Went there on Sunday night. Not so crowded at 8+pm. As usual upon arrival, we were flashed with various menus. There was one rude staff that actually adamantly put his menu down on our table though we said we do not want his food. Cos later he
snutt
in disgusts when we still do not want to order from him.
First stop , is
FATMAN
satay. It was
ok
. The satay meat is minced meat and not chunks of meat. I find it a bit dry but
ok
.
Some of us wanted to eat soupy stuff, noodles seems right on that dry night. But it prove to be one of the worst ever tasting meal for us. We were hungry and when we wanted to order, they kept saying most ingredients are finished (so u should not even be selling stuff to us then) but we ordered anyway since this is the only different stall selling seafood and stuff (inside the LAU PA SAT not on the closed up street)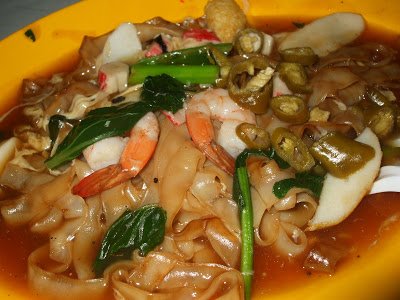 When the food reaches us, I tasted it and I felt like puking. The gravy was sour like it was fermented , not fresh (nak basi) something not fresh inside. My friend tasted it , all 4 us declared the same. Some of us thinking its not right to waste food wanted to just wallop it bit by bit, I forbid her cos it is really bad to consume nearly-went bad food.

This one has similar foul, sourish going bad kinda smell too but just a hint. Both food are quite costly but it is not FRESH. I felt like going back and ask for compensation but the whole situation and the nonchalant hawkers, kinda make me feel like no use. Cos this stall supposingly sell seafood and if the normal noodle is not fresh, I wonder how about the seafood. This turn me off, for good…..Lau PA SAt sayonara!
When I buy the FAT MAN satay from the other end, other hawkers kinda eyed us…with those accusing eyes…My mind like wandering "eating also got politics,
meh
?" And the
fatman
satay also gave us plastic utensils and dare not serve us to our
table
, we actually carry it on our own cos of those "politics". *sigh…if this is the quality food and the image what we project to the tourist, I wonder whether this place will have anymore HALAL food….That perhaps explain why the HALAL food has not much variety or pehaps closing one by one here….
I missed the Soto man, he used to close his stall for a moment and pray , his soto was the best, but that was decades ago. Hmm…
(Visited 12 times, 1 visits today)