December 2008
Take note:Haz (thanks!) said that this restaurant is not 24 hours, last order is at 10pm. Hmm… (updated 20/3/09)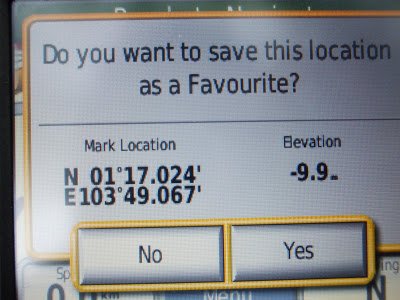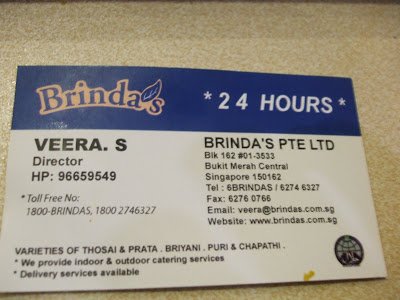 I had always been intrigued by indian's way of life. When I was young, I stayed in a village and my neighbour is indian. I loved coming in and out of their house and they make me felt like Im a part of the family too.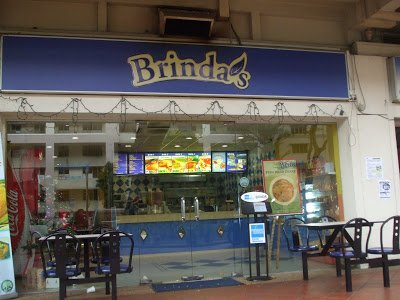 Anyway, I love their way of cooking, using spices to enhance the natural taste of the food. And they can really make a typical VEGETARIAN meal tasted so yummy. And their food have a certain degree of "yin and yang" cos they eat curry almost everyday and they also used homemade yogurt in their every meal to cool that spicy or "heaty" intake. Somehow there is balance in the system. Cool, huh?
So here I am again at Brindas….
If u want to cater for large group (dont mind the xmas logo)…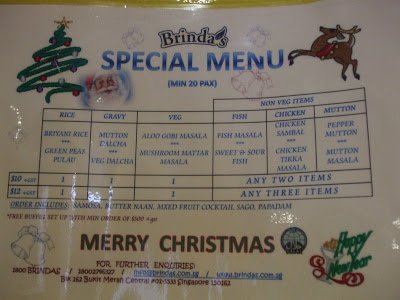 I just love the food they cooked, felt so homely feel to it….(Free wifi and its 24hours!)


Unlike the ones at Komalas, this batthura (above) , it is deep fried but is not as oily and it has a certain spice flavour of its own. The chickpeas curry compliment it well.


As for the northern meal set, though it is vegetarian, I am always surprised that the combination is so good that u dont crave for meat. But cos I came on Sunday, upon reaching the entrance, I smell the Briyani rice, so sorry, I MUST order the mutton briyani. The smell kinda stimulate the animal instinct in me that I need meat. Grrr…..Hehe!
Before -the setup u got upon ordering
After -U gotta to get ur hands dirty and rummage thru the Briyani rice.. Dont eat with fork and spoon, leave them at home or something. Indian food need to be consumed with ur bare hands!! I love the BRIYANI!!! (though a bit costly than typical briyani rice meal)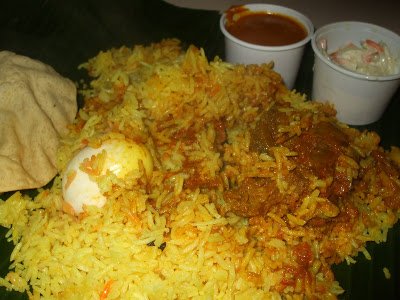 tip: Don't ever leave Brindas without their LASSI drink (yogurt milk), its refreshingly good!
Oh, as u can see, they also have the local fresh milk -VISHNU, a farm which I had visited once upon a time …. http://www.linamasrina.com/2008/05/ok-where-else-did-putri-go-to.html
They have delivery: 1800-2746327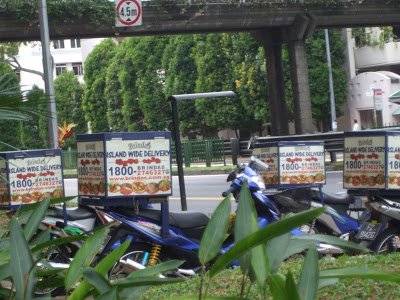 Previous post of Brindas visit:
http://putri-berendam.blogspot.com/2008_03_24_archive.html
(Visited 17 times, 1 visits today)