(From previous post) So if u are wondering what were inside the red plastic bag full of awesomeness,continue reading…
They were cheesy chicken balls, cheesy beef balls, mutton balls, beef balls and spicy beef lungs. Delivered right at my doorstep today (19/3/09) at 12.35pm (thanks!).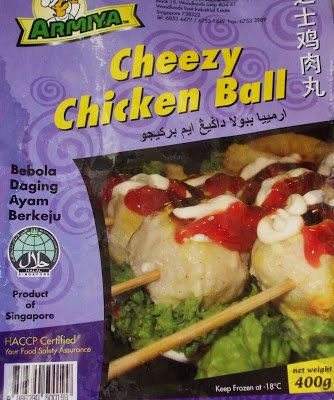 Due to time constraint, the beef and chicken cheese balls, will only be stewed/boil or fry.


The darker colour raw ones (above) are the cheesy beef balls. I like frying them and when it is piping hot, u can see the cheese oozes out….finger licking!
I love the part when they turned golden when fried. And the cheese used for both cheesy beef balls and cheesy chicken balls are different. The beef balls used white cheese while the chicken used orange cheese.
Or u can microwave or grilled them (much healthier option)…

The cheesy beef balls .I like the texture.

When frying these balls, I realised the ones that are easily cooked are the smaller muttonballs followed by the bigger beef balls.

Mutton balls, I like. Yummy taste. No "goaty" smell…
I also like beef balls but prefer them to be in soup.I like the mild chewy texture. Or u can have them with spaghetti(Italian)
Beef ball soup Ta-DA! U can even add noodles if u want.


As for the cheese balls (both beef and chicken)I think, frying is still the best option. I did trying stewing/boiling it… but the taste is ok. They taste much better when fried.I prefer beef cheesy balls then the chicken.
I guess these are popular with kids. They just grab ,eat and play. They love finger food. U might think its unhealthy, then please practise moderation or choose a good quality oil and try to pan-fry instead of deep fry.

For Spicy beef lungs, is a must to FRY! Alternatively, u can cook curry with it but best is to fry it. I find that this is easy for modern mums and career women because beef lungs are very elastic, u need to boil them over for an hour or two in normal pot to make them tender and then U need to drain them and marinate them with spices such as turmeric/curry powder and others.


So the lungs are tender when cooked (thus shorter cooking time is needed) and they are already marinated so all u need is to fry them. Especially yummy when eaten HOT with hot piping white rice…..simple.

Note of precaution: When frying these lungs, do wear hand gloves (If u intend to use hands instead of tongs or else, ur hands might be yellow due to turmeric) and wear an "armour" to cover those essentially delicate body parts like the face, hands, neck …because it will "pop" and the hot oil will splash on u. (Hmm…where is my Rosken vitamin E repair cream? *searching… )

My favourites are: Spicy beef lungs, mutton balls and beef balls (non-cheesy) as for the cheesy balls, I think that will be great with kids….especially when they are freshly fried…

So what are you waiting for? Go to the HALAL FOOD EXPO 2009 now and grab some!!! And u can also get them at SHENG SHIONG supermarket (thanks Junie!) and other supermarkets. Just look out for "ARMIYA" brand!
BOOTH :G2
19 March 2009 (thursday)- 22 March 2009(Sunday)
Venue : Singapore Expo, Hall 6B and Atrium 6
Admission : Free
Time: 10am to 10pm
MRT station: EXPO
The food is supplied by (thanks!):
MOHAMAD ARMIYA FOOD INDUSTRY PTE LTD
200305347C
Block 15 Woodlands Loop
#04-41 Woodlands East Industrial Estate
Singapore 738322
Tel: (65) 6853 4477, 6753 1449
Fax: (65) 6753 3989
Email: armiya@halalmeatball.com.sg
HALAL-certified

Side note to my "Nutrionist cum PR manager":"Take a deep breath , close ur eyes and imagine that the above mentioned happened before my "temporary vegetarian organic diet" , ok? *smile sweetly innocently….
(Visited 111 times, 1 visits today)