Went with my mama, till I saw something brown gleaming from afar at the HALAL corner. Bet it's a duck, i whispered to myself. Knowing its my mama's favourite, I ushered her there. It's true. And the roasted chicken is having a great discount too! From $6.95 to $4.95.
Anyway, took some "illegal pics" in the supermarket while mama chat with the vendor. End up chatting about ducks ,work and his salary is revealed too!(Dont ask me how, its a skill I have yet to learn from mama. The art of being friendly.Hmm..)
Anyway, quite happy with the purchase cos normal fresh ducks cost about average $15. So this is good bargain, knowing that roasting a duck take painstakingly long hours and lots of preparation.
So get down to..
Shop and Save supermarket
Level 1
HALAL bbq corner
Tampines Mart (Blk 300+vicinity)
Psstt…It's been 2 weeks since they just launched this HALAL roasted duck
Favourites: Honey roasted chicken are great with kids! Interviewed my mama, she said the duck is tasty though the skin is a bit chewy but that is a must when eating duck. U must wear and tear those teeth!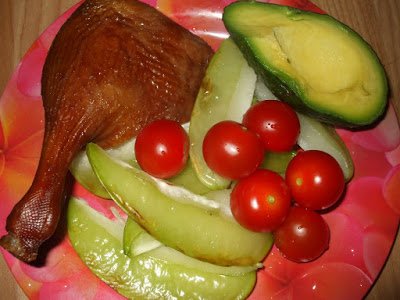 While I'm trying to impressed my "Nutrionist Guru" with this organic salad plate, mama sneaked in a duck thigh …*sigh… perhaps, a duck salad? Hmm…
Side note: Talking about chatterbugs, my late granny has this habit of chatting with anyone and everyone she sat on the bus with or anywhere.Anyone who left her side will be smiling from ear to ear. I better learn this skill before it became a lost art…or perhaps its a hereditary innate ability within myself that has yet to be discovered.Hmm…
(Visited 13 times, 1 visits today)