"Freshly made Satay meat patties, 100% meat, Authentic Charcoal GRILLED"..sounds delicious? Yum…
SATAY BURGER
Pasir Ris Town Park
Beside Arnolds Spring Chicken
(behind white Sands shopping centre,Pasir Ris MRT)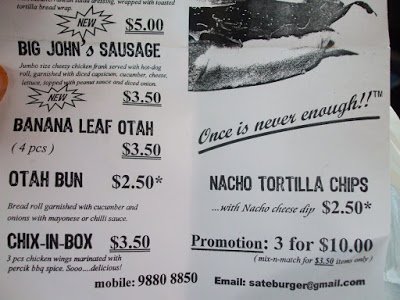 Ok, this really delight my tastebuds. The meat patty is quite thick and its smoothered in rich SATAY SAUCE. Seriously, I LOVE IT! It felt like eating SATAY with its sauce without the bamboo sticks…and its JUICY.


Okay enough of the talk… I need to get another one now…droolz.
Updated: 4th Feb 2009
I went down to take a closer look at the place. I tried their hotdog, mutton burger and chicken satay burger.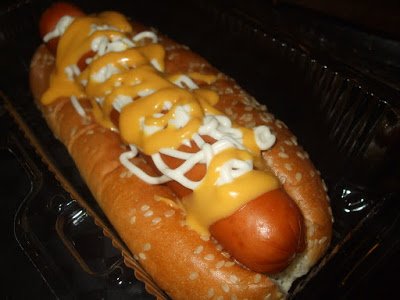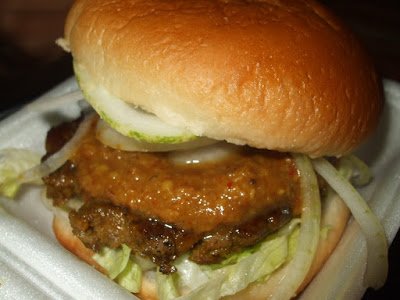 All were okeylah. But it doesn't taste as yummy . Is it because previously, I bought a beef satay burger thus that one tasted better? Or is it because I "ta-powed" (Takeaway) the burger and only eat it for 1 hour after i bought it so that the gravy kinda oozes into the meat patty and make it more juicy and yummy?Hmm…
Anyway, u can always eat the ARNOLD's spring chicken, best eaten HOT, hot and not when takeaways (unless u take awwy and eat it instantly) while u tapow the satay burger for home. hehe! Trying to get the best of both worlds.
previous post on Arnolds:
(psst, the price is slightly lower but I think the difference in quality is that City Plaza chicken is much tender and juicy.I ate 5mins right after I received the takeaways hehhe!..)
Or u can catch ur own prawns at the pond and fishes and BBQ them urself….Eating, no problem, catching the fish/prawns need lots of patience…hmm…
(Visited 4 times, 1 visits today)