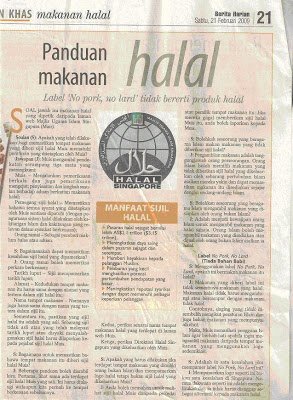 (click on it ,to read it in malay)
Ok as requested by some readers who don't read Malay newspaper…Will try to translate the best that I can. I wont translate all but those related to "No Pork no lard" issues,ok..
This article is about the label "No pork No Lard". (Taken from the Berita harian 21/2/09)
1) Does the label "No pork no lard" mean that the food is HALAL?
Answer:Food under this label is not necessarily HALAL. Halal food MUST not be mixed with non-HALAL food/ingredients.For example, meat that is not slaughtered according to Islamic rites and those food that contains alcohol.MUIS advised consumers to be cautious when eating at food establishment with that label.
2)Is it an offence/crime to display the label "No pork no lard " ?
Answer: It is not an offence/crime in Singapore to display such label.But it can cause confusion amongst muslim consumers and it should not be taken as an alternative to HALAL food.
wallahualam.
I tried my best to translate the above Q & A (insya-Allah) but if u have more queries do contact MUIS directly at :
Halal Certification Strategic Unit
Majlis Ugama Islam Singapura
No. 1 Lorong 6 Toa Payoh
Singapore 319376
Tel: (+65) 6256 8188
Fax: (+65) 6259 4733
Email: feedback@muis.gov.sg
or
http://www.muis.gov.sg/cms/services/hal.aspx?id=1718#halal
(Visited 17 times, 1 visits today)