Remember there was a time, when this BOTTLE tree village is NEW and HOT? Well, this time, the HALAL Restaurant is operational. And I went to take a sneak peak. I was there during lunch time, I wasnt sure whether they would be open because this area is popular in the evening and nights only. But I try it anyway….
Sembawang Eating House (seafood restaurant)
Bottle tree Village
60 Jalan Mempurong
(2nd LEVEL)
tel: 67589692
12pm-10.30pm
CLOSED ON MONDAY-(thanks anonymous!)
YIPEE! They are open and I get to taste their sumptious food while enjoying the sea breeze (very windy). The price range are from $25-$25, as for the fresh fishes, crabs and others are seasonal price (perhaps need to weigh and they did not display the price)
I was greeted by indonesian waitresses. I had the whole restaurant all to myself and family. We chose the food that were "recommended" by the chef (denote by the asterisks shown in the menu).
Waited about 10-15mins and the curry squid came. I wasnt expecting this gravy. I thought curry squid would be squid fried with curry leaves in a dry state. But this is WET CURRY with GRAVY and is SHIOK! It tasted like chinese Indonesian CURRY. Thick and very lemak (thick coconut gravy).
This seafood tofu was served second. I had always love tofu in hot plate or not. This tofu is refreshingly GREAT! The tofu is soft fresh and squishy,the vegetable are FRESH and CRUNCHY,mushrooms are nice. I like the shelless prawns and squid ring and not forgetting ,the "chewy-abalone-looking seafood" I think its topshell or something (whereby u can get a canned at supermarket from $7-$15 per can). I LOVE IT!
But if it is in hot plate, It will be SIZZLING hot shiok!!
The above is prawns in duck eggs. I thought it would be fried in duck eggs. (I've been craving for those crabs fried in saltish duck eggs like those in KL, I read about it somewhere but its not HALAL)The outer layer is crispy and the prawns are fresh, the egg (yolks only) are ok. Really, its' not what I had in mind but not bad.Hmm…
Ordered bandung (not sweet, a bit diluted BUT fragrant) and kalamansi juice but I think, I chose my POKKA green tea over them.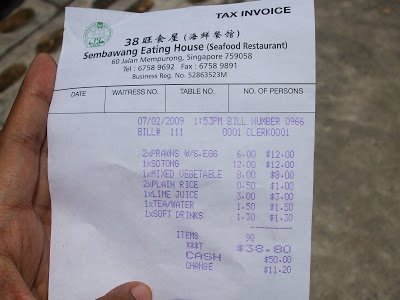 For $38.80 for 3-4 person servings. its quite good. I love the fact that the food served are made from FRESH ingredients. Love it! I wonder how their steamed fish will taste…..*drools.
p.s: What I love is that there is a mosque at a walking distance (a kampung style mosque) and so it's very convenient.
(Visited 19 times, 1 visits today)