I wonder why I did not go to Malaysia every Chinese New Year. I think because I want to experience the "GHOST town"feeling. Singapore is a small bustling city. I am thankful that our shops do not closed at 5pm everyday like other developed countries do. Thus when I had the opportunity to experience, once in a year "phenomenon", I will grab it and enjoy the moment….
Okay this is what I found out:
On Monday 26th January 2009, GIANT SUPERMARKET are OPEN!! (I went to the TURF CITY branch) .Then later, I passed by ADAM road food centre and saw it litted up. I think its open.
Today, 27th January 2009, Orchard Road is NO GHOST TOWN. There are many people strolling, sight seeing ..though most shops are not opened.
Orchard ROAD -Lucky plaza is OPEN, some SHOPS Are OPENED!!!
ISTANA -The Queue is from Istana entrance till Dhoby Ghaut NEL MRT entrance. YIKES!
LITTLE INDIA- busy little town. Shops, food stalls are opened (Azmi Chappati is open)MUSTAFA must be CRAZILY CONGESTED?!!Hmm…
CHANGI beach -No chance of spending some ROMANTIC moments alone with your partner. CONGESTED. Felt like in a kampung. Shiok..seeing those BIG extended malay families bringing their kitchen down for BBq and makan2. Save water bills.
East coast beach and Pasir ris -not as congested but still PACKERS!!!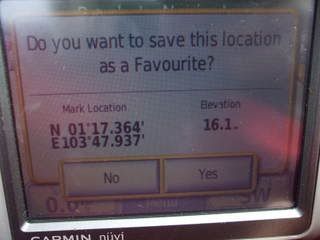 SO I went to HANG JEBAT MOSQUE to see the railway tracks of KTM (Malaysia) knowingly that the train is scheduled to reach Woodlands by 10.30am .But we waited and waited…still no luck. I thought I could wave goodbye or get excited with my kids at the "cheap thrill" of watching a train pass us by…hehe!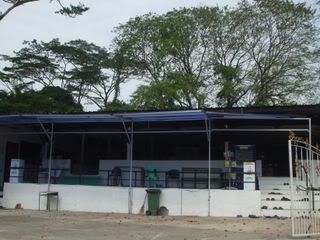 Though it looked so narrow, u can drive in. I see many dog owners bring their dogs for a walk thru this path.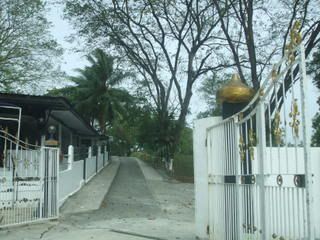 Err..I think I'm not the only one…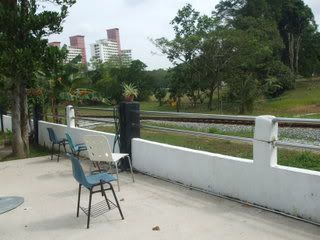 Actually I want to scringe , save and ATTACK only $2 or less meals but I think I deserve a break. (rite guys?) So I march down to…..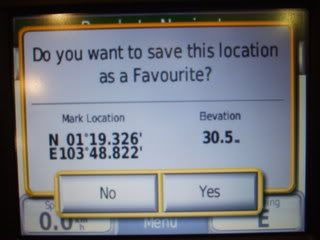 SERENE CENTRE to curb my cravings for OISHI PIZZA (which I thought had left the scene.Hee! My bad..) There was a time, I cannot get thru to their hotlines and their website was down. One of my friend face the same thing. So I thought they had gone bust. But luckily, they are still OPEN!!!
One of the staff told me that, their hotlines are like that when it is congested with orders.
Anyway we ordered 1+1 free pizza for $22+ . Chose our favourite OISHI TERIYAKI BEEF PIZZA and ermm…WASABI SEAFOOD pizza.
Teriyaki beef pizza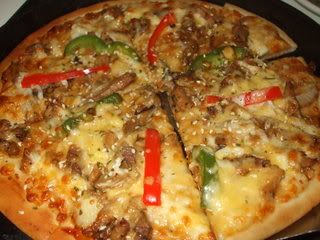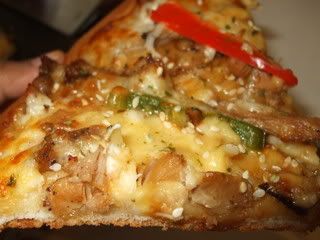 Wasabi seafood is something new to me. I am not a fan of wasabi but mild wasabi, is ok to me. This pizza is nice with the mild wasabi flavourings and such juicy shelless prawns all over (how generous are they!!!) . Not bad.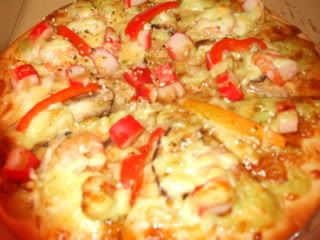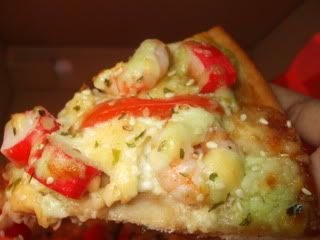 But my favourites are still The UNAGI and BEEF TERIYAKI pizza.Love it!!
Comments: I dunno why but I feel that their delivery service is better than dining in. This is my 2nd time dining in. And the pizza is much hot and piping when served during delivery than dining. Hmm, weird huh? But I still LOVE their PIZZA!!!!
Previous posts:
http://putri-berendam.blogspot.com/search/label/oishi%20pizza
p.s: Oh by the way, do anyone of you miss PIZZA HUT buffet? I did…. I remember eating my first and ONLY PIZZA HUT buffet and then later no more. So sadz… PIZZA HUT, please bring back those YUMMY PIZZA BUFFET, please…..I love your Hawaiian Pizza.
(Visited 6 times, 1 visits today)