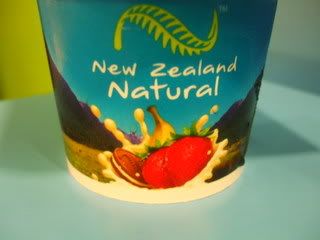 I was window shopping in PARAGON when I saw a nice-looking lady in headress serving NEW ZEALAND Natural Ice-cream. I asked her is it HALAL and few similar HALAL related questions. She answered me yes but it's not HALAL-certified .She was busy serving other customers but yet she is willing to give me her full attentiveness and flash me a very broad smile.Very warm, customer oriented staff… the company is lucky to have her…She came back to me after she was done with her customers.
I sat there and watched her work then I snaps some pics even the leftovers cups left by customers (hehe!).They really enjoyed their dessert (from the expressions on their faces)
Anyway, to confirmed (as usual)…
————————————————
Dear Putri,
Thank you for your enquiry of New Zealand Natural ice cream.
New Zealand Natural ice cream is manufactured in New Zealand and directly imported to Singapore. There is no animal related products (except milk products) nor alcohol. The ice cream is HALAL compliance but not certified at present. Future plan to apply for certification is in the pipeline as it will be expanding its market presence to countries which require such certification, like the Middle East countries.
Regards,
Stanley Wong
Director
New Zealand Natural
p.s: Another brand to look for… its HALAL certification in the near future!
(Visited 193 times, 1 visits today)