Being frugal this year…..saving every cent that I could….
Hassan Stall
6.30-5.30pm
#01-69
Changi Village Food centre
Wake up to a beautiful morning and had breakfast at Changi Village Food Centre.
The famous nasi lemak is not opened yet at 8.50am. Thus I went to the back end area to scout for YUMMY food. I noticed the $2 or $2.50 nasi lemak had gone up to $2.50-$3.00 respectively. There goes my chance to savour nasi lemak with crispy fried chicken wing.
But hope is not lost. I remember I came here last year and had some YUMMY Mee Rebus whereas the gravy had bits of meat in it. I sat and watched the hungry crowd ordered their breakfast. Most ordered LONTONG (rice cakes with hardboiled egg,beancurd and vegetables in coconut gravy and desiccated coconut/serunding) and Mee Rebus. I noticed there is even LAKSA so early in the morning.
Then I read the big MENU posted at the stall.
$2.50 -Mee Rebus, Lontong, Laksa
$1.20 -Nasi Lemak (YEH! I can save some $$$)
$2.20-Nasi Sambal Goreng (YIPEE!!!)
I was procrastinating on what to order. Watching the crowd come and go make me full. I felt satisfied watching these people enjoying their breakfast. I ordered egg prata for my son. I was greeted warmly by an old indian man making the prata when I wanted to order. My morning became bright and sunny with this man's smile.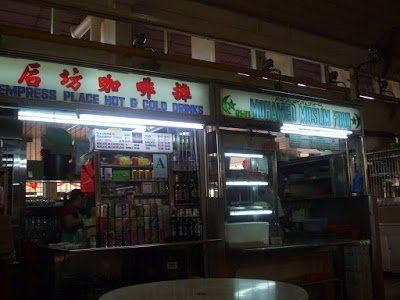 Mohamed Muslim Food
#01-71
Changi village Food centre
Oh by the way, the prata tasted nice . Cost $1.30 per piece. I ordered my Teh Sarbat (ginger tea).
As I sip the teh, I watched closely and noticed, there are some curry puffs… $0.40 each.
Ok, I think I will ta-pow (buy back) some nasi sambal goreng home and perhaps a packet of nasi lemak. This medium sized packet always intrigued me. It's like a surprise for me. Either, u get a fish, a sliced of egg omelette, anchovies or a tiny chicken drumlette. I am always guessing…on what is inside the nasi lemak packet. "Life is like a packet of nasi lemak. U'll never know what u gonna get (of course unless u asked)…" heheh!
Oh by the way, there is a CHEAP nasi lemak cost about $1.50 (and there is a chicken drumlette inside!)….want to know where? I will tell u in later posts…
The $2.20 nasi sambal goreng felt heavy. For those who have no idea what nasi sambal goreng is…. consist of fried dessicated coconut (serunding),rice, sambal , sambal goreng (fried beancurd+tempeh/fermented beancurd+long beans in sambal) and at times, some stalls add some extra things like "paru"/fried cow lungs, bergedil (fried potato cutlet).
Once upon a time, I love the KEMBANGAN nasi sambal goreng (opposite Kassim Mosque) which I think cost $1.50 or $2 only. (forgotten about the price). It has tiny paru, bergedil, serunding and sambal goreng with power sambal. Now, its GONE…..
Anyway, this nasi sambal goreng is SURPRISINGLY packed with sambal goreng , serunding and 1 fried chicken wing (all 3 joints!) for only $2.20 and if u mixed the whole rice with the SWEET sambal and serunding, YUM!YUM! The chicken wing was a BONUS for me. Where else can u get such a fare for $2.20?!!!
As for the nasi lemak, it was packed with a fish, egg omelette , a slice of cucumber and sambal (the sambal differs from the nasi sambal goreng). WORTH IT! Only $1.20. If u intend to picnic , just grab a couple of nasi lemak and nasi sambal goreng. For sure, it ran out fast. When I came, it was left with 2 nasi lemak only.
So what are u waiting for?
Fyi- I was there at Changi Beach in the afternoon, the sea was "pasang" (high tide) ,the wind was so strong that the birds have difficulty flying against it. The waves were wild and the sea water almost touched the grass area. I wonder …will this Changi beach be submerged (beneath the sea) in many, many years…?Hmm….
p.s: Oh by the way, the $2 nasi sambal goreng near ICA building is no longer there. The famous makcik $2 stall is GONE (featured in Makan Places lost & found )and replace by "EDDRINA chicken rice or something…"
(Visited 18 times, 1 visits today)