1)Istanbul Restaurant
TEL:67882045 476
TAMPINES STREET 44
#1-203. S 520476.
Item: Beef Kampung Porridge (Bubur daging kampung)
Price-$3-$4
Recommended by: Beetle Bummer
What I like : I love the accompanied items such as the salted duck egg, minced beef fried with red pepper,the chinchalok and sambal belacan (POWER, babe!) , kangkung and the chinese salted vegetable chopped into pieces. The porridge is a semi-congee (almost congee like but not congee but thicker than normal porridge, confused?)
Cons-need to wait about 15-20mins.
Comment: Cannot be eaten when u have sore throat..Owww!
This is one bubur kampung that really "arouse" my tastebuds. If u recommend me Bubur kampung, first impression would be"ah, no meat"…only ikan bilis , kangkong….
But this one has meat….YIPEE!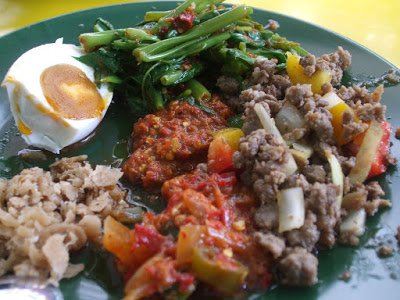 2)Fishball noodles stall
Parkway Banquet
LEvel 3 (opposite GIANT supermarket)
80 Marine Parade Road (S) 449269
Item: Chicken and cuttlefish porridge
Price: $3-$4.
Recommended by:Own observation.
What I like is the thick congee texture and the savoury taste (SHIOK!)and not forgetting its yu-tiao and chicken balls (UNIQUE right?!?!) plus chicken slices.(congested with chicken meat) The porridge is a takeaway and it tasted so GOOD even after few hours. So u can imagine how yummy it is when u savour it on the spot.
Cons: I cannot find the cuttle fish probably its yu-tiao with cuttlefish paste or mixed up with the wrong order.I think they gave me chicken porridge instead.Wait about 10-15mins(though there is a whole load of congee, they will heat and mixed the congee just for you when u ordered)
Comment: Actually have no mood to eat the porridge. But after one mouthful, soon followed more mouthfuls….Then before u know it, it's GONE! (Licin) I felt "well" after eating its savoury congee.
Actually I had not visited the Parkway Banquet for quite some time because its food is average. But then I saw Lor-Mee on its menu (I've been searching for it for so long eversince the Banquet at chinatown closed down) and then as I saw the Queue grew and some ordered porridge. The staff actually open a long and large container of CONGEE! The food presentation is also NICE.
The Lor Mee is nice too (I did not ask for extra vinegar as usual but it was nice and THICK black GRAVY) with yellow Mee poh noodles/flat yellow noodles.They have nice soupy items too. Many types of noodles…"MEE KIA"…and others that I had not heard of. They all looked YUMMY! For sure this stall, is quite generous with its congee, noodles, chicken meat balls, you-tiao and …There is also Fish porridge.
p.s: I had not downloaded the image of the chicken porridge, yet…..(97% used up and 3% left ). Oh by the way, did glanced into Pastamania. No signs of HALAL certificate yet..heheh! Patience…
(Visited 8 times, 1 visits today)