Bedok Corner Food Centre
Map: http://www.streetdirectory.com/asia_travel/travel/travel_id_29991/travel_site_1/
co-ordinates: http://wikimapia.org/3936218/Bedok-Corner
As mentioned earlier on, I had wanting to meet this "Opeh sampan" and alhamdulillah I got to meet "it" and "devour" its "occupants" too heh!
A friend wanted so much to eat at Bedok corner before he left for Europe. And so I decided to try out some of our reader recommendations (thks Nora Shikin Amin!)
Went to Ayam penyet stall, the ayam berempah (chicken with special spices) are gone so we are left with the crunchy munchy ayam penyet. The rice is very "pandan fragrant". The chicken is indeed yum! just like its name "ayam penyet RANGUP". Krack kriuk, kruk…The sambal isnt as outstanding as its counterparts( not so spicy) but okeylah. The raw greenish cabbage, I just try a tiny bit (hehe!).$4
SAIMAH-NASI AYAM PENYET RANGUP

Then my friend tried nasi goreng bandar aka "City fried rice" (previously he had tried nasi goreng kampung "kampung fried rice" from the same stall but on different day)The opposites…hehe! He prefered the bandar because he said it tasted better. Hmm..I tasted his rice, okeylah..i like the crackers.$4
OYSTER OMELETTE
Then we ordered the oyster omelette. The omelette seems to have improved. The oysters are big and juicy.The sauce is spicy tangy. Not bad, it goes well.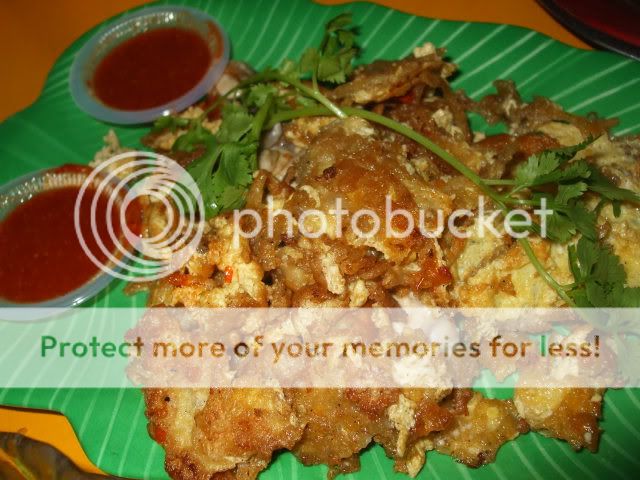 MAMU KITCHEN -Mee Kuah Upeh
I have actually forgotten about the sampan opeh until i saw the sign. We ordered it and later we try out each and every single food on the table like "share2lah". But when the food arrived about 15mins later, the one supposed to foot the bill is not there, so we thought we asked the man whether we can pay later. Abruptly he replied, "cannot..". We were surprised thus we like okey….still puzzled. This is the first time, a hawkerant declined our request to pay later.(I think its understandable, because he is busy and he might lose track who owe him what…ok, forgiven.)$5
Taste wise: Its not the typical tomato rich indian mee kuah. I chose kway teow and it is perfect because the sauce is more like the kway teow is flooded by gooey thick zesty thai chilli sauce gravy. Different kind of indian mee kuah with prawns and fish cakes. Hmm, interesting!e
Perhaps after countless of trips to Malaysia this december (I went again this week), I was still in "Malaysia hawkers hospitality- eat first , pay later" it became some sort of culture in me. heheh!
MEERA MEE & MURTABAK CORNER -Bedok corner original kambing soup
Then i scout around and I see the banner "Mutton soup since 19.." Hmm, how bout trying that too. We ordered the mixed parts of mutton (meat, leg ..i think that's about it, i dont think they have the tongue though its stated in the menu).$6
Indeed the mutton soup is nice, thick soup with lots of tumeric, not as spicy as normal mutton soup but nice! The meat kinda melt in the tongue. So tender…
Cheng Tng Since 1950s -Sorry about the "lazy photo-taking". The food are all served and I dont feel safe leaving the food with 4 other hungry adults …hehehe!

Then after that, we try the famous "cheng tng". I realised this cheng tng has dried persimmons and some yummy "treasures" that we often could not find in other cheng tng and they used the old scoop spoon.Suddenly I felt transported back in time….heavenly…$2 each
Freshly cut fruits…
Freshly fried banana fritters
If im not wrong, this stall sell some yummy BBQ sambal seafood, but it opens late afternoon…(it just opened when I was there around 3-4pm.
ALI'S BBQ FISH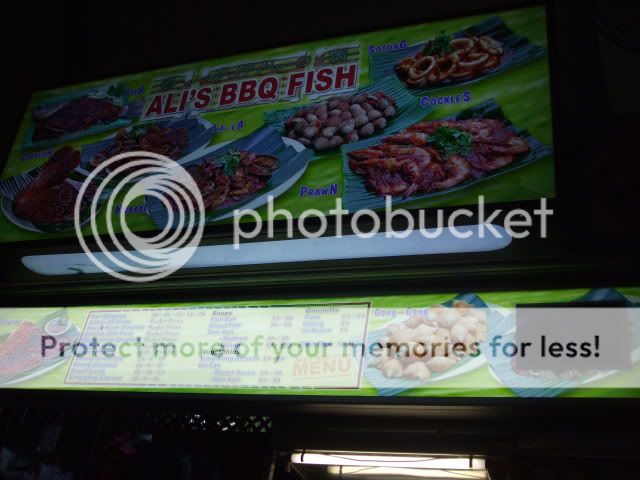 Previous posts of Bedok Corner:
http://www.linamasrina.com/2007/11/gemelli-pizza-and-pasta_26.html
http://www.linamasrina.com/2007/06/bedok-corners-halal-oh-luak.html
p.s: if u are using malsingmap, it is listed as "Bedok Bend food centre".
Err, I'm still organising my road trip images from both digicam and videocam. Dunno where to continue… so that's why u see my roadtrip is halfway done..hehehe! I see stars….
(Visited 7 times, 1 visits today)