Early morning breakfast (saturday) @ morning bazaar.
Reached there around 8am but some are not ready yet…but searching for my FAVORITE apam balik stall (cannot find) but luckily there is one Apam stall. YEAH!! Feast ur eyes…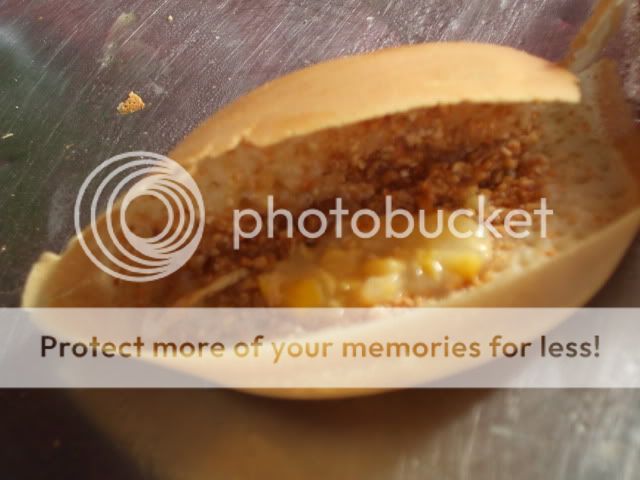 Looking around….
Wajik

Then I saw how blackish brown this RENDANG is…calling out to me "Buy me! buy me!" and so I did…It was authntically an indonesian dry rendang. SEDAPlicious! No need to go Indonesia…
Then after a few rounds of the morning make shift market/bazaar, we went to a nearby food centre:
(there was a signage saying OKU (orang kurang upaya /handicapped people )get free food…such generosity!
I think this place is popular with its chicken rice, because I saw non-stop order of it…
The chicken came with chilli sauce…

Requested for no chilli sauce for kids
Tried the laksa

The botled thingy contains "budu"-northern Malaysia specialty . It is fermented fish sauce….It adds some taste to the laksa. Nice!
This is cute. Ordered some hot drinks and saw some cubes of ices around it to cool down the drinks….or perhaps if u like, u can add to ur drinks like teh ice or somethin…
Okay this is one Penang specialty -Kway Teow Tng

The broth is yum yum! The noodles are smooth and slipperily good!Just nice …a healthy breakfast..for the tummy.
Actually I was craving for Penang famous Char Kway Teow but I cannot find any HALAL ones. Mamak stalls only sell their indian version of kway teow goreng… But then I did find one at Ipoh…(Yeah, search high and low for HALAL char kway teow in Penang but cannot find so I gave up and I found it at Ipoh but then it was closing….*sigh..read it on later…)
Then we head to hotel, pack up and then roam around for lunch…
Check my GPS and found some yummy POIs but this one is closed…

so head to my favourite SUBWAY!!
Then roam around Penang….and later head to Ipoh…
Previous post on Penang:
http://www.linamasrina.com/2008/01/penang.html
Ok, lets go to IPOH….
Stop at the food centre near Stadium Ipoh beside the fire station

Found char kway teow (chinese style but HALAL certified)

But its closing…they are washing the utensils already…

This malay couple stall sell some yuummy NASI GORENG! And their char kway teow is not bad too (no cockles unlike the stall beside) . They are friendly and full of warmth. Even my kids treat them like their grandparents.
The laksa is similar to penang asam laksa.
Their nasi goreng is a MUST-TRY!!

In the morning, we were told by some malaysian customers here that there is some yummy roti canai by indian muslim and also char kway teow by chinese muslims at far end. *sigh…
Then head to Nasi Ganja aka "cannabis rice" .(wait before the narcotics come and find us, let me clarify, there isnt any cannabis used in the ingredients. Its name was derived because it was so yummy and addicitve that its customers kept coming back for more…) We were the last customer, we reached there at 7pm. They were closing actually but allow us to pick the leftover dishes. Too bad, we cannot taste the famous ayam merah….
And so we tasted its leftover dishes…it was really addictive! We get to taste the mutton meat which melt in the mouth and the gravy was mammaia..sedap!!
So I wonder how will the ayam merah and other super delicious dishes taste like? Hmm..i think i need to revisit this place again perhaps in the morning heeh!!
Of course , not forgetting Ipoh white coffee….and teh o limau ice!
Roam around Ipoh town

Satay Kajang @ Sungei Buluh R & R branch

This road trip had been so fruitful. We tasted 2 of the BEST nasi Kandar. One in Penang (beside Kapitan Keling mosque) and the other one in Ipoh…truly wonderful. Now, this is what Nasi Kandar should taste like…..Once u taste this, u cannot anyhow eat NAsi Kandar anymore, u will tend to compare even the Nasi Kandar Pelita, or Yaseen or Line clear is no match for them (sorry fans..)…
But I cannot say the same for Kajang Satay….such a letdown…
Need to rest, head to Seremban RSA hotel RM49 per nite (south bound)….
(Visited 20 times, 1 visits today)