On the beautiful island of Langkawi
Went for a very early morning swim. Cannot see the sun rise because we are on the wrong side of the island. Saw some tourists jogging on the sandy beaches. Such cold breeze tinkling with loads of fresh air. The saltish sea water is warm but later it gets colder.
Then roam around looking for some "Gerek" breakfast to curb the previous unsatisfactory dinner….


RESTORAN HJ RAMLI
Opposite Grand Beach Hotel
(near Pantai Cenang)
(just few stops away from AB motel) most food stalls are closed. This one was opened for breakfast and they have such wide varieties of food. Waited for my GPS to give out the co-ords but it failed even when I stayed outside for quite some time.
A shed for the man to bbq gril the fish and chicken so early in the morning…


They have roti canai (prata) , nasi kampung, BBQ fish and chicken, lemak ketam (the orangey crabs found in the previous nite bazaar) and loads more…The place is big and clean…
Roti canai/prata and banana prata with sweet dhal curry

Later we checked out and settle for hotel Langkasuka (3 star) at Kuah town. Got a family room (if u got credit card, its cheaper but if u pay cash, more expensive…abt RM140-RM178)
Stop those thoughtless ironing..hehe!

After that, went back to oriental village for the cable car ride. Early morning, there were some strong winds so they had not started it yet . Luckily, the cable ride was ok in the afternoon but the bridge is not opened because of maintenance.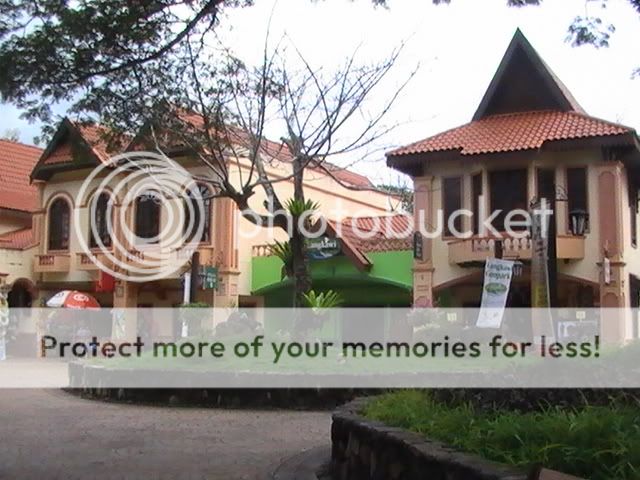 The view was breath taking…..loss for words.

When we wanted to go back, there were some TV3 staff filming some videos of people riding the cable car.
Head to mosque to do some prayers..

Drive around…

Location: Tanjong Rhu Beach (a bit isolated corner but full of life beach)

U can opt to go to the Bat's cave by sea…

Many food stalls/restaurant

Many clothing stalls (so pack lightly!)

Beautiful fine white sandy beach

Went to fresh prawns farm (maghrib time) and we can solat there at the surau. It looked like its Chinese owned thus I asked whether its HALAL. Yes it is. I like the wooden huts built for customers to dine in like a "kampung experience" and seat "bersila". Love the kampung and romantic ambience feeling.
Dr. Mahathir had visited this premise

The menu (sorry had rotate the pics and save but the pics refused to budge, so strain that neck pls..hehee!)

The place

Freshly squeezed lime juice (but its not kalamansi lime but very fragrant limau purut (I realised that langkawi and perlis love to use this type of limau)
The vegetable fried rice (simple but a delight in every bite!)

Daging masak merah (beef strips in red sauce)


TEnderly good!
Fried butter prawns


Very good..tasted as if u caught them yourself….
Sourish mango salad

Steamed fish in sweet sour sauce

More prawns (assam)
Bon Appetit!

The prawns are so fresh and they declare that "NO antiseptics" are used like in most farms.Everything is yummilicious! Some items are a bit expensive (lobster is about RM200-300 because i think its imported from Canada or something) but some are not so pricey. The food are delicious, so its worthwhile. Spent about RM150 for 6 people.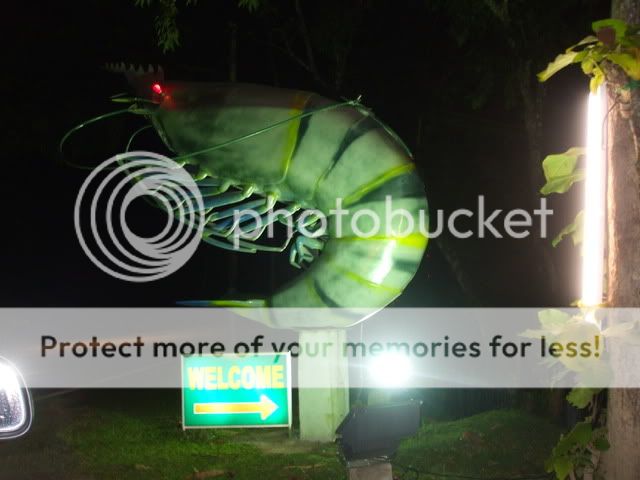 If u got the time, visit it during the day and u can see the prawns LIVE in the farm. Probably can get a guided tour too! FREE.The surroundings are a bit "hulu" (isolated" Just take note of the GIGANTIC PRAWNS statues.
Tomorrow, we will be heading back….need to rush to Mahsuri's tomb (heard about her curse on this island?)Well…it was quite a goosebumping experience visiting her tomb..Dont really like the idea of a tomb in the midst of bustling activities/mini village /gamat/herbs store/people practising their musical instruments, caricature corner…Dont really know how to explain it, got to be there to experience it. Difficult to feel the syahdu (sadness)of "keinsafan" .Because we often felt the "silence" at cemeteries but here, it felt "busy" /kecoh. Well, that's my 2 cents worth…
To be continued…on next post!
p.s: Previously tried medium sized images but "tak puas" (not satisfied) so went back to the large size images…
(Visited 10 times, 1 visits today)