Woke up early and had hotel breakfast at 6.45am. I like the nasi lemak and ayam rendang which tasted more like ayam masak merah.Yum!
We park the car here (free for hotel guests though we had checked out) at the hotel open-air carpark. There were lots of carparks being offered to those who holiday in Langkawi .Actually u can car-ferry ur car over to Langkawi for RM180 but after much consideration and the troublesomeness involved, we decided to rent a car instead. Then we head to the jetty for our 9.00am ride (the hotel can buy tickets for u)to Langkawi island.YIPEE!
RM $18 per adult and free for kids (share seats with adults)
Reached Langkawi 45 mins later
http://www.asiaexplorers.com/malaysia/langkawi_travel_guide.htm
We rent a car for the 2 days (for about RM50 (manual)-70 (auto) per day for normal car size+RM50 quite cheap as compared to big established car rental co. RM150 per day (from internet))
Then we checked into budget chalet for family (RM100) called AB motel with double queen sized beds. The beach lies right at our entrance. So beautiful!
This cost RM10 per chair-but u dont really need it. Most "ang-mohs" (caucasians) brought their towel and just seat on the beach.
U can parasail, bananaboat and lots more…(we got lots to cover these 2 days thus not much time to try but we did a morning swim)
The sea aint as fierce as the Desaru ones (because Desaru is south china sea) so i'm not as fearful to go deeper. But as usual say some prayers before u enter….
Langkawi
Paddy fields
Cows, calfs, goats… a common sight at the roadside, fields…I even get to see a herd of buffaloes soaked in mud but it was late evening, almost dark…pics not clear….

GO cart

Hmm…Anna and the King filmed at this beach …

LUNCH time – we had recce around sniffing around but most places are closed during morning perhaps, they are more vibrant from evening onwards. But somehow, we did find a great place. We saw some smoky BBQ area and sniffed some ikan bakar (grilled fish) in the air thus we decided this must be it!
We were there around 11+am by 12pm, it was so crowded that the food is empty esp. the ayam bakar (grilled chicken) the grilled fishes were BBQ non-stop and they kept replacing it in large amounts. The crowd were very hungry soon the sambal belacan was gone! Empty, licin…. WOW!
The assam fish is a hot favourite too! And not forgetting the ayam kicap (chicken cooked in sweet thick soya sauce) so sedaplicious! The purple looking ball is not ONION but a raw terung (eggplant) , a bit kelat (first time for me to eat this as ulam/raw) bitterish but nice when immersed in sambal belacan and chew! Kick!
The food was SHIOK! Authentic langkawi people food. This is much better than the disappointing seafood dinner yesterday and the price is much, much cheaper.
The ulam (raw herbal vegetables) was great, the grilled fish and chicken was yummilicious (There are 3 kinds of fishes: catfish, ikan terubok, kembung/termenung) They rather we select the food and wait then later they will come and count for us.
But being Singaporeans, we are used to "pay first then eat rather than "eat first-pay later" but that is how the Malaysians do (they have so much faith and confidence that the customers will be honest), we waited for the waitress to count before we chow down! Cos I fear the food we took will disappear and then we forgotten what we took hehe! It was gastronomically GOOD!
I took very little rice but lots of dishes so that I wont be too full. Luckily i did that…. cos later I found a special LAKSA KAW and chendul and more SAVOURY kuehs…
*drools..
Okay the yummilicious LAKSA KAW…

SAVOURY KUEHs..so cheap yet so deliciously GOOD!
Ladies and gentlemen, let me present to u the humble looking laksa…
I was watching this man put dollops of otak udang (prawn paste) onto the laksa, I was intrigued and asked why. He said it adds some zestiness and make it more tasty. I tried a little at first and immediately adds dollops just like the man. Indeed, this is the secret ingredient and only the locals know….
And lastly DESSERTs…
Chendul pulut (glutinuous rice), chendul normal and ice-kacang…cooling the body on a hot sweltering day like today…
Oriental village
http://www.trekearth.com/gallery/Asia/Malaysia/photo171605.htm
Open air toilet

First day in Langkawi-wanted to ride the cable car but its under maintenance.
So we went to see the elephant for a ride but the elephant has piles (one bisul) so we can only feed him for about RM5 each person. The funny thing is the caretaker gave us a loaf of white bread to him with (unlike in Thailand, Padang besar, we fed the elephant with sugarcane, u can see the pics later)
More sightseeing…
This is uniquely scary… I dunno whether they carve it out of the trees or it is originally like this.Hmm…(no one was around to query)
Famous tourist spot: Burnt rice "Beras Terbakar"
The weather was very hot, I felt myself burning too….

This house is off-limits to visitors, i think a family stayed there..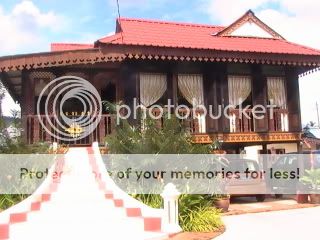 The burnt rice


The real location of where the rice was burnt…


What they sell here….
GAMAT aka SEA CUCUMBER (I love it esp when cooked in soups or stews.Good for skin and internal organs healing…)
Bunga ratu pari-one of the famous herbs here …
Just take two pieces and soaked in warm water and drink it. Beneficial for..DOnt worry, its tasteless and not bitter. Tried and tasted. felt rejuvenated after drinking it.Best on empty tummy early morning. 3 packets for RM10.
http://www.melayu.com/v2/sembang2/mesej.php?thread=11082
Malaysia Made Coca-cola : tasted almost similar to Coke. HALAL!

RM 1.20
Location: Hot Springs/Telaga air hangat (constructing a village ambience)
They were undergoing some construction but are still open. Currently its FOC but I think after the construction, perhaps, there will be some fees charged.
Some stalls


The hot springs are not that hot for the feet…but perhaps once its ready…there woould be more hot springs spots….maybe the water would be hotter..
Location: tourist attraction -7 wells (Tujuh telaga)
Okay its time for my bath….
The princess need to berendam….but I cannot make it…cos there are some babies and kids that need to stay behind. Only the guys went to the tujuh telaga (7 wells) and the waterfall.It was said that the water has some beneficial healing power.Hmm…
Anyway, just to warn u …U need to hike up. It is much, much steeper than Bt Timah.So u need a good pair of shoes, dress lightly..and lots of stamina..seriously. Dont bring any plastic bags cos the monkeys will think that u have food and snatched it away. A tourist put his belongings and passport into a plastic bag and the monkeys snatched it away..I pity the monkeys.Was quite intimidated by them too..hehe!
On rainy days, dont go, very slippery, the lady who sold this coconut drink said that at least there will be some death esp during rainy days. The ambulance will come often on rainy days.
Oh well, nevermind the disappoinement….this princess will enjoy her coconut drink..
WOW! What a HUGE and fleshy coconut….
Then head to Langkawi pasar malam/night bazaar. Only on WEDNESDAY nite.A bit disappointed because its not as great as the one in Perlis.I expect it to be bigger and grander and much choices since it is in Kuah town. But never mind, it was an eye opener.
Langkawi has changed slowly.The prices of products are not that cheap. I wanted to find a child "pelampung" or a life buoy and the smallest one for the arms cost about RM20 (SGD10). But later I found in one modest shop for a ring buoy-RM6 only! *Sigh..
There are many soup stalls selling mutton soup and spareparts (noodles can be added) and nasi kampung or padang rice stalls.
(Visited 2 times, 1 visits today)