Sundays would be much better time to visit them. Was told that the bazaar will stretch tili into Thailand. Very long bazaar..
Thruout the hilly drive of ups and downs , the view is breath taking..

This voluntary fire post can be dated as far back as the Japanese Occupation…
The Malaysians swam in the mini river near the cave.
We were too late. The cave is closed but the man allows us to enter to take some pics.
The cave is pitch black from afar. I dare not come nearer because it was in the evening (nearing maghrib) and I felt goosebumps when I enter this place. (Eerie feeling) seriously….a different kind of fear than I usually felt….
Then we chanced upon an evening bazaar cum market on our way back…
First target: FRIED KAMPUNG CHICKENs!!!
I've tried chasing after this chicken but failed so I gave up and head to…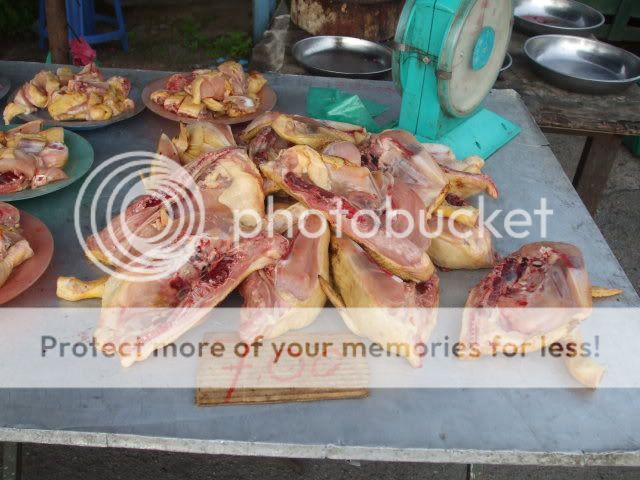 When we enter, everyone were looking at us. We are the "Strangers"…hehe! And i start snapping pics here and there…some sort of like a tourist or a reporter. hehehe!
This is one SHELLFISH that I have never ever SEEN! It's like the cockles that we ate but elongated version….no its not bamboo clam.


Gosh! Today is really a day of BAZAARS!!! (tuesday)In fact thruout the road trip, only Thursday, I did not go to bazaar.. For sure, I will put on extra weight at the end of this trip….YIKES!
The only disappointment for today was the so called famous and popular "STALL no.7". My makan kaki gang did his research and wanted to try out at this stall because he said it was stated in on of the Malaysia tourism website and the stall was recommended.
"Delicious and cheap grilled fish in Kuala Perlis is stall no:7, in front of Putra Brasmana Hotel. Nice view of sunset. I will visit againt…" by nash taken from the site below:
http://www.virtualmalaysia.com/destination/kuala%20perlis.html
WE agreed to try though we were like bloated from all the "jalan-jalan makan angin" and all those bazaar food.
But my first impression of the place wasnt good, a bit dirty…the staff that was taking our orders was non-chalant and he actually hurt his fingers with the fish that we chose (blood oozes out) kinda yucky…and could be "Bad luck" to some customers…but we tried it anyway…hehe!
What's the verdict?
The bbq fish too saltish. I wanted a plain BBQ fish (no sambal) but it came with dollops of saltish chilli sambal. We had to scraped it away.
BBQ lala-so-so (some are not cooked)
The drinks are very sweet and diluted even though we asked for fresh fruit juice.
Not really a good experience. Perhaps, other stalls would be better, i dunno, perhaps.
Furthermore, I think the price is not as cheap as expected. I hope we can taste some yummy ikan bakar tomorrow in Langkawi…cannot wait….*excited
Anyway, after this, we went for a horse carriage ride just round the hotel and area near jetty.The horse was "nicely dressed". Felt like a real princess heheh! Cost about RM5 per person. Can fit 4-5 person.It was very dark so the pics werent that clear so I wont display them here.(anyway, if u want the same experience, u can go to our ZOO for the ride too at SGD8 per person around the Zoo)
TO be continued..
(Visited 3 times, 1 visits today)