Updated 2010-This restaurant is no longer there.
I am in search for KIKIL (the chewy tendon) …the one that i knew will have is GARUDA padang cuisine but now there is another one! YIPEE!!! Saw at the corner of my eye as I visited the bookstores at Kandahar street. The way they arrange the display of food is just like those nasi padang in Indonesia.I just cannot wait to try it!!
Just for appetisers….feed the "eyes" first…
Menu: http://www.wisvry.com/menu.html
Hot favourites :
Rendang Daging Sapi – $3.50
Ayam Goreng Bumbu – $2.60
Ayam 'Pop' w Sambal Kicap – $2.50
Gulai Kikil Power! – $5.50
Dendeng Bakar – $2.80
More photos: http://wargajagat.multiply.com/photos/album/10/Selamat_Datang_ke_Wisvry_Restoran_-_Hidangan_Asli_Padang
Contact Information
Email : info@wisvry.com
Phone :63963824
Address : No. 52 / 54 Kandahaar Street
Singapore 198899
Happy feasting!!!

Update:Went there at 11am on 2/1/09. No customer. But after we ordered, there were many coming in.

Look at the colourful display of food!! Mouth watering…dunno where to start. What to order? This is a typical Nasi Padang stall display in Indonesia.

Verdict: Yummy food at affordable price. Total cost spent about $20+.(4-5people)
Favourite: Sambal terong (brinjals chillies), fried chicken (the staff gave us 2 for the price of 1, yipee!), rendang (the tender beef has the musky charcoalled /burnt wood smell like those "rendang" cooked in Malay weddings), anchovies and peanuts, ayam bakar (Grilled chicken) is ok but when added with dollops of the kicap cili, YUM!
Brinjals chillies
Rendang

Anchovies and peanuts

Bergedil (potato ball)
Fried potato with chicken liver and gizzard

Fried chicken with floss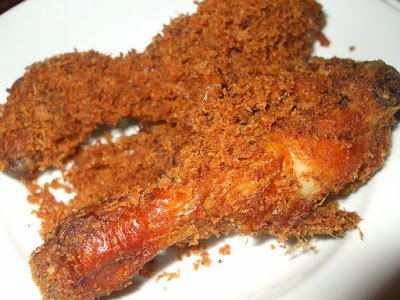 Grilled chicken


Dont forget to immerse the grilled chicken into the sweet spicy thick soya sauce.

Improvements needed (according to my humble tastebuds):
The siput (mini snails) in coconut gravy , we have difficulty sucking it out. Gave up half of it. Kikil not found because the staff told me that the "KIKIL" had just finished, so no more KIKIL to make GULAI KIKIL. I think they should always have GULAI KIKIL just like Garuda. because that sets them apart from other nasi padang stalls. The green chilli and red chilli paste is a bit bland. The lime juice although its freshly squeezed, its not that cold.
But overall, I like the combination of everything. It harmonise well together. The flavour can transport me back to Indonesia.But the funky modern English songs that were played kinda turned me off. They should play sort of Balinese…errr… traditional indonesian music as background. The furniture, the ambience is nice. I like the washing area for washing hands. The basin is made of the mortar ( where u grind the chillies into paste).
Love the whole experience!
Continue reading on my previous posts on Indonesian Food Journey :
http://putri-berendam.blogspot.com/search/label/indonesian
(u can view the pics because I use Blogger for the images)
Okay, now need to ta-pow home some KIKIL from Garuda Padang Cuisine at VIVOCITY (and perhaps my favourite RENDANG too) for dinner… hehe!
Kikil in Garuda is already chopped into bite-sized. But the kikil in Indonesia look some what like smooth "tentacles" of the octopus. The kikil (Garuda) is cooked till it melts in the mouth but the Indonesian ones have this chewy texture which I like.
(Visited 70 times, 1 visits today)