Update 2009: This restaurant is no longer there.
Where can u get nasi lemak that has
No deep frying, no oil, no trans fat???
NASILEMAQ.com is the ANSWER!!!
1 Yuan Ching road
Jurong Superbowl
#01-04
Opening Hours
Sundays, Tuesdays – Thursday : 11am – 11pm
Fridays & Saturdays: 11am – 3am
Closed on Mondays
Open on Public Holidays
Jurong area only!!!
Call 6-898-0-898 to place your orders from 7.30am to 5.30pm.
(for 10 orders and above)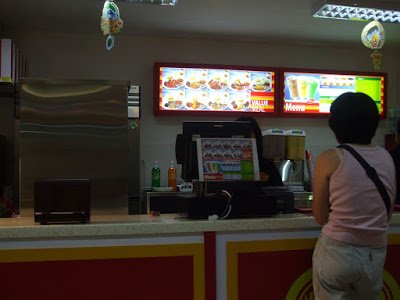 Was at the Jurong bowl looking for "Kintamani" , BECAUSE I got mixed up with Taman Jurong Hawker centre and this Jurong superbowl (err, sorry, I'm really lost when it comes to the western area)
Anyway, it was a good discovery! I saw Pagi Sore (Indonesian restaurant) and Nasilemaq.com (something different!) and there are also 2 muslim stalls at the food court area.

Anyway, as I enter the "eatery", I was greeted warmly by the staff. I saw the HALAL logo but could not see the HALAL certificate. SO I asked her where it is. She said the owner is a malay muslim. About 5mins later, the young owner walked in and warmly welcome us.
I looked at the display corner of side dishes. It looked yummy. The green vegetables looked freshly green.

The staff recommended the ayam percik set and the mutton set. I ordered the ayam percik set $6.50.
The kid's set (fishball,chicken drumlet,egg,anchovies and peanuts, sambal separately served, chocolate mini eclair) $4.50.


The sotong looked yummy too! So I ordered extra!! 2 stuffed sotong in thick coconut gravy/masak lemak (I think its stuffed with somewhat like glutinuous rice) for about $3.


Anyway, I like the ayam percik,mini chocolate eclair and the sotong is not bad (without the stuffing a bit jerlak/muak for me).
Interesting place! Why dont u check it out?!!



Perhaps a game or two at the bowling alley? U can bring the food to
the superbowl..(I saw some customers did that)

Oh this is a unique drink (the chocolate colour), it is combination of
kathira drink (popular drink during ramadhan) and coffee/mocha. (U can choose variety of drinks that come together in the set) ….

Other than that, some of the food is a bit dry for me….but can be improved! Looking forward to try other dishes like sambal sotong, mutton…
(Visited 21 times, 1 visits today)