Was attracted to yummy looking pictures and good reviews from these 2 blogger. So I came down for a visit …..
Meanwhile check these out!
1)http://rinaz.net/2008/07/el-sheikh/
2)http://www.linamasrina.com/2008/09/el-sheikh-restaurant-pahang-street.html
and then I went thru its menu here:
http://www.elsheikhrestaurant.com/menu.htm
It look so gastronomically yummy from the website!
But as usual, upon reaching there, I've forgotten their hot favourites! Thus we ordered the norm : the baba ghanoush (perhaps should order moutabbel instead) and mixed kebab grill (a little bit of everything: koftas, taouk,kebab,lamb chop and fries)
I don't really like the baba ghanoush here, I find that the citric lemon juice is too over powering. But as I chat and continue eating on its own (without the pita), it tasted nice, sort of a salad appetizer.Perhaps, I should not compare with the baba ghanoush at Al-Tazzaq (my favourite!)This is lebanese and that is Egyptian.

As for the mixed grill: I like the chicken taouk and beef kebab and the fries with a brownish dip sauce that taste almost similar to steak brown sauce or perhaps we should pour it on the meat instead? Whatever it is, it taste good with the fries. The lamb chop was a bit too saltish for my taste and the koftas was tasteless (chicken and lamb).

fyi-they dont use tenderizer nor msg. We ordered iced plain water but it came very late in the midst of the main course. Maybe they have forgotten about it… (terbegik hehhe!)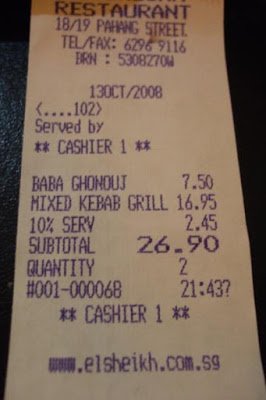 But I like the ambience. Only wished they stick to one type of music though. When I came in, George Micheal was singing a ballad then as I decided to exit (a few hours later hehe!) the background music changed to malay songs during P.Ramlee time. Hmm….
I think , I might have chosen the wrong food or the original cook not in , perhaps….But will come back to try out those other food! (insya-Allah)
Meanwhile, I am craving for my favourite BABA ghanoush in this vicinity… YUMMY!
http://www.linamasrina.com/2008/04/arab-streeta-mediterranean-food.html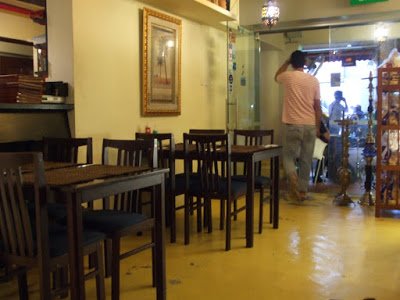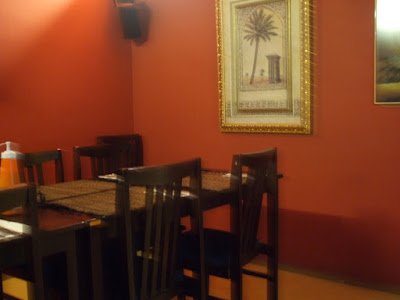 El-Sheikh Restaurant (Lebanese)
18 Pahang Street
(beside Amirah's Grill restaurant)
If Im not wrong, there are 2 branches there. We went to the bigger one away from the Sultan mosque (5-7mins walk)
Hmm, now I'm craving for couscous after reading this…
http://umami.typepad.com/umami/2008/10/couscous-still.html
Next mediterranean experience, perhaps this one?Eh they have lamb couscous and tagine YIPEE!!
http://www.hungrygowhere.com/singapore/food_delivery/menu/al_qasr/
(remember in my Holland V post, I asked the staff in this restaurant whether it is HALAL and they said it is? I did not checked whether they are HALAL-certified or owner is muslim)
Just found out that they served wines and beers (what a bummer! So cancel the thought..)
http://www.alqasr.com.sg/images/Wine_Menu.pdf
NEvermind, found another one, it states in the website that it is HALAL. I like this hi-tech website, very unique. Went thru its menu, there is couscous and its lamb chop is award winning. No tagine …but it's lebanese restaurant in the city so expect the hummus to be $16.
http://www.sanobar.com.sg/menu.htm
I dont see any drinks in the menu?Sigh another bummer….
http://www.sanobar.com.sg/promotions.htm
I give up…..both places cannot go….
p.s: Used up 96% of blogger….
(Visited 3 times, 1 visits today)