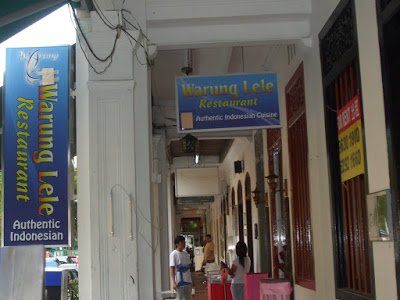 Recently, my friend was craving for ikan lele (catfish). Wanted to go to Warung Lele but due to time constraint we went to local food court instead. Tasted the ikan lele but I believe there are better options around…..
Have not tried this place yet, but the menu SURE looked YUMMY!
http://warunglele.com/home/index.php?option=com_content&task=view&id=13&Itemid=27 (*drools)
And they had moved recently..

" Notice to our customers…WARUNG LELE will be moving to 32 Kandahar Street from September 2008. Our last day of operation at China Square Central will be 30 Aug 2008. We thank all our customers for their support at CSC during these four years. Please refer to this website for news of our opening date at our new location. Thank you."
PROMOTIONS
***Ala Cart Buffet is back!Our Ala Cart buffet is back by popular demand. Choose from 30 dishes for just $15.90++ ($12++ for children under 10 years old). Call 64382239 for more details and reservations.
Read more here:
http://warunglele.com/home/index.php?option=com_content&task=view&id=14&Itemid=28

(Visited 1 times, 1 visits today)