From previous post….
I think I took shots of only half of the bazaar stalls there….
Different sizes of fried cempedak sold here…

Tapai Ubi/pulut-fermented tapioca/glutinuous rice (if too strong , ur head can be spinning, ur cheeks rosy red)

Tasted this new drink of sea coconut from Africa, tasted like a mild cheekong/cheng tng drink with jelly like substance inside…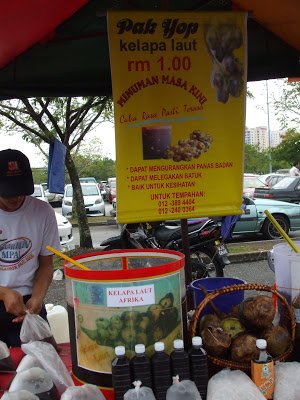 Lemang ,rendang,serundinig is a necessity for Malaysian Raya. (My mummy said last time there was a "meaty" version of lemang whereby the meat was added to glutinuous rice before stuffing into bamboo to cook in charcoal fire, but not anymore…anyone want to try making it? Then don't forget to deliver it to my doorstep…or I will deliver myself to ur doorstep heheh!)
Home-made donuts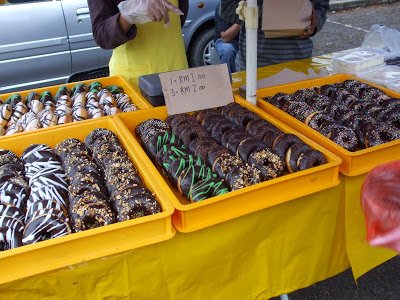 Northern Malaysian food

Colourful jellies

Murtabak Ramadhan are always packed /congested with minced meat. So small but yet FILLING shiok! (dont mind the GHEE, close one eye…)

Roti jala-best eaten with curry chicken,oohh mamamia!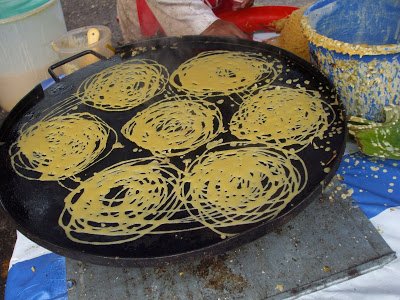 This stall has some yummy fried chicken and red chicken (ayam masak merah) and rendang, but too crowded, I cannot squeeze thru the crowd to take the pics of the rendang and ayam merah.

More ayam percik, paru (liver)percik…

Woah.. Whole load of Penang Laksa gravy….

I've tasted this last year. Nice !Tempoyak -Fermented durian is added to the coconut gravy (lemak) makes it more savoury but the durian makes the gravy diluted but full of flavour. (I've tried doing it .Me and my "cooking experiments" last year! heheh!)

If u are here, try the "rendang ayam kampung". Singapore's ayam kampung tasted (free range chickens) nothing like these…Got to try it!
Tasted both fried popiah and the wet popiah (tasted very raw but ok), I prefer the fried ones. The sweet chilli sauce are already splashed on top.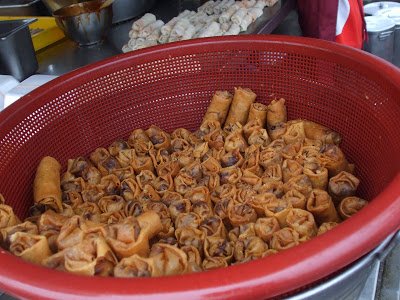 Anyway, be there by 4-5pm, not so crowded and the quality of food is good, be there at 6pm and above, crowded, smoky and the vendors are in a hurry…thus food quality might be different…
This year, I've had the chance to sahur at Putri Pacific hotel, JB… but not the buffet ones. I've lost 5-6kg and aiming to stay that way (hehehe!). I did take a peek at what they offer but not attractive enough, the street food looked more tempting. So what else, I ta-pow the street food and made a mess in the hotel…hehe!
Previously, I've "sahur" there and the rendang was YUMMY, so this year expecting the same fare (since that was what the staff told me). But what I received was not as expected….. (if u want to know more, keep visiting this blog! Plus bazaars in that vicinity will be revealed too!)
(Visited 2 times, 1 visits today)