Ok, this is the last post on Shah Alam bazaar…
Can u see the majestic stadium…there is another stadium, (indoor) nearby..
Roti John -originate from Singapore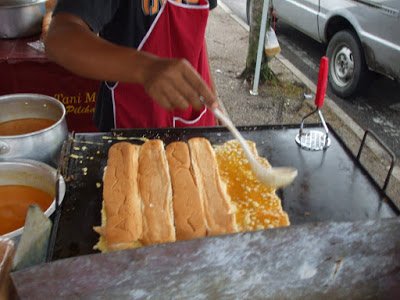 Nasi pattaya -fried rice wrapped in thick eggy omelette

Apam balik /Pancakes with chopped nuts, corn and sugar (U really got to try the original in Penang, so scrumptiously crispily yummy!)

Ermm….is this McDonald's prosperity burger…pirated version?

The famous bubur lambuk!

I wonder whether the roti bom is the same as Singapore's roti bom, with sweet condensed milk and stuff? Did not try….still wondering


Grilled fishes:sting ray, kembung/mackerel…(without sambal)

Fresh curry puffs from the wok… (meat curry puff, potato, sardines puff and more)

I love this BATIK cake! I tried in one of my relative's house in Malaysia last Raya and ever since I was hooked! It's a mixture of chocolate cake and Marie biscuits. YUMMY!

Malay salad-Rojak buah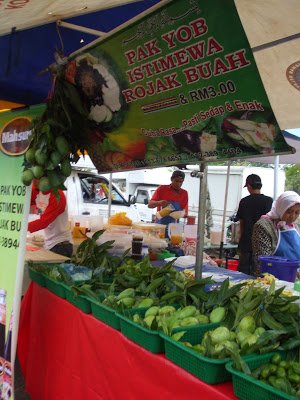 This is NEW in this bazaar…fried mushrooms. DO u know that Malaysia has one of the biggest Gano/LINGZHI (also known as miracle /king of herbs) farm? But of course the above is not gano/lingzhi. (U can buy them at Sheng shiong supermarket or Chinese physician shop in Singapore) Very bitter, best buy powder form, just swallow the capsule. http://www.dxnganoderma.blogspot.com/2007_02_01_archive.html

(Visited 6 times, 1 visits today)