When u exit to the main road, turn left and head towards this town "Bandar Baru Uda". Locate the signboard for Jamek Mosque Bandar baru Uda and u will come straight to the bazaar.
If u drive, its only 5 mins away from Plaza Angsana. But around 4pm onwards, traffic congestion occurs. (human traffic congestion probably occurs around 5-6pm)
This is the beautitful mosque, I had the chance to join the congregation prayer (alhamdulillah). As I left the mosque, I saw some kids brought back some porridge (bubur masjid) from the mosque, it sure looked yummy. Very thick brownish congee… (the boy spilt some on the floor)
I love Malaysian's Ramadhan bazaar Murtabaks, they are small but congested with meat. Wow! The best Murtabak I've tasted is when I visited my uncle Hassan's house during Hari Raya. He is so popular that his name has been edited to "Hassan Murtabak/Prata". (heheh!)He often move around from Kota Tinggi to Desaru area Bazaar. Very soft and yet yummy (undescribable), but then he had training from a Bai Roti and also in Zam-zam Murtabak eatery in Singapore in the 80s! He combined both recipes and Wow! (sorry did not take any pics of his famous murtabak because once it landed on the table, it will disappear within seconds!drools..this brings back those tantalizing memories)
Hot piping Grilled sambal stingray, sotong and seafood!!

More traditional Malay kuehs…
Exotic birds…
My acquaintance's fascination with the mystical burung wak-wak (if u have read my previous post) thus I bought these for her. They weren't burung wak-wak because the flesh weren't reddish in colour. But this is the closest I can get to exotic birds. These are Madura wild birds, similar in size to Quail birds but they tasted even better. Very exotic indeed….
Briyani gear box, anyone? (briyani with bone steak)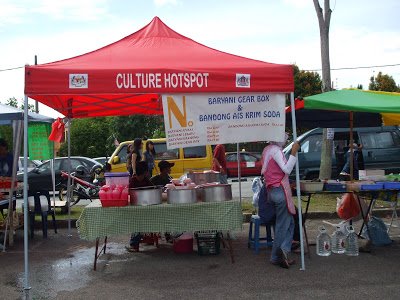 No need to wait for Raya, Ketupat is available!

This is Rojak Asma, the ingredients look so fresh especially the sotong ..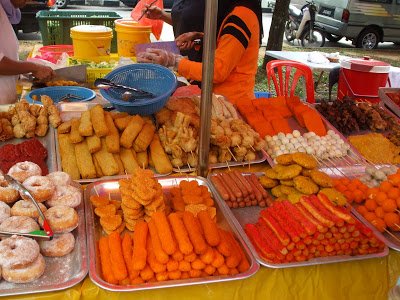 More Murtabak…
Satar is similar to otak-otak…

This is the other side which I did not venture. Actually, I was fooled, I thought it was a small bazaar but later as I left, I saw this part , it seemed endless….(hehhe!)
To be continued…
(Visited 2 times, 1 visits today)