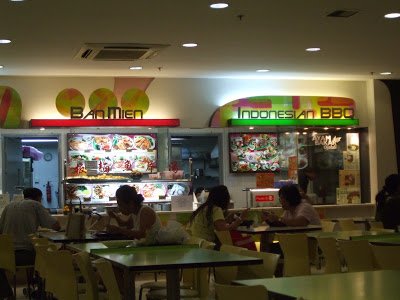 http://www.ayambakarojolali.com/
I've always liked the BBQ grilled chicken at fork and spoon but recently, I noticed that they have changed to a different stall. The whole layout is the same. Even the Indonesian BBQ signboard remain. But if u look closer, there is another small signage "Ojolali". My friend wanted to eat cat fish/ikan lele so bad (we often have weird cravings during the Ramadhan, isnt it?) And since the warung lele has not confirmed its new venue yet, we forego that and tried this instead.
This year, normally I will have a heavy break fast only after prayer so by the time I got there, it was about 8pm but the food court is still 3 quarter full!
The staff is very friendly and joked with us. The rice set is similar to ayam penyet set, with the fried tofu, tempeh and vege plus soup. The soup tasted "too MSG" even my little son was turned off. (he likes yummy soup)
I think the grilled cat fish can be further improved. I've tasted better at Malaysian bazaars.
But the grilled chicken is ok, prefer the old stall though.

They have another branch at Lucky Plaza.
(Visited 24 times, 1 visits today)